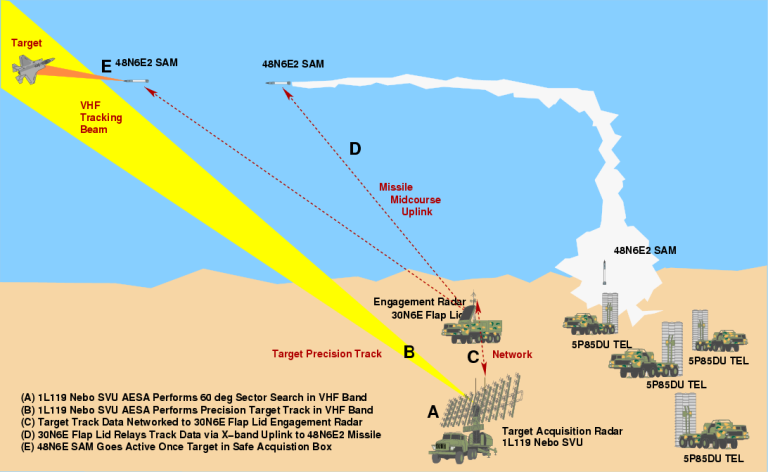 The C-300 anti-aircraft missile system is vital weapons to increase the combat capability of Syria's air defense, but Moscow fears that the supply of these complexes may create consequences for itself and throughout the Middle East, writes missilethreat.com on July 19.
The Israeli Air Force attacked targets in Syria with such regularity that Syrian airspace resembles Swiss cheese (probably referring to all covered with mold and holes - approx. "Military Parity"). Obsolete SAM systems in Syria's air defense system are not able to reflect Israeli attacks
aviation
, therefore, Syria is desperately, but very late, waiting for the supply of S-300.
In several local conflicts, such SA-2 and SA-6 SA-systems (C-75 and "Cube" / export. "Square" variant - approx. "VP", respectively) destroyed a large number of enemy aircraft. Modern C-300, C-400 complexes have been created in Russia and C-500 is being developed. These weapons can dramatically affect the course of wars and, in fact, are strategic weapons, which is unusual for non-nuclear missiles. This factor is the reason that Israel and the United States fear the supply of C-300 to Syria and Iran.
C-300: what he can and cannot
The C-300 has an impressive pedigree from SA-2, which in 1960 was "famously shot down" by the American U-2 reconnaissance aircraft over Russia, which caused "embarrassment" at the then administration of Dwight Eisenhower (Dwight David Eisenhower, US President at 1953) -61's - comment "VP"). Created to replace the first-generation air defense systems, the C-300 complex is an easy-to-maintain and use mobile system designed to repel massive enemy air raids. The complex is capable of hitting air targets at ranges from 5 to 150 km, simultaneously tracking 12 targets and firing six of them. The Russians claim that the target hit rate is 80-93%. No aircraft will be able to "run away" from a rocket that flies at a speed of 7200 km / h and has a maximum height of destruction 98 thousand feet (about 30 km - approx. "VP"). The latest versions of the C-300 are capable of hitting targets flying just 20 feet (6 m - approx. "VP") from the surface of the earth.
Unlike the US Patriot, which was advertised as the killer Scud (Western designation of the Soviet OTP series P-11 / P-17 - approx. "VP") and which, in fact, is a "loud jerk", the Russian ZRK works much more efficiently. According to Boris Bunkin, C-300 Chief Designer, during Operation Desert Storm, the American Patriots showed insufficient effectiveness in hitting ballistic missiles and destroying warheads in order to shift them from the flight path. Bunkin managed to solve this problem. His team conducted Scudam C-300 tests and demonstrated that the complex effectively destroyed the warheads at the interception point.
IHS Jane's Air-Launched Weapons editor Robert Hewson describes C-300 as a formidable and respected adversary: ​​"If you decide to enter Syrian airspace and start bombing, prepare for big problems." The missile is guided by a narrow beam of radar, which is not only difficult to detect, but also suppress by means of EW. But it should be noted that C-300 is not completely immune from the use of electronic interference, where Israel has superiority. In 1982, Israeli aircraft destroyed 19 Syrian anti-aircraft missile batteries after "blinding" with EW.
Contrary to media reports, C-300 alone cannot "change the rules of the game." It becomes deadly when it interacts with anti-aircraft artillery and interceptor fighters. The air defense system, which has a great height of defeat, forces enemy aircraft to fall and be fired by the FOR and fighter-interceptors.
Vietnam: dangerous at any altitude
Vietnam's air defense system was probably the most organized and effective defense system in
stories
wars "It was a multi-level, dynamically integrated system that included radar stations, MiG fighter jets, anti-aircraft missile systems and anti-aircraft guns of various sizes, small arms," wrote American Failure in its book (approx. "VP") Vietnamese General Van Tien (Van Tien).
As soon as American bombers and escort fighters entered the zone of operation of the Vietnamese air defense, radar guided MiG fighters on them. The information about the enemy was transmitted to the control centers of the air defense missile system. In order to counteract the air defense system, Americans used electronic interference from devices that were installed on the wing tips of their aircraft, which resulted in reduced maneuverability and made them more vulnerable to MiG attacks. "When the pilots tried to get out from under the zone of shelling by anti-aircraft missiles, they lowered the altitude and came under fire from the anti-aircraft artillery," writes Robert Dorr in his book Air War Hanoi ("Air War over Hanoi" - comment "VP" ).
During the 1964-1973 period, Vietnamese anti-aircraft artillery shot down 740 fighters of the US Air Force, as well as hundreds of helicopters, several F-111 and 15 fighter-bombers of the B-52 strategic bombers. Bombers were lost despite the use of EW and escort fighters. Interestingly, after the Vietnam War, the US Air Force in local conflicts did not lose a single B-52.
SIRK over Sinai
If C-300 arrives in Syria, it will be a momentous moment. For the first time in the history of the Middle East, an Arab country will have the opportunity to shoot down Israeli aircraft over Israel. Missiles fired from the Damascus area would hit planes over Tel Aviv in about 107 seconds, leaving the Israelis with almost no time to react. This is unacceptable for Israel. Defense Minister Moshe Yaalon warned that "God forbid, as soon as they (C-300 - approx." VP ") appear in Syria, we know what to do." Deputy Foreign Minister of Russia Sergei Ryabkov, on the contrary, believes that the supply of C-300 will be a stabilizing factor that "will cool down the heat of some hot heads".
The Syrian military is not as well prepared as "highly skilled, motivated and brilliant Vietnamese." Probably, Syria's air defense is not capable of stopping Israeli air raids, and there is no guarantee that it will be able to effectively use C-300. This year, the Israelis have already struck four blows at Syrian military sites, and in each case they feared the supply of weapons for Hezbollah.
Thus, Russia has cause for concern. If the Israelis destroy C-300, it can drop the prestige of the system and allow other countries to "be less afraid of them." "Russia's delay in delivering C-300 comes from the understanding that the Israelis can respond in a way that will harm Moscow's interests," writes Strategy Page. There are two options. The first is that Russia is accelerating the preparation of Syrian calculations before sending the complexes, and the "uncut export version", and the latest modifications. The second, C-300, is supplied on conditions that they will be served by Russian settlements, which are not only better prepared, but their very presence will deter Israeli raids. Israel's reckless attack on the ZRK positions with Russian personnel will cause a "massive negative reaction" from Moscow, which will expand support for the Iran-Syria-Hezbollah alliance. The trickle of the Russian weapons he supplies will turn into a turbulent flow. And then you will hear the voice of the Syrian President Bashar Assad, addressed to the Israelis: "Go ahead, this is my day."