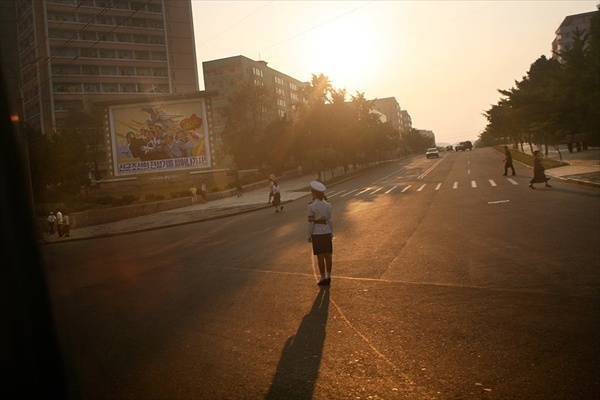 About North Korea, we have developed stable cliches, that this is almost a cave country, always starving, all polls lined up for a cup of rice. This is not true. Suffice it to recall that North Korea is a space power that launches satellites. This is a rocket power.
They were the ones who managed to create their medium-range missiles on a car chassis, which neither we nor the Americans could do. North Koreans created their tank, not much inferior to modern Russian
tanks
.
Another factor is the survival rate of this state. Recall that after the fall of the Soviet Union, Cuba and North Korea, which focused on economic cooperation with the USSR and the socialist bloc, remained in isolation. All the last 20 of years they are under embargo. Let us try to imagine what would happen to Russia in two weeks if we were refused to buy oil and gas, and in addition would impose an embargo on food. I don't even want to talk about it.
Yes, the Koreans were starving. But today there is no starvation of hunger. But a number of problems they managed to avoid. It is here that thousands of drug addicts die out annually on 100 - in the DPRK, they simply do not exist. There are no homeless people, beggars and homeless children. The country is developing. Yes, there is a strict ideological policy and control - they are terribly afraid that liberal ideas can penetrate into Korea. But free medicine, free housing, free education and many other social benefits. All live, albeit modestly, but about the same level. This terrifying social gap, like in Russia or even in South Korea, is not even close. In addition, in North Korea, starting with Kim Jong-il, democratic reforms are being carried out, albeit very carefully. They are seriously studying the experience of Vietnam, where they managed to maintain a socialist ideology, a socialist economy, but at the same time show such growth rates.
So what happens there today? Firstly, it should be noted that young leaders have come to power in the region. Kim Jong Ying in North Korea, in South - Park Geun-hye, the first woman in this post. In China, the generation of leaders has also changed. Of course, they all have to prove themselves as real leaders. And if we talk about the countries of the Korean Peninsula, here the new leaders are heavily influenced by the military.
Security issues are really quite acute. But they do not want to seriously fight among themselves, simply calculating the consequences. After all, even a nuclear-free conflict will easily turn into a bloody meat grinder. On the one hand, a strong and numerous army of North Korea. They only have more people serving in the ground forces than we do in all the Armed Forces - 1 million 200 thousand people plus 4 million permanent reserves. And there are two sniper teams, artillery, naval forces, a very large
aviation
, even outdated aircraft, 3,5 tanks. There are 2,5 thousand tanks and 670 thousand personnel in the South Korean armed forces. But let's not forget that South Korea is under an American nuclear-military umbrella. North Korea does not have such an umbrella. Today, it itself is rapidly developing its defense industry, including the nuclear component, to create a guarantee of its security.
Now there is an information war, which explains the statements from each side. Everyone wants to show how real the war is, how dangerous it is, and also to demonstrate its full readiness for it. I hope that the information-psychological war for asserting the leadership of the new leaders will end the whole matter. Because Seoul is located in 40 km from the 38 parallel, and very reachable for the strikes of North Korean aviation and tactical missiles.
As for the nuclear conflict, there are no interested parties. Even the United States canceled the tests, sending the head of the joint headquarters to Beijing for consultations. But a nuclear-free local conflict is beneficial to the Americans, the Japanese, and to some extent even the South Koreans. Look, there is no war yet, but they are already deploying anti-missile forces, increasing their presence in the region, including nuclear strategic bombers, aircraft carriers, and so on. They are creating missile defense against us and China, they say, see what threats, which means the Americans are right, promoting a global missile defense system. In Europe against Iran, in the Far East against Korea. All this is nonsense, but its role is played. Japan, thanks to North Korea, essentially went beyond its Constitution, written by General MacArthur. Today it is creating full-scale military forces, working on a nuclear program (at least before the Fukushima tragedy worked), creating its missile defense system, building up groups of conventional forces. All allegedly against the DPRK.
Nuclear threat from North Korea is excluded. Even according to American data, it today has only 8 nuclear devices, but not warheads. On March 12, the head of the US National Intelligence submitted a report to the Senate Commission, in which the threat of the use of nuclear
weapons
Korea and Iran took it as a secondary threat, somewhere in the 7-8 position. A more real danger in this report is called cyber threat. That is, the Americans do not consider nuclear strikes possible, but they can play on it. After all, look what policy the United States. Their principle is to force the Arabs to fight against the Arabs, the Muslims against the Muslims, it is desirable that the Russians fight each other, the Chinese, the neighbor with the neighbor, and the North Koreans fight the south. And then Americans are always in demand and can solve their global tasks.
But even if the usual nuclear-free military conflict occurs, we can get radioactive contamination. Because Americans are likely to cause an airstrike on nuclear reactors, and those on the peninsula more than 30. Then we get a new Fukushima at the very borders. Plus, if such a meat grinder starts, we will get up to a million North Korean refugees in the Far East. The chances of such a 50 scenario on 50, if only China and Russia do not intervene in the settlement issue in the most decisive way. Therefore, we need to consult with China day and night and put pressure on the United States, demanding a decrease in activity. After all, it was they who provoked the turn of the conflict when they conducted full-scale exercises with South Korean troops, simulating nuclear strikes and flying over nuclear strategic bombers of the airspace of the SC. They provoked the young leader to such actions. Now North Korea is trying to prevent an invasion. By the way, I fully agree with the head of US intelligence, who clearly said that the DPRK is necessary for weapons of mass destruction in order to ensure security, defense capability and raise its prestige in the modern world. Moreover, North Korea does not speak about preventive strikes, it only scares retaliatory strikes. At that time, under pressure from the Americans, the South Koreans adopted a program of precisely preemptive strike, and this is really dangerous. Tension is growing, and just one provocation is enough to start a real war.
By the way, in our newest
stories
there was already an episode when Russia played a positive role in resolving the Korean standoff. We have long been very friendly and have partnerships with South Korea, especially in the economy. We also supplied military equipment there. And we do not need this conflict. Putin's visit to the 2000 year allowed both Koreans to sit at the negotiating table. Diplomats have worked before that. The process of convergence was launched, and the leaders of the Korean states sent each other greetings on birthdays or other dates. And then the Americans did not like it, they destroyed this process. But I believe that after all these tense days and weeks, Koreans, both northern and southern, will begin to bring their positions closer again. The main thing is to ensure mutual security. But we need to work actively, and not to broadcast the cliches that North Korea is mired in poverty. They live better in many ways than we do. More resilient, they have a future. They carry out reforms, slowly and carefully, and not in the way we did in 1991. It is necessary to promote their openness to the world and give some kind of security guarantee. Today, no one gives such guarantees to the DPRK.