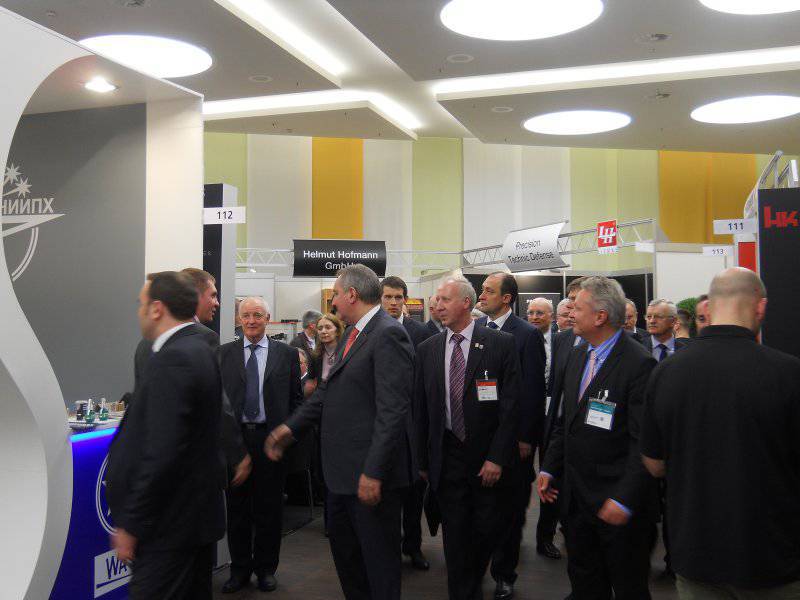 The Research Institute of Applied Chemistry received bids for the supply of the Osa multifunctional complex and training ammunition to Switzerland, Germany, the Czech Republic, Poland and South Africa. Agreements on the export of products worth more than 250 thousand euros have been concluded with the EU countries.
At the international exhibition of police armament Enforce Tac-2013, which was held in Nuremberg from 7 to 8 in March 2013, Applied Chemistry Research Institute concluded preliminary agreements for the supply of more than 50 thousand Zigzag and RAG training ammunition, worth over 250 thousand Euro to Germany, Switzerland, the Czech Republic and Poland. The institute also received orders for the export of a multifunctional complex.
weapons
limited defeat "Wasp" in Switzerland, Germany and South Africa. In particular, an application for the purchase of an experimental commercial batch was received from German police officers. In the case of successful tests, it will be possible to talk about mass deliveries.
In addition, in Nuremberg, the management of the institute presented a concept for the promotion of European products to European markets by the Deputy Prime Minister of Russia, Dmitry Rogozin, who heads the Military-Industrial Commission under the Russian government.
The Osa non-lethal weapon complex includes a quadruple or dual-charged, barrelless pistol and a wide range of special cartridges with an aluminum sleeve and electrical ignition. The complex is distinguished by high reliability and efficiency and is intended for use by law enforcement officers, as well as for self-defense and individual protection of citizens against attacks, providing security on air transport, signaling and lighting the area with signal and lighting rockets.
JSC "Federal Scientific and Practical Medical Institute Scientific Research Institute of Applied Chemistry" is the leading organization in Russia in the field of research, development, production and utilization of pyrotechnic products for military and civil purposes. The research institute has been operating since 1945. Included in the NPK "Engineering Technology".
Concern Engineering Technologies OJSC is a holding company of Rostec corporation in the field of the industry of ammunition and special chemistry.
Created in 2011. "Engineering Technologies" produce high-precision artillery ammunition and artillery rounds for various purposes, multiple launch rocket systems, unguided
aviation
, small-caliber ammunition, air-bomb weapons, etc. The military products of the holding are in service in 100 countries of the world. Among civilian goods are agricultural machinery with mounted and trailed equipment, metal structures and components for mechanical engineering products, equipment for the mining industry and exploration, electrical products, industrial explosives and articles thereof, bellows, main pumps and much more. General Director - Sergey Rusakov.
Rostekhnologii State Corporation (Rostec) is a Russian corporation established in 2007 to promote the development, production and export of high-tech industrial products for civil and military use. It includes 663 organizations, of which 8 holding companies in the military-industrial complex are currently formed, and 5 in civilian industries. Rostec organizations are located on the territory of 60 subjects of the Russian Federation and supply products to markets in more than 70 countries of the world. Net profit in 2011 amounted to 45,6 billion rubles, tax deductions to the budgets of all levels reached 100 billion rubles.