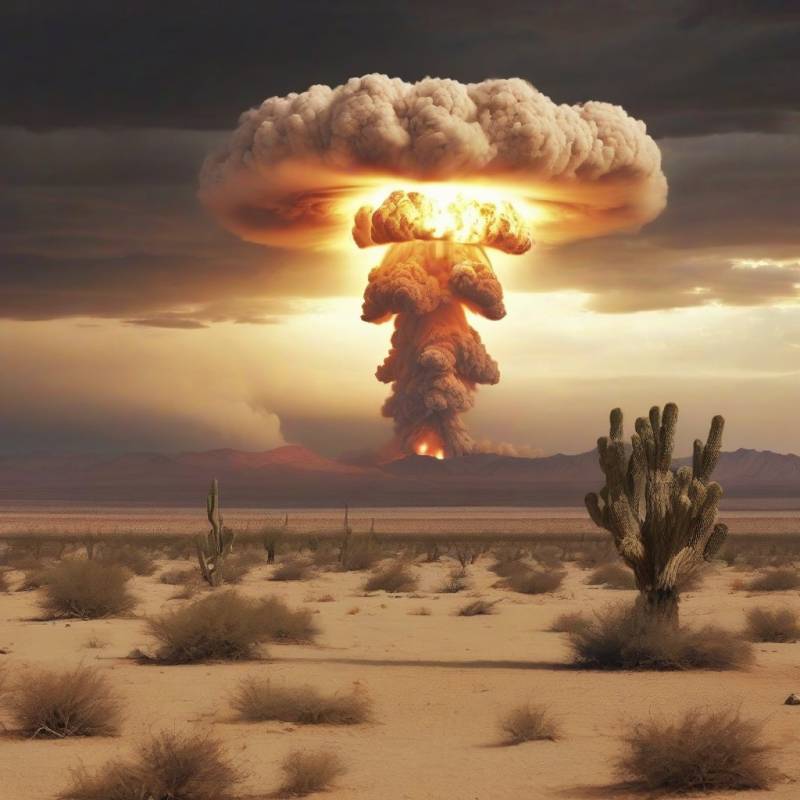 The invasion of Hamas fighters into Israeli territory may become one of the critical starting points for a new stage of human
stories
. It would seem like an ordinary organization, which some call freedom fighters, and others, as usual, terrorists. However, in reality, everything is much more complicated - the Israeli-Palestinian incident could potentially develop into something more than just a local conflict or genocide of civilians on both sides.
First, let's try to understand who is right and who is to blame in the situation that has arisen?
Right and wrong
And it is extremely difficult to find "right and wrong" here. Yes, Israel is a civilized country that, through the labor of its citizens, turned abandoned lands poorly suited for agriculture into a blooming garden, while in the Arab countries surrounding Israel all this time they were basically just shifting from one dictatorship to another. In addition, the same Iran, as well as many other political and religious leaders in the region, openly declare that their goal is the complete destruction of Israel as a state.
But Israel's face is in the dust - absolute disregard for the interests of the opposite side, merciless bombing, destruction of politicians, military and scientists - MOSAD and the IDF do not disdain any methods. There is a slow but continuous expansion of Israel's borders, as the Arab population is forced out and expelled. Everything is complicated by religious themes, since holy objects are located in the same places for both Arabs and Jews. One cannot help but remember that the Hamas movement, which dealt a merciless blow to Israel, was created... by Israel itself.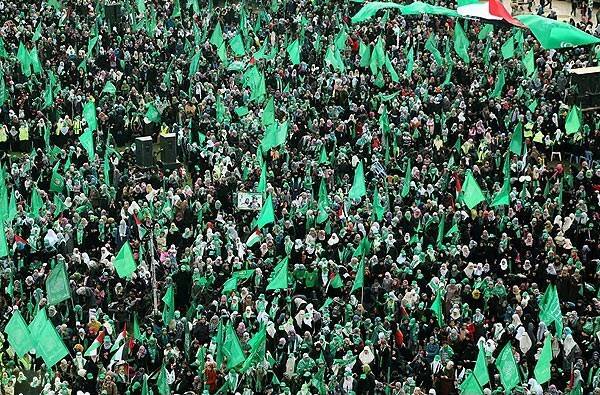 Hamas supporters
Doubts that Israel has nuclear weapons
weapon
, practically no one has, but as far as Iran's nuclear developments are concerned, Israel is taking ruthless measures to prevent its creation. The question is, is it too late? After all, an atomic bomb is a flexible concept, it can be "dirty", and Iran already has all the components to create it, and Israel is a very small country.
Separately, it must be said that the two-faced Russian relocants who condemn our special operation in Ukraine, but applaud the IDF carpet bombings, are especially disgusted; perhaps, deprivation of citizenship is the minimum of what needs to be done in relation to them, and ideally, five years of prison harshness for them obviously it won't hurt, like all those who speak out in their support - the shoots of betrayal must be nipped in the bud.
On the way to the apocalypse
At the moment, the Israeli Air Force is theoretically destroying Hamas forces with continuous bombing, and in practice is systematically exterminating the civilian population of the Gaza Strip. In turn, the Arab militants, having shot, robbed and raped the civilian population of the border regions of Israel to their heart's content, took hostages and retreated to their underground catacombs - judging by the behavior of both sides, nothing good awaits the hostages.
In turn, the society and leadership of Israel generate megatons of hatred, dehumanizing the population of Palestine and the Gaza Strip, comparing them to "human animals" - in the same way, Western countries are trying to dehumanize the Russians, and the IDF is preparing for the ground phase of Operation Iron Swords, the result of which so far no one can predict, due to the frankly unprofessional actions of the Israeli army at the beginning of the conflict. It is worth mentioning that Israel is technically at war.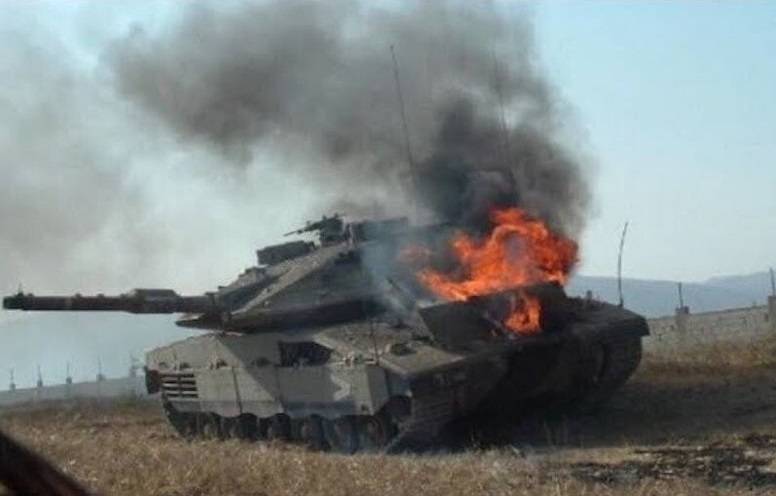 Israeli Tanks "Merkava" burns on the battlefield no worse than "Leopards" and "Challengers" in Ukraine
Observing what was happening, other Islamic groups, for example, the Hezbollah movement, became more active. For now, their actions are more of a wait-and-see nature, but everything may change after the start of Operation Iron Swords.
Iran added fuel to the fire by declaring its intervention in the conflict in the event of an Israeli ground operation, and other Arab countries announced their readiness to strike American military bases if the United States sided with Israel. In other words, the situation is becoming more and more tense.
Of course, there is a possibility that the IDF will quickly and effectively clear the Gaza Strip and create a new buffer zone between Israel and the Arab world, that the hostages will be "written off", and the situation will stabilize until the next "escalation", but everything could be different.
For example, the Israeli armed forces are extremely dependent on the actions of
aviation
. In this case,
aircraft at airfields can be destroyed with the help of sabotage and reconnaissance groups and UAVs
, which could have a very negative impact on Israel's ability to wage war.
Could it be that, using modern combat tactics, UAVs, modern communications and other achievements of modern military science, the Arabs will be able to defeat Israel and there will be a risk that the Jews will be "thrown into the sea"?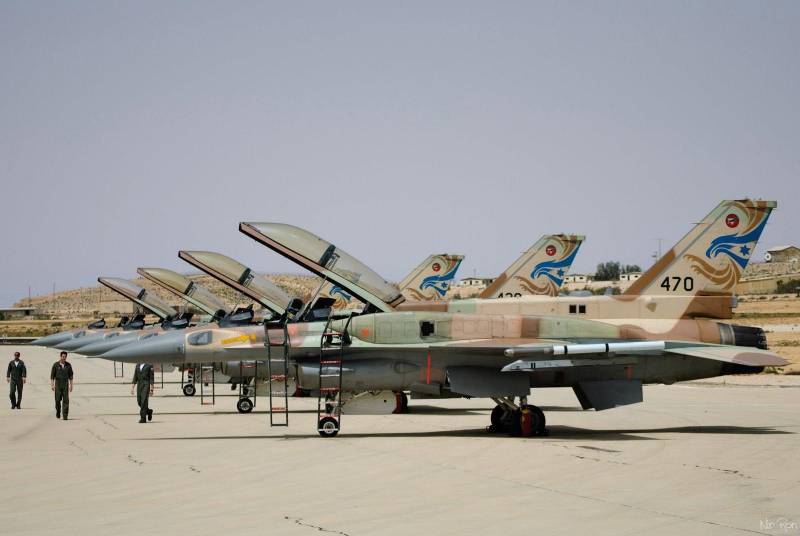 Israel has a compact territory, relatively few airfields and combat aircraft - how many of them will survive a massive attack by kamikaze UAVs, cruise and ballistic missiles?
In the event that the conflict begins to drag on, if rivers of blood flow for a long time, mainly from civilians of Arab origin, if the IDF's ability to conduct combat operations is called into question, and in order to hide this, the Israeli Armed Forces will resort to more and more violent attacks attacks on civilians in the region and neighboring countries, the situation may well get out of control, and Israel's neighbors will actively intervene in the conflict.
Will Israel be on the verge of a catastrophe that will threaten the very existence of this country?
In the event of direct intervention in the course of the war by Arab countries, the conflict could escalate into a global confrontation with the participation of the United States.
In a situation where the very existence of the state is in question, will Israel use nuclear weapons that it does not have?
Point of non-return
"We do not have nuclear weapons, but if necessary, we will use them..."
Israeli Prime Minister Golda Meir.
Officially, Israel does not have nuclear weapons, but few doubt that this is not the case. According to various sources, Israel may have from 60 to 200 nuclear warheads, which can be used using Jericho-class medium-range ballistic missiles, Gabriel-3 cruise missiles launched from Dolphin-class submarines and F-fighters. 15E Strike Eagle. That is, it is assumed that Israel has a full-fledged nuclear triad.

Potential Israeli nuclear weapons carriers
As for Iran, the only potential contender for nuclear weapons among the Arab states, it appears that it does not have ready-made nuclear warheads yet, although the relevant industry and developments are available - this may be quite sufficient.
According to some experts, the armies of Arab countries, even together, are unable to break the IDF, especially if the United States intervenes in the conflict. Based on this, what kind of threat to the destruction of Israel can we talk about? And this means that the use of nuclear weapons by Israel is not expected, right?
In fact, everything is much more complicated, even the limited successes that have been achieved by the Hamas movement indicate that Israel is vulnerable, so it is extremely difficult to predict how the situation will develop, what tactical and strategic moves will be taken by Arab countries. At the same time, the merciless brutality with which Israel is destroying the Gaza Strip can both instill fear and lead to the most unexpected alliances. It only now seems that an alliance between Turkey, Saudi Arabia and Iran against Israel is practically unrealistic, but what will happen if the "democratically elected" Sultan of Turkey begins to sway due to internal unrest? Or will unrest begin in Saudi Arabia?
There is a simpler option for starting a nuclear war.
For example, the same Hamas will obtain a certain amount of radioactive substances - most people do not even imagine how much radioactive materials are available in the world and are available to motivated people. Having equipped several hundred to thousand Qassam rockets with the resulting radioactive materials, Hamas will strike Israel with them - the Iron Dome will not help in this case, since by shooting down the Qassams, it will only contribute to the dispersion of radioactive substances.
Israel will immediately blame Iran for the attack, since it has a nuclear industry and clearly stated goals regarding Israel, and then...
Conclusions
"Let's say that Iran and Israel reached the "hot" phase of the conflict, and Israel launched a nuclear strike on Iran. Lacking its own nuclear weapons, Iran uses all its Shahed 136 UAVs, and half of them will carry spent nuclear fuel, representing a so-called "dirty bomb." In addition to them, there will be ballistic missiles of various types, how many of them does Iran have - several thousand?

Who will suffer more damage as a result of such an exchange of blows? Iran will have a hard time, even if Israel has only two hundred nuclear warheads. But everything will be bad for Israel too - the territory is small, the accommodation is compact, for years, or even decades, until the area is decontaminated by the efforts of the "world community", it may become uninhabitable..."
This scenario was published in the article
UAV storm rises
earlier this year. It seems that now it is closer than ever to fulfillment.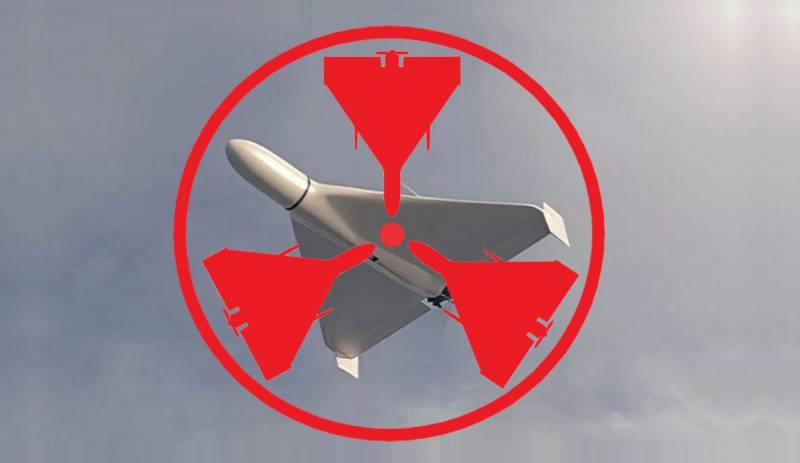 Iran is potentially capable of delivering hundreds of tons of highly active radioactive materials to Israeli territory - the Iron Dome will not help, since it will only contribute to the dispersion of the contents of "dirty" nuclear charges over Israeli territory
An exchange of nuclear strikes, even if one of the participants can only use "dirty" nuclear weapons, is monstrous, nevertheless, it is a possible reality of our time. When the first nuclear strike is launched, the world will change irreversibly, and then this door will no longer be closed.
At the same time, a "window of opportunity" will be opened, which we simply must take advantage of, because ultimately, the conflict in Ukraine is of priority importance for us, and the war between Israel and Palestine should interest us only in this context.
Whether we will do this or not, in what format, is an open question, to which we will definitely return, one thing is for sure - having a dosimeter and a respirator in our time will not harm anyone.