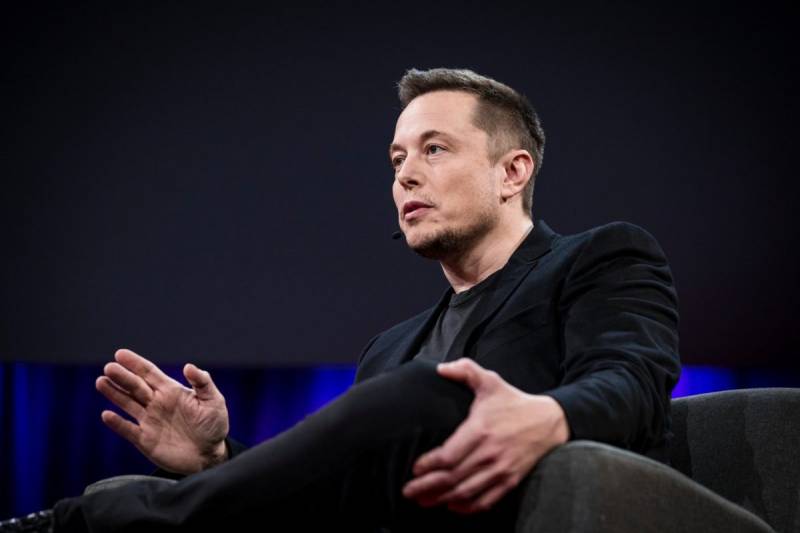 Source: uspei.com
Lend-Lease Mask
Communication and information in a war decides a lot, if not everything. This was once again proved by the Russian special operation in Ukraine. At the moment, Banderists have one indisputable advantage - broadband access to Starlink satellite Internet. It seems that this system has become a new word in military affairs, which cannot be ignored in the future. The Russian army must without fail receive a workable system of a similar level in the very near future. In the meantime, let's analyze the subtleties of enemy technology and the scandal that erupted around it.
Starlink has always claimed to be a military system. In the Pentagon and other offices, scenarios for using Elon Musk's technology in the interests of the army were considered first of all. In 2019, SpaceX (the lead developer of Starlink) received funds from the US Air Force to test the compatibility of the system with combat
aviation
. In May 2020, the US Army signed an agreement with Elon Musk to use broadband satellite Internet access to transmit data over military networks. Just six months later, Musk wins a $150 million contract to develop military satellites that are the equivalent of Starlink. That is, in simple terms, now in Ukraine the testing of a satellite system in the interests of the Pentagon is in full swing. However, there is nothing to test here - the system has proven itself from the best side. Until recently, until Starlink began to fail along the entire line of contact.
What is Starlink? In principle, it does not represent anything new - it is satellite communications, albeit fairly broadband. The average speed reaches 150 megabits per second, the delay is no more than 31 milliseconds. It is important to understand that, unlike Iridium, Elon Musk's technology does not allow phones to be directly connected to the network. For this, a wi-fi router is provided, connected to a satellite dish, made in the form of a phased antenna array. A round plate with a diameter of 48 cm weighs about eight kilograms, a rectangular version of the second generation - no more than four. The average throughput of each ground terminal is up to 1 Gbps. Antennas are resistant to precipitation, and some models are equipped with heating. Included is a thirty-meter cable that connects the antenna to the router. And yes, in good weather, Starlink works better - cloudiness reduces the speed of receiving and transmitting data by 20-25 percent. Satellite communications use Ku-band (10,7 - 18 GHz) and Ka-band (26,5 - 40 GHz) frequencies, which operate within line-of-sight.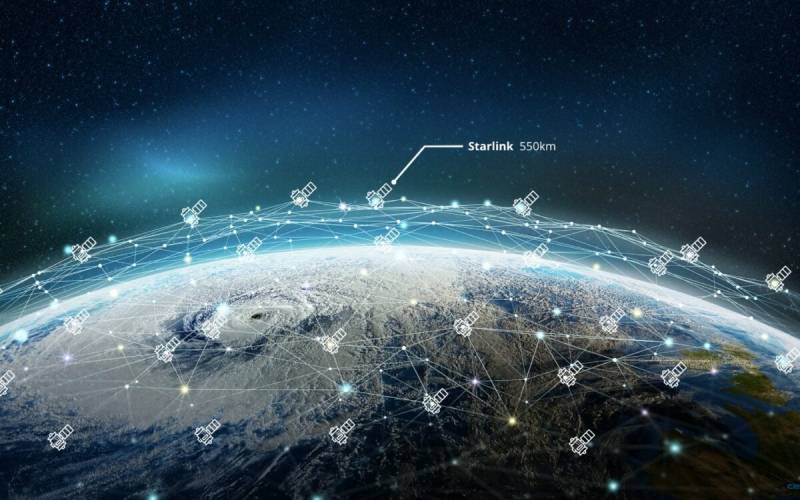 Source: glas.ru
Thus, Starlink consists of three main components - a satellite constellation located at an altitude of about 500 km, ground terminals and ground stations that connect satellites to the World Wide Web. In fact, satellites play the role of high-altitude repeaters. The main snag is hidden in ground stations - companies that control traffic at these nodes can carry out both censorship and interception of information flows.
The main feature that annoyed Starlink in peacetime was the disregard for the sovereignty of countries. The brainchild of Elon Musk allows you to bypass national firewalls, for example, the Chinese Great Firewall of China. This is about the same as if in every city in the United States and the European Union, televisions were hung at intersections broadcasting Russian Today, which is banned in them. In fairness, Starlink is now working in only twenty-nine countries - for the rest, a ban has been introduced either at the government level, or an embargo has been introduced by Elon Musk himself. Which, however, in no way interferes with arranging "exclusive" use, for example, for the leaders of anti-government protests in Iran.
Starlink, which allows you to organize an Internet connection from almost anywhere in the world for a few hundred dollars, of course, started very briskly. At the beginning of 2021, more than half a million pre-orders for satellite communication terminals were issued in a couple of months. Now the number of users around the world exceeds 700 thousand. In February, they announced a 500-megabit business version of Starlink.
War Elon Musk
From the very beginning of the Russian special operation, Elon Musk gave the Kyiv regime at least five thousand Starlink ground terminals for free use. According to other sources, in Ukraine there are already more than twenty thousand sets of satellite Internet from Musk. Allegedly, so that civilians can freely use communication services. At the same time, more than a thousand terminals were paid for by grants from the US Agency for International Development (USAID). From the very beginning, it was clear that Starlink was a real
weapon
and it is worse than the M777 howitzers. According to a number of experts, satellite communications played one of the most important roles in the stability of the Armed Forces of Ukraine in defense. For example, Starlink ensures the rapid transmission of information from reconnaissance drones to artillery positions for strike. Battalions, companies and platoons are controlled in real time. At the same time, no special training and adaptation is required - all interfaces are purely civilian and any average smartphone user can manage them.
How to deal with Starlink on the battlefield? Probably the most logical thing seems to be the destruction of the satellite constellation itself. But it becomes absurd when you find out the number of satellites in the system - at least 3 thousand in low Earth orbit. However, something can be done. For example, with the help of the complex, the Tirada-2S electronic jamming complex, probably the most secret development of the domestic military-industrial complex. Based on scattered data, we can say that the product allows you to suppress or interfere with Starlink satellites located in a 500-kilometer orbit. It is practically useless to jam the signal on the ground - for this you will have to build a developed cellular network in the depths of the enemy's defenses. Hints that Russia is looking for the keys to Starlink began to appear after numerous failures in the Kherson direction and Donbass. For example, on October 15, the Armed Forces of Ukraine failed to organize attacks in the Limansky and Nikolaev-Kryvyi Rih directions. Who knows, maybe the commanders simply refused Starlink terminals? That is why Elon Musk's gifts can become a real Achilles' heel of nationalists. Those who are accustomed to fighting through smartphones will have to retrain for new communication channels, which will be far from being so secure and problem-free.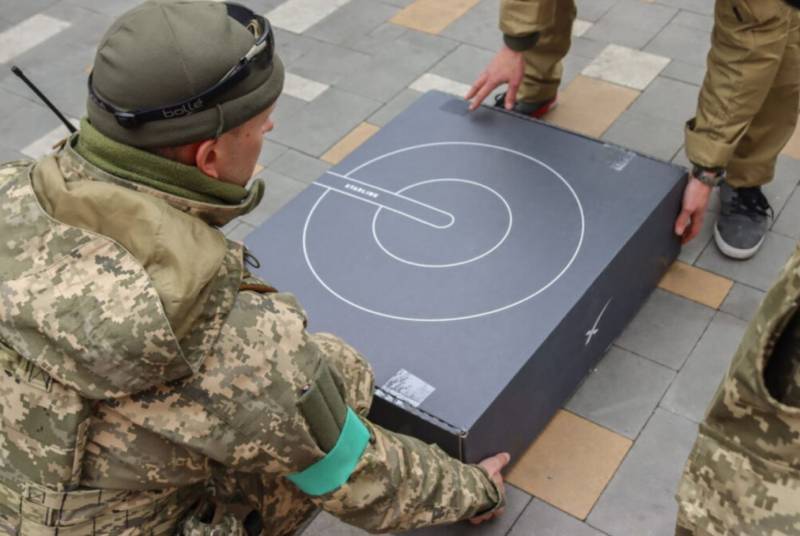 Source: mobilelegends.net
Unexpectedly, Elon Musk himself recently threw out a couple of tricks. As a businessman, he understands the legacy of Starlink now. It actually turned into a weapon, which is not always perceived positively in the West. Despite all the hysteria that has been unleashed around the conflict. For example, a viewer of the Fox News channel, assigned to the Republicans, will think seven times before buying a Starlink. Local TV commentators regularly criticize US policy towards Ukraine and ridicule Zelensky. And they carefully count the money that the White House spent on sponsoring the nationalists. So Musk succumbed to emotions and refused to finance the work of Starlink in Ukraine. Say, SpaceX's losses are already approaching $100 million. However, what kind of money is this for a mega-corporation that regularly receives subsidies from the budget? Musk built a clearly political action with very specific goals. Elon tried to shift the burden to the Pentagon, as if showing the whole world - look, I just provide equipment and do not sponsor what is happening in Ukraine. Everything is done by the military, deal with them.
A small scandal immediately took shape when the Mask was sent from Ukraine in three letters, his faces were torn off billboards in Odessa, and then he agreed to continue paying for Starlink for the nationalists. Moving away from insults, the billionaire quickly changed his shoes:
"To hell with it… Although Starlink is still losing money and other companies are getting billions of dollars from taxpayers, we will just continue to fund the government of Ukraine for free."
And this means that there were no problems for the gradual, albeit slow, destruction of the large Starlink grouping in Ukraine, as there were, and there are none. Formally, it has remained a private network, that is, it is not directly related to the US government.