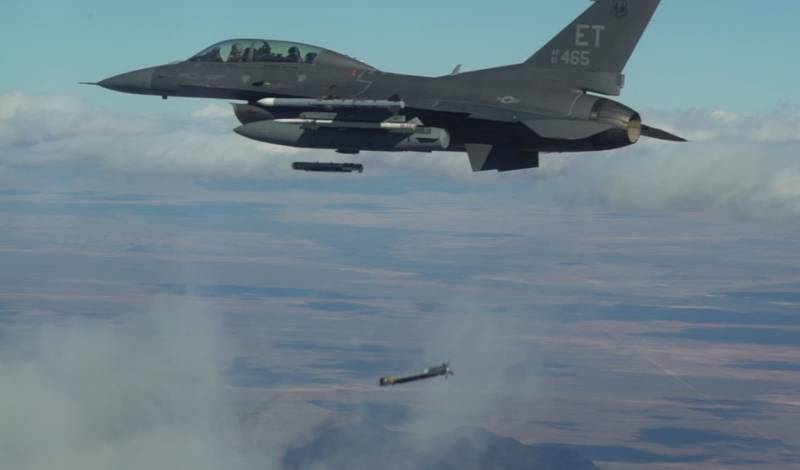 The American program Golden Horde entered the next stage of testing, the US Air Force carried out a reset
aviation
bombs GBU-39 / B SDB with a new control system.
If at the second stage of testing, which took place in February of this year, four GBU-39 / B SDB bombs, launched from one fighter, in flight distributed targets among themselves and corrected their flight, after which they hit them simultaneously, but at the third stage they were dropped from two planes.
During the tests, six GBU-39 / B SDB bombs were launched from two fighters. In flight, they exchanged data and assigned targets taking into account the given parameters, but already in the air they received a new task from the ground station. Taking into account the new data, the bombs independently distributed new targets among themselves and successfully hit them.
The Golden Horde project provides for the creation of a combat control system capable of combining various aircraft weapons to exchange data and make certain decisions. Previously, such a system was developed as part of the Gray Wolf program, but in 2020 it was replaced by the new Golden Horde project. In turn, the Golden Horde program is part of Vanguard's large-scale project to create a "thinking"
weapons
able to operate with minimal human involvement.
The first information about the Golden Horde project appeared around 2019. The Air Force Research Laboratory (ARFL), in conjunction with the Californian organization Scientific Applications Research Associates, planned to create a universal control system capable of collecting several missiles or bombs in a "flock" for joint work. Potential ammunition included GBU-39 / B SDB bombs, AGM-158 JASSM missiles and AGM-160 MALD missiles.