Well, since Alexander threw an anchor in our direction, I will answer with pleasure. Indeed, I have never concealed that I am opposed to the theoretical construction of these dull and expensive troughs, and I did not even plan to argue on this topic. However, since Alexander, for the first time in a fairly large number of articles on this topic, substantiated the use of aircraft carriers, then he will not be able to remain silent.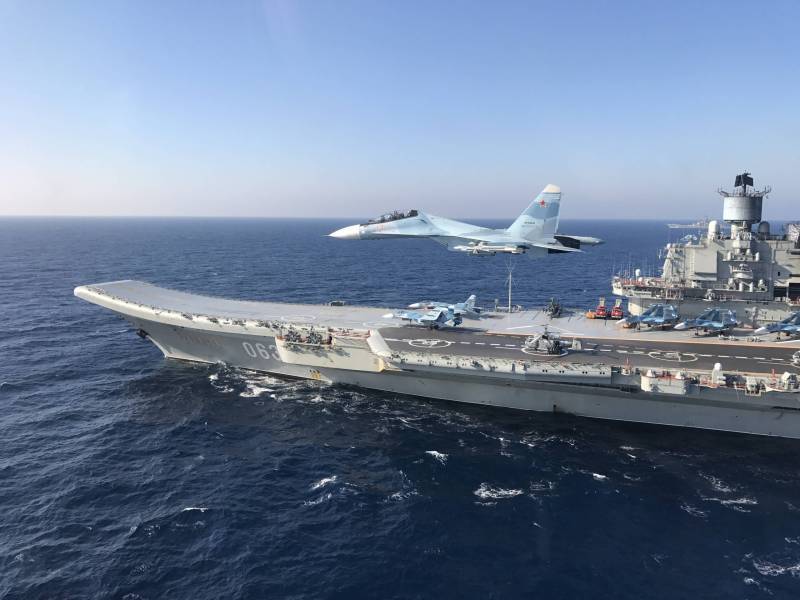 So, here were the questions:
A few questions to the opponents of aircraft carriers
Those who have not read - it makes sense, those who have read - can be refreshed, although there will be a lot of quotes without that.
Andrey from Chelyabinsk will act as my proponent, more precisely, this is his article, which I prefer to rely on in terms of numbers:
On the cost of the fleet that Russia needs
Here Andrey did a very impressive job in terms of numbers, and therefore I see no reason to recount everything. In the course of analyzing the swim, I will add something, but nothing more.
Perhaps I'll start by expressing my surprise with this phrase:
"The reason for this lies in the fact that the consciousness of a significant part of our citizens still bears clear signs of such a pre-industrial era, and such complex issues as the Navy simply do not fit into their heads."
Well, seriously, why such aggression? Our authors sometimes give out such couch analytics that surprise is off the charts. Well, seriously, let's decide: do we have a reasonable discussion or do the celestials go down to mortals in order to condescendingly carry out an explanation for the stupid and poor?
You need to express yourself more calmly, more calmly. Not all of our readers belong to this category. And it is not worth spending so many letters to show the way into the distance to those unable to appreciate Timokhin's genius. Firstly, it is ugly, and secondly, no one will go anywhere.
So, we flew.
"Question 1. How are you going to fight without aviation basically?"
The reasoning behind this question is frankly weak. I would say it is the weakest of all, because it relies on numerous "ifs". Which is generally unacceptable for a person who considers himself an expert.
Alexander ... somewhat exaggerates the capabilities of "Admiral Kuznetsov", raising them to a higher level than he deserves.
"What if the militants, receiving occasional assistance from their creators, were too close to Khmeimim? To other airbases? How would we stop them then?
In reality, nothing. Because our only aircraft carrier and both naval air regiments were not capable of combat at that time. "

Alexander,
история
does not understand and does not accept the subjunctive mood. All these "ifs" are a bit of a wrong level. Let's look at things realistically: if the aviation of the United States or Turkey provided support to the militants, then any presence of Russian troops in Syria could be forgotten. And an airplane trough with three dozen airplanes would not help here at all from the word "absolutely".
Let's remember the epic trip of "Kuznetsov" to Syria. Having made all of Europe laugh and outraged environmentalists, the ship dragged to the shores of this country, so what? And nothing. Having lost two aircraft out of the blue, having made a number of "combat" sorties with a half combat load (and in terms of fuel too), so that there was no risk, the "aircraft carrier" safely crawled to the base.
This is called "imitation of ebullient activity" and "demonstration of the flag." No more. It is worth asking you, Alexander, do you have any idea how much this sad show cost? In addition to the loss of two aircraft, it is worth adding fuel costs for the entire "squadron", monetary allowances with all combat payouts due, depreciation of decrepit ships, and so on. And two planes lost out of the blue. Yes, this is what the economist says in me, who first of all thinks not about show-off, but about money.
"But if the aircraft carrier were in a combat-ready form and if its aircraft were also combat-ready, then we simply would not have such a sharp dependence on Khmeimim. The first stage of the war, when the number of military sorties of the Aerospace Forces was measured by several dozen per day, we would have completely pulled out the Kuznetsov and occasional strikes from Mozdok. "

This is a case of utter stupidity. If the Kuznetsov's planes had ventured to operate in the same mode as the Su-34 land bombers from the same 47th mixed air regiment were plowing, then in a week the cruiser deck would be empty.
And then, what is it, to compare the combat capabilities of a normal modern land bomber and a carrier-based fighter forty years ago, and even with a half load ...
Communicating more than once with the crews of bombers in Buturlinovka (there were enough reports from there), my colleague Krivov and I asked this provocative question. Why not ask? The pilots perceived with a fair amount of humor and said only that if everything that the Duck was dragging on to the MiG-29K, the wings of the MiGar would break off and the landing gear would bend. Because 2-2,5 tons versus 8 is ridiculous.
So, if it were not for the airfield at the land base, but the Kuznetsov wing and the distant ones from Mozdok, forgive me, Alexander, but the militants would have been in Damascus long ago.
Moving on.
"Accordingly, opponents of aircraft carriers are asked to answer the question - how in the future in a similar situation to do without aircraft? What to do when there are tasks, but there are no air bases?
This is not an idle question - let's take a look at the scheme of Russia's economic presence in Africa. "
Delightful. Two clarifications are required here.
Whose interests will the valiant carrier fleet protect? Russia? Sorry, private companies that do business in Africa are not Russia. Lukoil, Gazprom and Rosneft, for whose interests the show began and continues in Syria, are also not entirely Russia.
Well, for the sake of some economic interests there, our fleet will go to war with someone there.
There are two options.
The first is to bring third world regimes into submission. Not bad, not bad. That is, to try on the role of a local gendarmerie, bringing light to the dark and backward? Excuse me, we are not constantly trampling the States for this, no?
That is, to arrange another Libya, Yugoslavia, Iraq ... Did I understand you correctly, Alexander?
"And what should we do then, how to save our money? The answer at all times lay in phrases such as "marines", "commandos", etc. And we will not be an exception. Should any such event happen in a significant region for us, and it will be necessary to restore "constitutional order" there by the hands of the Marines, MTR and mercenaries. And for this, at the first stage, it will be necessary to provide air cover for our forces. And then after their withdrawal - to bomb all dissenting "according to the Syrian option", supporting local friendly forces, as in Syria. "
Excellent! I applaud while standing! Here you, Alexander, have shown your true colors. Nothing, by the way, differs from the cute faces of the Americans, who are ready to destroy everything and everyone in order to protect their money. Luxuriously!!!
And you do not want to tear yourself away from the sofa and take part in such an "operation" yourself? On the sofa, it is, of course, more comfortable. "Di erst to the marshirt column ...".
Yes, all these losses, they are for the sake of Russia's interests ... Why don't you become such a loss, Alexander?
Well, it is clear that it is more convenient to send ship groups to Africa from the couch than to send them yourself. In general - the same populism as that of some of our authors, only more vicious and vile.
I will also tell you, in theory, what will happen if it comes down to hitting opponents in the face for Tanzanian uranium, for example. Your aircraft carrier group, consisting of separately taken troughs of forty years ago, Alexander, will be blown to bloody shreds by a five times larger American group. Exactly five times, these heroes do not know how otherwise. Therefore, against your aircraft carrier there will be 4-5 American ones, against several covering ships there will be about 20 destroyers and other pleasures.
And any attempt by Russia to mew out something in the zone of US interests will end in bloody snot and payments to the victims.
Just because Russia today does not have
fleet
capable of operating on distant lines, and even more so in the zone of US interests. And it won't. We have lagged behind the States forever. But more on that below.
"Question 2. How are you going to fight without aviation with those who have it?"

No way. Neither with the help of an aircraft carrier, nor without it. As practice has shown, we will not fight at a distance. Two bloody examples are enough for you, Alexander?
The Su-24 was shot down by the Turks, the Il-20 was shot down by the Syrians with some help from the Israelis.
How did we rush to fight? Tomatoes and tangerines. Have you fought a lot? And I have nothing more to say on this subject, except what to repeat about the rattling
weapons
from the couch is not serious.
And your example with Greece against Turkey is just another stupidity. In case you don't know, Alexander, Greece has been a NATO member since 1952. So is Turkey. And they can push as much as they like, but the raven will not peck out a crow's eyes, because one devil eagle sits above them.
"Question 3. How are you going to do without aerial reconnaissance?"
Basically, how do all developed countries get along. Satellite network. Much more efficient than airplanes, does not depend (almost) on the weather, does not make mistakes, unlike the human eye, and so on. But yes, in the case of a really developed country. The underdeveloped, of course, must rely on reconnaissance aircraft.
I agree that anti-submarine aircraft are yes, they are strength. Needed.
"We are actually talking about the fact that any fighter can become the" eyes "of the strike group, providing data for firing to all - surface ships, submarines with cruise missiles, if they are in touch, attack or other strike aircraft" on the shore ", coastal missile systems "Bastion" and their future versions with a hypersonic missile, even units and formations of the Aerospace Forces. "

Well, what can I say ... Civilized countries have AWACS aircraft for this. Which are equipped with the appropriate equipment and crew members working on it. In our country, out of poverty, this will be done by a pilot of a one-seat fighter.
Well, I congratulate you on solving the problem, Alexander. How these fools of AWACS build or buy all over the world, I do not understand. It turns out that all you need to do is send one naval fighter into flight, and it will become the eyes of a whole strike group.
How in general this can be written - I also don't understand.
"Question 4. Why do you not want to use aviation even when it is vital?"
"Let us examine such a task that was once considered one of the main tasks for the Navy - disrupting an enemy nuclear missile strike from oceanic directions."
I do not consider it possible to participate in the discussion at all, because this whole point is sheer stupidity and hysteria. The only thing that I will give in response is "Dice the marshirt column", that is, a picture with dots.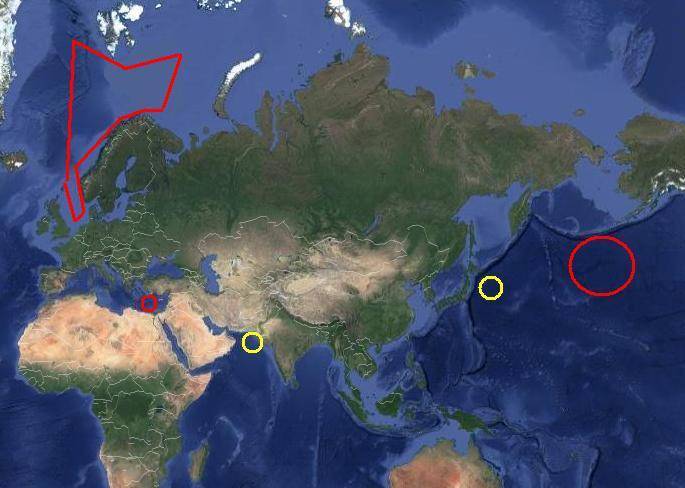 In the picture, Alexander lists FIVE districts from where you can conveniently launch rockets. FIVE. And with this scheme, as well as the date of a possible conflict:
"This may well happen in 2028–2030. This, frankly, will happen with a high degree of probability. And what are we going to do with our "land thinking" then? "
Alexander makes it possible to assess the depth of his understanding of the issue. That is, according to Timokhin, after some 17 years the threat of missile launch at us will increase to the point that we need the presence of FIVE groups of ships in the zones of possible launch in order to disrupt these very launches?
Alexander, are you serious?
Even Americans of steel flop when their aircraft carriers stagger for six months on patrol. So we need to have TEN groups of ships to reliably cover your vulnerable areas? Right? Because while one group will puff from the Mediterranean Sea to Murmansk, and the second from the Indian Ocean to Vladivostok ... Yes, here half the world can be demolished.
Or are we planning some kind of gentleman's war? When will the enemy politely wait six months for us to change ships and crews?
Kindergarten on the crib. Not even a sofa, unfortunately. Where to get so many ships in 17 years, given that some are not even on paper? Alexander, confess, who are you going to recruit as allies? Harry Potter? Old Man Hottabych? Do you have a genie hidden away?
However, we will now talk about the timing.
"Question 5. Why do you not want to use aviation to solve strike missions, even when this is the best option?"
The only point where I will not argue. Simply because he himself spoke out in favor of using long-range and strategic aviation for missile strikes instead of ship launches.
I will only note that the option indicated by Timokhin with a strike with high-precision weapons such as the same "Calibers" from such carriers as an ancient single-seat carrier-based aircraft without target designation is yet another nonsense. Alexander, well, now is the 21st century. The times of the Second World War, when they were aiming at the marks on the glass, are over. Now we need normal target designation, an operator who is able to point this high-precision weapon at a target, adjust ...
And all of you want to send planes using a pack of Belomor and shoot cruise missiles at the collimator ...
By the way, it would be nice to take into account such a complex thing as American air defense in your hands. Your "Kuznetsov" will not raise "eights" every hour. They will end after the second flight. Aegis, you know, is a serious and effective thing.
"At the request of the audience"
Well, I don't know who asked for that. Optimistic divanism again.
"Those who came to this job young are quite in the saddle. The aircraft carrier left for India 8,5 years ago, and someone probably survived over the years. "

Bravo! Very optimistic! Yes, India received its aircraft carrier trough. After so many postponements and scandals, but received.
"Such a ship of the Russian Federation can afford, in general, without creating any new technologies and equipment, completely on the existing reserve, it is even easier than the hypothetical" Russian "Vikrant".

Masterpiece again! Indeed, what is there? Give us a fleet of ten Kuznetsovs! The Americans are doing their best there, and we will set up another Kuz and we will be covered in chocolate! Aircraft AWACS will not land? And we have a fighter that will replace it!
Divinely ...
"The author's conclusion that the MiG-29K is unsuitable for military operations is unfounded - this aircraft only needs a new radar and weapons. After that, only a high landing speed and time-consuming inter-flight service will remain a problem, but these problems can be partially solved with the next modifications of this aircraft. "
Well, yes, very similar to Andrey from Chelyabinsk. We just need to build a new plant in order to start riveting aircraft carriers, and create bases for them. And then the same thing. The MiG-29K is a very good aircraft! There are few weapons, the weapons are ancient, he himself has been "only" 30 years old, the radar station is about nothing, but it will serve well!
Like the T-72. A good analogue.
In general, everything is as usual. Populism designed for "hurray-patriots". Forgive me, Alexander, I do not want to deal with windbag, diving with you numbers and schematics, I will leave this to the geniuses of the sofa war.
From myself I will ask one single question:
Where will you get the money for all this?
Andrey from Chelyabinsk will help me with this, who has already done all the calculations with which I almost agree. Andrey has everything here without weapons, without bases, just figures of how much money is needed to build the Fleet.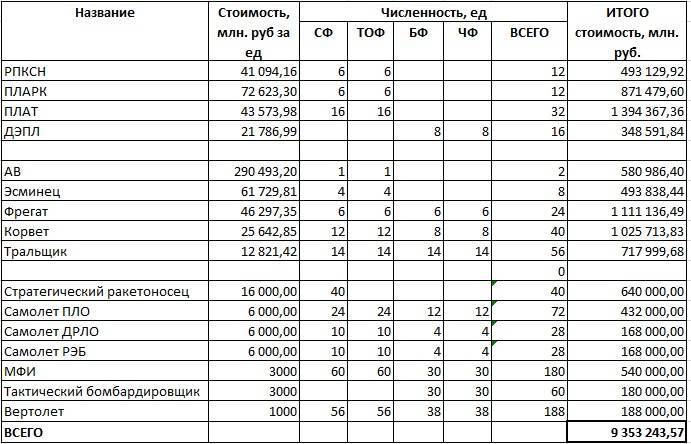 By the way, it has only TWO aircraft carriers. That is, closing all the "pain points" simply will not work.
And now I have a question. 10 trillion rubles. 130 dollars. Where are you planning to get them? How long does it take? Where will the funding come from?
Considering that the WHOLE defense budget of Russia for 2020 was 61 billion dollars, where do you plan to take TWO defense budgets just for construction?
And all this must be maintained and serviced ...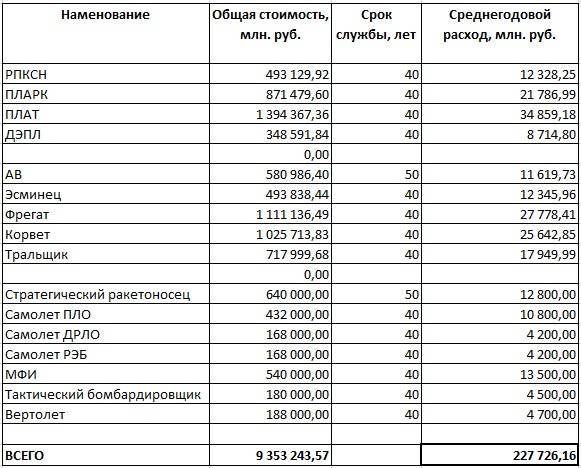 Well, plus the additional expenses Andrei counted in one and a half trillion ...
The whole problem of our time is that the sofa has become the main platform for conducting battles and battles. Unfortunately, many authors took this simple path, fighting according to the principle that was described by the great Hasek. "Di erst column marshirt ..."
I'll just summarize what I have written.
Russia does not and will not have the money to satisfy all the wishes of our "hawks" who dream of an aircraft carrier fleet. And this is the most important question. And not a single author has really been able to answer yet where this money will come from.
They just have to draw. Because Timokhin considered it necessary. In general, it's not even funny.
Very sad couch populism in the style of Dmitry Rogozin instead of a serious conversation. But it looks so optimistic that one even wants to believe that the Russian attack aircraft carrier groups of ships will someday restore order in the world.
I wish I could see this. And I will not be able to admit that I am wrong about Alexander and Andrey.
And so I would like ...
Postscript: let's still remember that we are adults and serious people. And gradually we will stop imitating Dmitry Olegovich Rogozin in telling fairy tales about what might happen tomorrow. And we will evaluate what is happening in the country just like that, from a real point of view, and not in pursuit of cheap momentary authority.