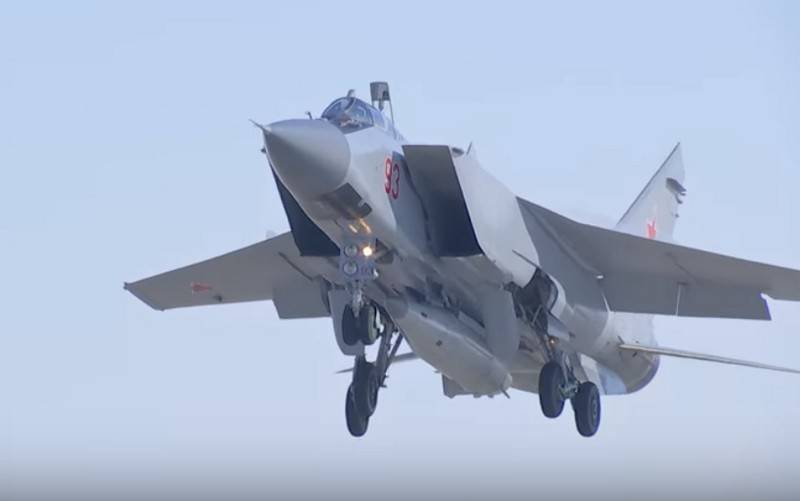 Marine
aviation
Northern
fleet
will get into service with hypersonic complexes "Dagger", the corresponding decision was made by the Ministry of Defense of Russia. Reported by
"News"
with reference to the military department.
As the newspaper writes, the Ministry of Defense made a fundamental decision on arming the naval aviation of the Northern Fleet with the Dagger hypersonic complex. Next year, 2021, the preparation of infrastructure and personnel for the maintenance and operation of the hypersonic
weapons
.
Most likely, the MiG-31 high-altitude interceptors, which are in service with the 98th mixed air regiment, located in Monchegorsk on the Kola Peninsula, will be used as the carrier of the "Daggers". It is also possible that the complex may enter service with a new aviation unit.
For our part, we note that the decision to cover the northern and Kamchatka directions of the Ministry of Defense with hypersonic missiles was made at the end of last year. At the same time it was reported that the timing of the integration of the Kinzhal RK into the naval aviation of the Northern and Pacific fleets depends on the fulfillment of the state defense order, i.e. re-equipment of MiG-31 interceptors for missile carriers.
It is assumed that with the introduction of the Kinzhal complexes into service, Russia will completely close the Arctic, as well as the Northern Sea Route.
Recall that the newest Russian airborne complex "Dagger" includes the MiG-31K interceptor fighter, specially upgraded as a carrier of a hypersonic missile, which is an aviation version of the Iskander-M OTRK missile. In 2019, the complex was successfully tested in arctic conditions, hitting a ground target at the Pemboy training ground northeast of Vorkuta.