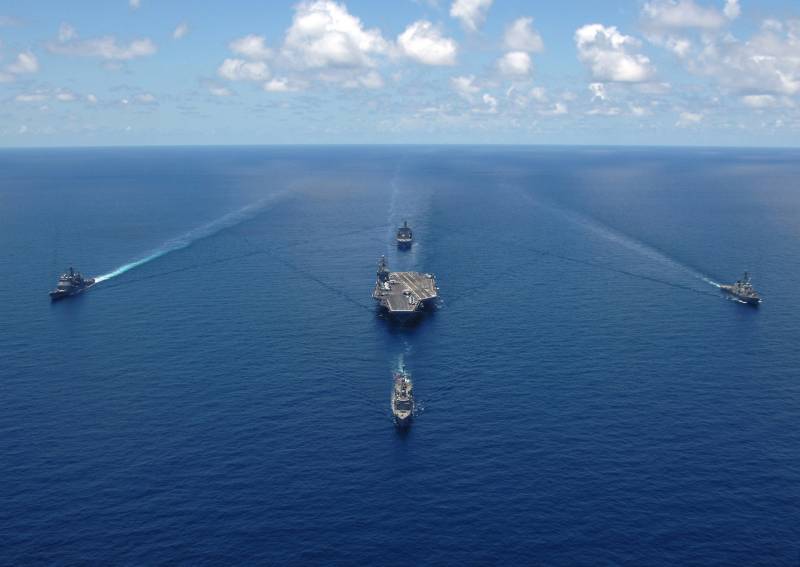 As you already understood, we will talk about an urgent and inalienable problem - the detection and destruction of aircraft carrier strike groups of a potential enemy.
For so many decades in a row, these AUGs have inflicted unacceptable losses on us, and we cannot do anything! Neither the Commander-in-Chief of the Navy, nor the General Staff, nor the Main Directorate of the General Staff have any plans to destroy them, according to many analysts ...
Well, that was an ironic preface. The main mistakes of analysts are that they speculate with dry performance characteristics of equipment, that they do not understand the tasks facing the AUG. And they all boil down to what our Orekhovo-Zuevo MRK can do against dozens of enemy ships. And in fact, everything turns out beautifully for them. Well, really, it won't do anything. And you can't argue with that. But we analyze in more detail, people do not get tired of analyzing what submarines or surface fleet can do, or
aviation
... Well, really, for some reason, always separately. I can't wait for an article that our promising tank on the Armata platform is useless before the AUG.
But this is the lyrics. I am not against such articles, but you still need to understand and take into account many nuances in order to judge something. And now I will not speculate with numbers and clever phrases. But I will try to convey several important mistakes of analysts that should be taken into account when writing any article. Well, at least until it will be written concisely, without much deviation towards formulas and statutes.
First mistake. By default, all AUGs are always attacked only from under the water, or only from the sea, or only from the shore. And the valiant AUG accordingly takes all means and forces to repel attacks. Since there are 90+ aircraft on board the aircraft carrier, loaded at the same time with anti-ship missiles, air defense and PLUR. Since all enemy aircraft monitor air and water for thousands of kilometers around the clock and do not care about fuel. Since submarines and escort ships AUG can see tens of thousands of kilometers and accurately find and classify targets. Since the entire personnel of the AUG is able to stay awake for months. And much more.
You must understand that the AUG is, first of all, a strike group that came from afar (tens of thousands of kilometers) in order to complete any task. They did not come just to destroy our submarine or repel the anti-ship missile attack. They came for their intended purpose. They are versatile. Accordingly, their equipment is also universal. Needless to say, the same "Burks" are not air defense systems, but primarily strike platforms? And at least 1-2 destroyers in the order are initially charged for the strike function, that is, with Tomahawks. To hit the shore. More than half of the MK41 cells are occupied only by them, their air defense is minimal, only for self-defense, and even more, all the other AUG ships will cover them, and even more than the aircraft carrier. Because of them, in fact, they came here thousands of kilometers. There may be 1-2 more destroyers in the order, but they are more versatile. But the standard load implies both "Tomahawks", and PLUR, and air defense. No one knows in advance what they will have to face. So all assurances about thousands of air defense missiles on board the AUG are simply meaningless.
Let us analyze the AUG aviation, omit the electronic warfare, AWACS and tankers. Striking force - fighters. Ideal role for air defense. It would be, if it were not for the main striking force against ships. Yes, in fact, apart from this
weapons
, AUG has no other anti-ship missiles. All "Burks" have long been without anti-ship missiles, "Harpoons" remained only on a few "Ticonderogs", of which there were only a few in all
navy
and not in every AUG. Well, there are already 8 of them. 8 anti-ship missiles for the entire aircraft carrier group. Therefore, at least half of the aircraft is initially loaded by default anti-ship missiles. They simply have no other weapon against ships. Even on patrol, one of the aircraft will be armed with anti-ship missiles, to the detriment of V-V missiles. I repeat, no one knows what they will face, and the Americans, unlike our authors, understand this.
Second mistake. Any AUG by default controls everything around it for many miles around. By the way, AUG is located on average on an area of ​​100 sq. km. The area to be controlled is tens of thousands of square meters. kilometers. And it's funny to see that one AWACS plane confidently takes control of all this. Somewhere there he is sent to a threatened zone, and he sees everything there for thousands of kilometers around. On an aircraft carrier, as a rule, there are 3 AWACS aircraft, one in the air, one in 45-minute readiness, the third in reserve. And this plane will not be sent anywhere, it is located above the AUG itself. Because there are no threatened directions. By default, all directions are threatened. Somewhere there may be a mistake, somewhere a distraction, somewhere there may be freelance situations. Nobody will send this plane for a long distance. Simply because there will be no one to cover him. In real life, the strike group of aircraft on an aircraft carrier is 30 aircraft. Only 10 can be lifted into the air within an hour, taking into account that another tanker, electronic warfare and AWACS will take off. Then 10 will prepare for departure, and 10 more will be in reserve. Since there will never be 80-90 aircraft on an aircraft carrier. Especially in military operations. 90 is the full composition of the aircraft assigned to it. In fact, there are only 3 squadrons on the ship, reinforced by AWACS, electronic warfare and tankers. The rest are waiting at the airbase in the home port.
We return to the AWACS aircraft, which are sent to patrol hundreds of kilometers from the order. For escort fighters at such a distance, it's easy to fly there, stay there for 10 minutes and return home. If they want to fly home, of course. And we already understand that there are not so many of them at all, and not all of them will be fighters. Half will be in the RCC version. This is the default. Nobody knows what will be in the square where you need to send this AWACS. And no one will send him there. It will be suicide and the loss of aircraft. And even if the threatened directions are determined, part of the forces and means will be engaged in the protection and defense of those directions where there is nothing. Since a mistake is possible, since a military cunning of the enemy is possible, since a real strike from several directions can be possible.
Third mistake. Neglect of real performance characteristics of forces and weapons. Many authors love the analysis based on whose rocket flies farther, whose plane / ship it detects first. I will not go into details and compare which missiles and radars are better. I'll just say one thing. In real life, and even more so in combat, no one ever shoots at the maximum range. Because this is a zero result. Nobody gets anywhere. Or only if the pilot of the aircraft, upon detecting a missile launch at a great distance, puts on the autopilot and goes to the toilet with a cigarette. Then, of course, there is a chance. In short: at the maximum distance you can only hit a stationary target, or one that moves at the same speed roughly in the opposite direction. Since there are certain characteristics for hitting targets, depending on their speed and range, this is due to certain angles of capture of targets for the seeker, as a rule, they do not exceed several degrees, and even at 100 km, any slight deviation of the course will mean a loss of orientation of the missile guidance system ... It will fly, of course, but only to the place where it originally recorded it, and there it will self-destruct, since the target will not be there for a long time. I speak rudely, since I have to do with air defense, but I try to explain in my own words, so that everyone can understand. Yes, there are different guidance systems, different missiles, but the meaning is the same. They do not shoot at the maximum range. Especially in the fighting. So, comrade authors, cut your sturgeons in half at least, I mean the effective range. And that's the questions. But there is already about what is easier: to get into the ship from the plane from 100 km or from the ship to get on the plane at the same distance, and what will happen earlier.
Fourth. Finally, understand that there is no need to compare separately different aspects of the defense of the same AUG. Analytical authors may not know this, but Americans do. They will know that if planes have been spotted somewhere, it means that submarines are already nearby, and surface forces are on the way. And they will not fly stupidly to shoot down an incomprehensible plane hundreds of kilometers away, raising all forces and means there, leaving the warrant without protection. This simply means that they will go on the defensive and will wait for a clarification of the situation and conduct reconnaissance in the air, at sea and under water. Well, I'll point it out right there, since many will say that the Americans have been testing new anti-ship missiles for both air and sea basing a long time ago. Yes, and that's natural. With the air part they already have progress, but so far they are not in service and there is not even a tender for the naval component, approximately by the 30th year it will be, when they test, select a manufacturer, prepare the carriers and start rearmament ... For a decent time, AUG will also critically depend on aviation to the detriment of air defense. We also test "Zircons" and "Daggers". But they are not there? And basically all analysts focus on the fact that the Americans do not have this yet, they seem to have it, and what we seem to already have, but we still have little of this, has not yet been adopted for service. then the tests are still going on. Well, and most importantly, remember: they will not attack the AUG with any one RTO or a single MiG-31k with a Dagger. If necessary, it will be attacked simultaneously from under the water, from the water, from the air, and maybe even from the ground. Since we are peaceful people and it is unlikely that we will just go thousands of kilometers. Thank you all for your attention.