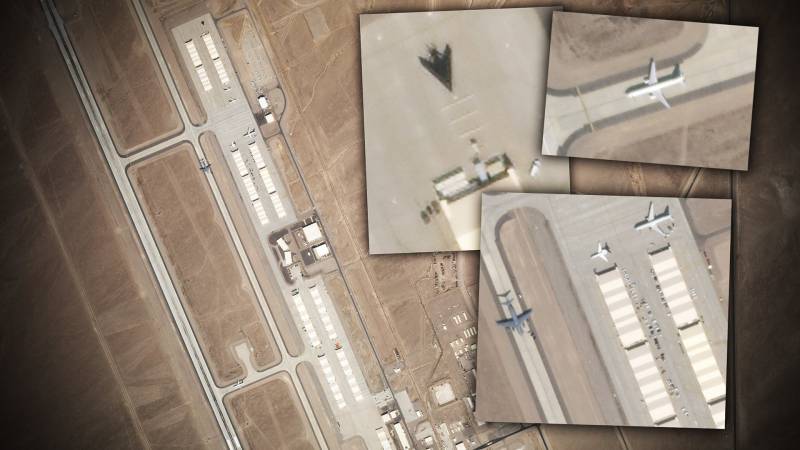 Intensive work is underway at the Tonopah airfield of the US Army, part of a secret test site in Nevada. Satellite images taken in September this year and published by The Drive show the unusual intensity of aircraft flights.
The US Air Force's secret Tonopah training ground is 110 kilometers northeast of dry Groom Lake, on the banks of which is the famous Area 52. The test site was opened in 1957 and is used by the US military for nuclear tests.
weapons
, various missiles and ammunition.
From 1977 to 1988, a training program for training air battles with Soviet aircraft was worked out at the site, and from 1982 to 1989, secret tests of the F-117 Nighthawk fighter were carried out here.
As the newspaper writes, during the week, starting from September 19, 2020, intensive flights were carried out on the territory of the test site.
aviation
and some secret work was carried out. Five F-117 Nighthawks stealth aircraft were spotted at the airfield, as well as other aircraft and helicopters previously not seen at the test site.
The site is believed to have been used to train and test equipment for the US Air Force Special Operations Forces or other covert training. Also, the preparation of the test site for testing some weapons and ammunition is not ruled out.
Meanwhile, it became known earlier that the landfill itself has been undergoing reconstruction for several years. In 2018, training flights of stealth aircraft F-117 Nighthawks, decommissioned back in 2008, began there. In the spring of this year, the Russian Foreign Ministry announced that it is highly likely that work is underway at the test site to prepare the nuclear test site in Nevada on high alert. The term for bringing to such readiness was also named, amounting to about six months.