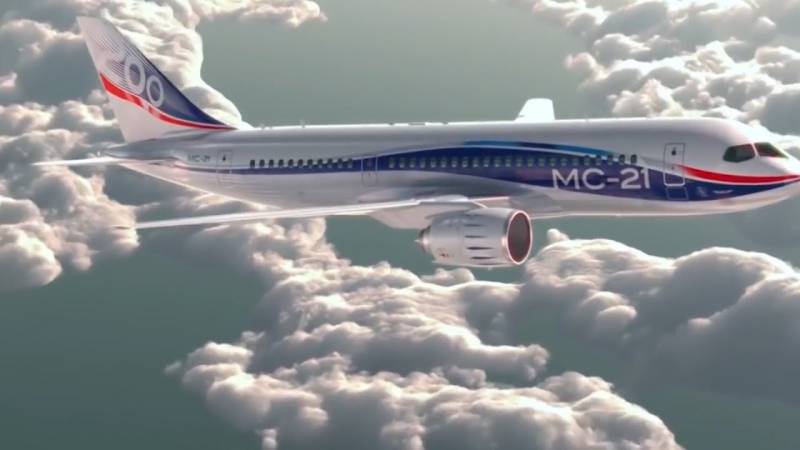 Strictly speaking, the problems of modern Russian
aviation
and the aircraft industry was not only lazy. There are many broken copies. However, a certain (quite obvious) aspect of this problem is somehow less popular. Either the experts themselves on this topic do not speak out frankly, or only PR people speak on this topic. Or something else ... So let's get started.
The illusion of Soviet cheapness
For some reason, there was such a stereotype: the Soviet military-industrial complex as a whole and specifically the aviation industry were super-efficient and gave an excellent result quite cheaply. But this is how to say ... The Soviet economy was very specific, and it was practically very difficult, if not impossible, to calculate someone's specific costs / contribution to it.
And the defense industry was the core of that very economy. The whole country worked primarily for the military; to say at the same time that its military (the aviation industry was primarily military) industry worked "cheaply" is somewhat presumptuous.
There, in fact, gigantic funds have been poured in on a priority basis since the 30s. Well, there was a result. There was aviation, and aviation design bureaus, and aircraft factories, and everything worked.
Now I would like to especially point out the allegedly low salaries of Soviet aviation engineers in comparison with American ones. But how to say ... Our country as a whole was much poorer, and therefore everything is relative. Stalin did not spare money for aviation. And the pay from aircraft designers by Soviet standards was quite interesting. Further, the paychecks were no longer so interesting, but any aircraft plant, aviation design bureau under Soviet conditions is a separate state with separate supplies and funding (much better than the average for a hospital). And you won't really go to America, although some have tried.
And the Soviet social package in the aircraft industry was very interesting. Here you have both free apartments and food supplies, and a lot of things ... And I must also say the following: after all, a very different number of specialists worked on the same project in the USSR and the USA (for the Soviets
much
more), while the level of the average Soviet aviation engineer was slightly lower. Something like this.
In the 70s we loved to rant in smoking rooms, how much such engineers get in America. "They are like that" - not at all. Because "there" "such" specialists were not interesting to anyone (for the most part). So to say that the new aircraft cost the USSR a mere penny is somewhat bold. Costly enough. This is if we count all costs according to the normal scheme, and not according to the "magic Soviet" one, where prices were often drawn from the ceiling.
And in general, given the isolation of the Soviet and American economies, it is rather stupid to recount something directly, but, as you might guess, the creation of a new model of aircraft consumed a much larger part of the Soviet budget in comparison with the American one. The reason is simple: America is a much richer country and more advanced as well. They initially have more resources and technologies, and we want to show ourselves. And besides, they had and still have a powerful [/ i] civil private [/ i] aircraft industry.
That is, a private trader spins up the aviation industry (and all components, such as instrument making and engine building) at his own expense, while paying taxes. And we need to do all this from scratch, at the expense of the state. So calculate the profitability and cost. And in the end, at the expense of the state, we must produce a lot of everything technically complex and surpassing our current level. And at the same time, with the termination of state funding, production immediately collapses!
Well, where is the cheapness? And Roosevelt (unlike Stalin) could simply order a thousand new bombers from a private owner. And do not worry about producing gliders for them, or about aircraft engines. Something like this. And don't worry about aviation kerosene. And about the training of personnel for the aviation industry. And Churchill could, and Hitler, and even Hirohito, albeit not as pretentious as that of the Americans, but in peacetime they could well. In wartime, certain problems with resources began. Everyone has their own.
In the USSR, everything was state
Exactly! And it had both its pluses and certain minuses. After 1991, the aviation industry predictably went into a dive. What kind of business? What are the international markets? They have been working in the state system all their lives and are not used to working differently. As they joked about Antonov in the epoch of "independence": this is an air carrier that pretends to be an aircraft manufacturer.
The Russian Federation had some opportunities to maintain the trousers of the aviation industry. The results are pretty miserable. Controversial, so to speak, results. In fact, all "aircraft manufacturers" continued to circle around the beefy Russian budget. Nobody got on the "commercial wing". All statements about "having no analogues in the world" should be divided by ten.
The civil aircraft industry simply bent over. The military seems to be moving slightly ... Damn it? You can't just order a batch of planes from time to time. Design bureaus, aircraft factories, and subcontractors need to eat something every day, and neither one nor the other may remain for the next order. And this becomes a problem. Because they know how to feed
only and exclusively
from the budget. Commercial contracts allow you to grab money (not everyone!), But without constant government funding, everything immediately collapses and collapses.
In principle, our aircraft builders do not know how to live on "grazing". Nobody taught them this and did not set such tasks for them. USSR for its
history
managed to "hammer" monstrous resources into the aviation industry, which is why today we are selling something there for billions of dollars. But technology is advancing, the competition is growing.
And, by the way, the very ability of Russian producers to fight for foreign contracts raises big questions. They were not taught this, and they do not know how. All their activities often boil down to a powerful PR and a subsequent attack on the Russian budget. All.
Tale about "Superjet"
Perhaps the most "thoughtful" and "competent" project. In the 90s and later, sheer hell was going on in the country, and Moscow heating engineers suddenly took up naval ballistic missiles, while the Sukhovites (suddenly!) - civil aviation. Look where you threw them ... By the way, it is not clear why. They also had military contracts. Why did they have this hemorrhoid? This is never a close direction and not adjacent. There is not much in common between a fighter and a short-haul liner. Sukhoi civil aircraft ... That way, modestly, but with dignity.
The main complaint about the Sukhoi is that the plane was not very technical. I know there are crowds of trolls roaming the Internet claiming otherwise. Foaming at the mouth of those who affirm. With figures, facts and accusations of dislike for the domestic aviation industry. The problem is that Superjet has practically nothing to do with the domestic aviation industry. Solyanka.
The design quality is average, to put it mildly. "I blinded him from what was." Why was this all started? What for? Having no experience in this kind of activity? What does fighter aircraft design have to do with short-haul aircraft design? Once again: the main question is that the project itself is "not a fountain" unambiguously. Not a masterpiece and not even a strong middling.
And for ten years we have been foaming at the mouth ... It would be better to spend this energy on designing the aircraft itself. And further: to the question about almost completely imported "packaging" we were cleverly explained about the "need for international certification."
Moreover, initially this project was presented almost as an international commercial one. Say, there will be investments, the whole world will integrate, and where are you with your "Sovdep" Tu-334? And here we will have a super-modern super-aircraft made according to the latest world technologies, and almost with the money of investors (non-state!). You, most importantly, do not meddle and do not interfere ... if you do not understand. It was, it was, there is no need to shyly look away ...
International cooperation, integration and foreign investment, the result is a magical "Superjet". And smart talk about
международний
the market of passenger air transportation.
The last international operator refused the Superjet. Demonstrative. And the S-7 company demonstratively refused a 75-seat model. And the attempt to sell Superjets to "brotherly Iran" ran into the American embargo on "completing" the "Russian" airplane. And all the money spent on the project is government money. Or private ... but borrowed!
And what do we have at the end?
Patriots and budget
You know, gloomy thoughts cover when thinking about the future of the Russian aircraft industry. Presses and oppresses. The Soviet backlog is ending. The political, economic, scientific and technical capabilities of modern Russia cannot be compared with the Soviet ones. The Russian market is, as it were, small for serious aircraft production, alas. Both for the military and for the civilian.
The trouble is that our "manufacturers" are somehow not very ready either for the market or for international competition. Not ready at all. They know how to work only and exclusively according to the Soviet scheme. They still see the main money in the Russian budget. And nothing else. That is why no one was going to make candy out of the Superjet. What for? That is why a spare parts warehouse, etc. was not created for it.
The main money is in the Russian budget. And with commerce ... somehow it did not work. I remember the "incomprehensible" deliveries of substandard fighters to Algeria ... I remember a lot of things. People are quite ready to rivet a "prototype" for several years on budget money, which will never go into series. What the state paid for, they did. The "magic seaplane" Be-200 also turned out to be of no use to anyone abroad. And how much pathos there was ...
There, it seems, the Russian state generously allocated money for as many as 6 pieces of MiG-35, well, there was a "wheelhouse" around them. And even on the pages of "VO". Six pieces. At the same time, yes, at the same time it was announced that the Indians are supposedly ready to take almost a hundred ... they are at a low start. But the MiG is a living legend. Or not alive anymore?
Sukhoi is doing relatively well ... Precisely because in the 90s he pulled over the blanket of the state order. There are no miracles. But our budget is not rubber. You see, this is what kills: complete inability
наших
aircraft manufacturers "master"
non-Russian
money (the management system of the aviation industry is a separate topic). Given the current size of the Russian economy, this is a verdict.
There will never be a return to the USSR, it's time to put up with it. And in the new conditions, no one has learned to work. To build a strategy on the fact that "sooner or later" the state will have a lot, a lot of money (like Tsar Midas) is at least naive, and to rivet one and a half aircraft a year is somewhat strange. So what's the strategy, brother?
Our aviation industry was created with unlimited funding from a superpower. Our aviation industry had a lot of factories and crowds of people. Our aviation industry had one main customer. And now she is trying to shrink and survive. And we will make you five planes, order!
You know, something in this sentence is confusing. Slightly. That is, the approach "we are in a difficult situation, we need to sign anything and receive funding, and where the curve will take it out" can hardly be called honest and reasonable.
In fact, the Soviet aviation industry was very, very expensive, it was just that money was not considered to be counted. But now, all of a sudden, it all came out. The situation is anecdotal: if under the USSR we produced up to a thousand civilian aircraft a year, now we are doing 90-120. Everyone. Both civilians and military.
And the United Aircraft Corporation has growing debts. Which, in general, is not surprising. I will say more (yes, any adequate analyst would say it): in such a scenario, the debts will grow almost like the United States. With such a discrepancy between the size of the enterprise (operating costs) and "exhaust".
No cosmetic reforms can change this. For 100 aircraft a year, a certain megastructure is slightly redundant. This is what one manufacturer can do. The trouble with our aircraft manufacturers is that they did not grow out of small private firms built on economy and personal initiative, but grew in the style of bureaucratic state offices. Any specialist who is familiar with any production "here" and "there" will confirm that in similar industries "they have"
much
less and salaries
much
above.
And in today's "half-strangled" state, these very "Russian aircraft manufacturers" are still able to master money, but they are no longer able to issue new aircraft. Budget funding goes to operating costs and the production of semi-finished products, such as Superjet and Il-112. It's not that they don't want better - they can't. And even if today, for the sake of a joke, the aviation industry is flooded with money, most likely there will be no outstanding results.
In general, they are the very ones, these "dolphin and mermaid", "Superjet" and IL-112, vividly and vividly represent the results of work on two options: "large international cooperation" and "fine-tuning of Soviet groundwork." And that, and another does not please the eye. Alas.