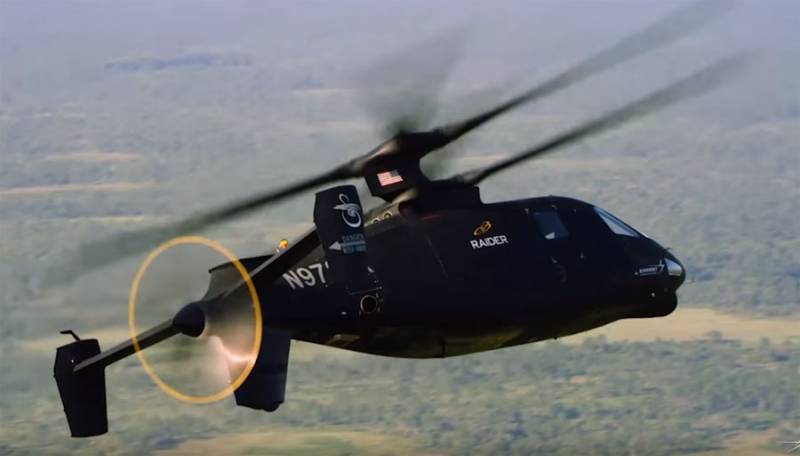 Two companies - Bell and Sikorsky - were on the final list for the development of new-generation helicopters in the United States. According to the latest information, companies are required to submit their prototypes of rotorcraft by 2023. We are talking about the projects of the Bell 360 Invictus and Sikorsky Raider X.
The companies were selected on March 25 as part of the "intelligence
aviation
of the future ", bearing the abbreviation FARA in the USA.
According to this program, in the next 7-8 years, an aircraft should appear in the United States to replace the obsolete multi-purpose helicopter Bell OH-58D Kiowa Warrior. For the first time this helicopter, intended primarily for reconnaissance, took off in the distant 1962. Now, according to the US military command, the characteristics of the Bell OH-58D Kiowa Warrior do not meet modern requirements.
The new program is divided into three main stages. At the first stage, companies must decide on the design design, at the second stage, they must work out detailed design and proceed to production, the third stage is the serial production of helicopters.
The Bell and Sikorsky companies, which became the finalists of the FARA contest, received an impressive sum of US $ 1,64 billion from the US military budget for the design, of which 940 million was allocated to Sikorsky. After the prototypes are presented to the customer, the latter will determine which option is best suited for the American army.
US Assistant Secretary of Intelligence and Logistics Bruce Jett:
Future aerial reconnaissance is a priority in modernizing army aviation. They will enable our units to have a wider range of tactical, operational and strategic capabilities. These reconnaissance assets must have high speed, survivability, and the ability to perform operations longer.
At the same time, it is noted that the stealth technology is not a priority for the implementation of the future reconnaissance helicopter program.
Sikorsky Raider X is a slightly larger version of the S-97 Raider. In particular, internal compartments to accommodate increased
weapons
. The helicopter will be equipped with an additional 20 mm cannon in the front. The aircraft has a three-screw design, which, as noted by the developers, allows for an increase in speed parameters and maneuverability.
Video from 2019 year: