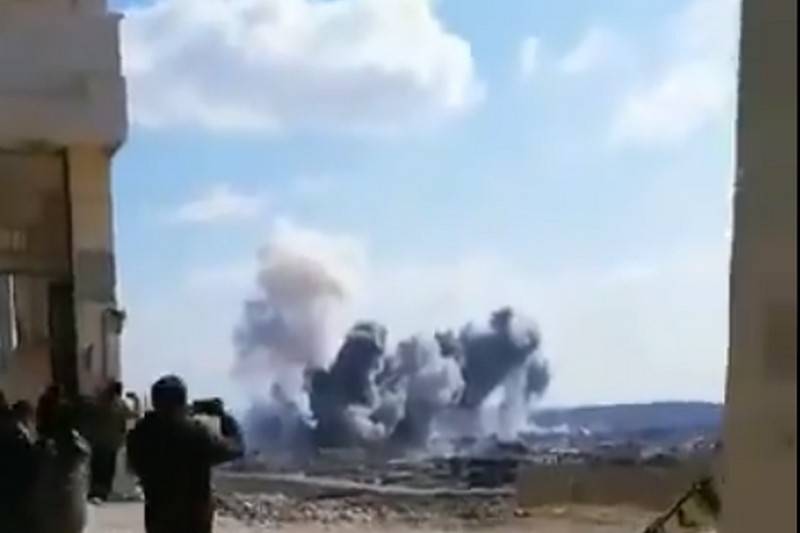 A video appeared on the web, shot, presumably, in recent days in the provinces of Idlib and Aleppo. The video shows how militants from pro-Turkish groups abandoned
weapon
, run out into the open to remove the consequences of a Russian airborne forces strike in northern Syria on mobile devices.
The exact release date of the video is unknown, one of the Twitter users posted it on February 21 on his page, on the same day the video appeared on the You-Tube channel. Most likely, the shooter captured the moment when Russian planes attacked the attacking militants on February 20 in the area of ​​the village of Neyrab in the south of the Idlib de-escalation zone.
The video shows how several militants run out of cover, having thrown their weapons, and begin to shoot the effects of attacks by the Russian air forces on mobile phones. At the same time, only the Turkish military remains with weapons, who, with his cries and gestures, is trying to drive the militants back into cover so as not to be hit
aviation
.
It was previously reported that on February 20, militants launched an attack in the area of ​​the village of Neyrab. Gangs attacked positions of government forces three times with the support of Turkish artillery and
tanks
. When repulsing enemy attacks, Syrian troops destroyed over 150 armed opposition fighters. Despite the statements of Ankara about the capture of Neyrab, the Syrian army does not confirm his loss.
Meanwhile, according to orientalist Gevorg Mirzayan, the attack on Neyrab Erdogan began the utilization of militants, since you can't transfer everyone to Libya, and Idlib province will still need to be handed over to government forces that do not think of stopping the attack.