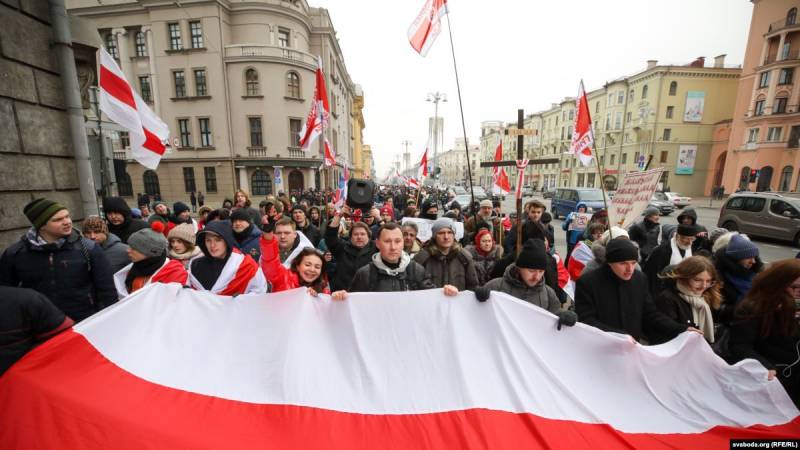 Let's start with Ukraine
The deepest mistake of many Russians who commented on the Ukrainian events was the conviction that "there are exactly the same Russians, but with Ukrainian passports." Well, in the sense, with the exception of a narrow group of paid Bandera, people think almost like in Russia. Based on this, an analysis of the situation in Ukraine has been conducted for many years. And very, very naive people, observing the harsh crackdown of demonstrators somewhere in Europe / USA, immediately begin to post a photo of a surprised Yanukovych with a note: "But what, was that possible?"
Funny to horror. So, the dispersal of demonstrators in the winter of 13-14 did not solve any problem in Ukraine. Millions of Ukrainians were very clearly aimed at European integration. But we are stubbornly trying to ignore this sad fact. And buses with Crimean demonstrators who returned from Kiev were not attacked by "individual extremists," as many would like to think.
After four years of war in the Donbass, we still want to talk about some extremists paid by the State Department, who are to blame for everything. That is, an attempt is being made to ignore objective reality, which is quite a reality. No, extremists had a place to be, as well as the intervention of American intelligence services, of course, this is so.
But
there was quite a mass Ukrainian nationalism, without which it was all completely impossible. There were millions of Ukrainian nationalists who supported the Maidan.
This is reality. And "the evil State Department, which is to blame for everything," is a bit of a fairy tale. And the truth is in the mass support of the Maidan and in millions of Ukrainians who are ready to shed blood for the sake of the triumph of the "European victory". Life has proved it. Until now (!) In Ukraine there are no mass anti-war sentiments. No, our propagandists really want to see them ... and periodically "find" them, but in fact they are not.
It was not for nothing that smart people said that in the case of the "successful" occupation of Ukraine in the summer of the 14th, we would have received half the indifferent, but unkind citizens, a small number of "like supporters" and millions of people who are ready to fight with
weapons
in the arms (at least shoot in the back). And all this booth would have to be kept at our expense.
This truth is very inconvenient for those who have been investing in Kiev for 25 years, so it is ignored. In February 2014, Yanukovych did not have (as many of us think) a simple and beautiful way to disperse the demonstrators by force. It was too late, even such a successful operation did not solve anything: there were both oligarchs and a significant part of the population against it. Moreover, it was Maidan-2 that showed the illusory nature of the "policy of richness of vectorism."
In fact, the Russian version was only a theoretical alternative to use it in negotiations with the West. And while everything was "theoretically and hypothetically," it seemed to roll through. But when Yanukovych really postponed the signing of a magic treaty with Europe, a tsunami wave immediately arose, which carried him to hell with his grandmother. That is, he did not manage to sign anything with Putin in 2014 and did not make any special concessions, but this did not save him. It is categorically unprofitable for many to admit that Maidan-2 had powerful internal Ukrainian reasons. Like, "Aunt Nuland came running with cookies and vulgarized everything."
Richness of vector means the ability to make moves in one direction or the other. So, Yanukovych did not have this opportunity, it was not at all. His "rapprochement with Russia" was nothing more than a tactical maneuver to get his own price in the West. But already this attempt to "bargain a little" provoked a catastrophe. In Russia, millions of naive citizens sacredly believe in a possible option of dispersal of the Maidan and Euro-Asian integration for Ukraine. Naive.
Lukashenko. Time to be determined?
So, this is Ukraine. With Belarus, the situation is no better. Hundreds (thousands!) Of times I met in the comments an open appeal to Lukashenko that "it would be time to decide already." These calls were a little late. It was not for nothing that the ancients advised the kings, so to speak, "re-assuming office," so that they would make the same decisions on the same issues so as not to bring confusion to the minds of their subjects. A stupid, but predictable solution for the masses is much better than a brilliant, but unexpected.
There is also such a thing as the "duckling effect" (what you saw first is better). That is, it was from the very beginning and it was precisely Lukashenko who had the option of creating a pro-Russian ideology in Belarusian society. And there was everything for this: both culture and
история
, and language, and family ties, and economics ... But he decided
totally different
. He just relied on nationalism and Russophobia. Those Belarusian nationalists whom he defeated when he came to power, he defeated not because they were "nationalists", but because they were personally beyond his control. Feel the difference.
We will not analyze here all the reasons and arguments for choosing just such a path for the development of Belarusian society, the fact is that it was such a choice that was made
then
already in the late 90s. In general, of course, the "choice" is very, very exotic: the "complete scoop" in the field of economics, its basis is the industrial giants and collective farms of the Soviet era, which are in full state ownership; Well, in the field of ideology - the maximum throwing of mud at Russia and from it (so dirty and bad) complete distance.
To date, the system in the Republic of Belarus is finally formed and ossified. It can no longer be radically reformed. Each system has the limits of permissible transformation, and so, in Belarus they are very small. The Belarusian state propaganda loves to stick out (for the Russian reader) to the forefront the very same "preserved Soviet economy". Moreover, the fact of its complete and continuous loss-making is diligently diluted, but this is not so bad.
Rђ RІRѕS,
ideological
Belarusian propagandists hate to demonstrate the basis of modern Belarusian society to "fraternal Russians". Because it's "trash and waste". During the reign of A.G. Lukashenko fully formed and took shape just the pro-Western and anti-Russian basis of the "Belarusian ideology". That is, you are persistently poked in the nose with "preserved factories", and you better not read newspapers ... Belarusian newspapers. Why get upset?
In Belarus, a consensus seemed to have formed long ago, where Poland is much better than Russia. That is, there is no special difference between the government and the opposition for us, at least from the point of view that both are in fact oriented towards the West. Now everything is bad in Belarus (the golden years are long gone!), And the fight for power is serious. It just takes on exotic forms (doctors 'deal!). Mass arrests of senior officials, allegedly for corruption ... For us, using the words of Lenin, we can say that "both are worse." What is power, what is opposition. Or rather, this: that "power", that "opposition." In Belarus, these things must be quoted.
Yes, the opposition does not try to win Russia over to its side at all - it is completely pro-Western (pro-Polish-American). Which, based on the Ukrainian-Armenian experience, raises serious questions about the reasonableness of our foreign policy. Should I put all the eggs in one basket? Especially when this basket bursts at the seams, and the "basket man" is regularly rude to you? No, our diplomats are "on top": in Ukraine, Georgia and Armenia we put power in power, and the opposition came to power, and we are so "offended".
It is not necessary to be offended, but to protect Russian national interests. As Babich's experience showed, the Belarusian opposition is in principle not ready to talk with Russia. Russia is bad, Russia is totalitarian, Russia supports Lukashenko. It's more convenient for them. That is a complete lack of contact. We can only congratulate our diplomacy, which has been "hilling" Shklov's genius for 25 years. The results are inspiring. The West does not invest money in Belarus, but ... it works with the opposition and has a serious political influence on Minsk (unlike sponsored Russia). Learn, gentlemen.
But the "official Minsk", as the experience of the same Babich has shown, is absolutely not ready to talk with Russia today! When Babich tried to organize a press conference on the anniversary of the annexation of Crimea, she was ignored by both official and opposition media. That is, they did not come and did not ask "sharp questions"; they simply pointedly "ignored" her. There is such a "Belarusian paradox" here: in general, we have almost all our friends there, but individually everything is quite the opposite.
Why is Lukashenko "pro-Russian"
Everything is quite simple here: "pro-Russian" is a stigma in modern Belarus. Like in Russia - "foreign agent" or in the 90s "family" - about the Yeltsins. And it is precisely this stigma that is actively used in the political struggle (that is, in the struggle for
power
), and just in the struggle for power there is such a beautiful trick as "branding" an opponent with something unworthy (a thief, an alcoholic, an agent of the State Department, a liberal, a "catophobe"). Wherein
absolutely not important
whether it is so in reality.
That is, "legs grow" from here. In Belarus, "pro-Russian" is bad, therefore it can be used in the political struggle, capturing a significant part of the "electorate". As we all know, political propaganda is not at all obliged to rely on reality. It can exist "on its own." So, the "wise Lukashenko" in order to maintain power and protect against the "Anschluss" once gave the go-ahead for the promotion of anti-Russian propaganda. And it worked!
And now, the opposition, using these developments, is aiming to hit Lukashenko's regime, accusing him of "surrendering the country to Putin for cheap oil." But did Belarus receive tens of billions of dollars from Russia? And here Lukashenko must say thanks to his propaganda: he convinced Belarusians that independence is everything, it is sacred; and Russian billions, oil, gas, the market - this is so, nonsense ...
And today he can't say: yes guys, I have "eaten" 100 billion bucks for you! This is not playing. Using the experience of Lukashenka's state propaganda (Russia is obliged to help!), The opposition drove him into a corner (and there he carefully "stumbles"). Today, the "Union State" in the Republic of Belarus is seen as the clearest example of undermining sovereignty and attempted national independence. And there is nothing to cover Lukashenko (that is, he
already
lost).
At the same time, since he is "pecking" him from all sides for pro-Russian character, he considers himself to be "an innocently injured ally of Russia". Why an ally? So still they peck him for it! The tragedy of Lukashenko is that today, being terribly unpopular and having a collapsed economy in his hands, he is forced to retain power in a country with powerful pro-Western / anti-Russian sentiments. And the economy depends on Russia! And in the West, his regime is stigmatized as dictatorial. That is, a man of 25 years has driven himself into a corner.
Prospects for the "struggle"
Lukashenko, incidentally, has much worse prospects than Yanukovych. Yanukovych was quite legally and democratically elected, the power did not hold by force and could well resign / not be re-elected. The economy in Ukraine-2013 was not state subsidized long ago, Yanukovych did not carry out mass arrests and landings, and so on. Nevertheless, in February 2014, he was in a dead end (they drove him there). The economy is weak and heavily dependent on Russia, and the politically active part of the population looks only at the West.
That is, in Ukraine there was and could not be any "Yanukovych regime". In contrast to Belarus, where the "regime of the name of one person" just takes place. And in Belarus, just like in Ukraine, things in the economy, frankly, are not important. That is even worse. But if in Ukraine there were some "options" and some "prospects", then in Belarus everything simply and quietly died: both factories and collective farms. Everything, everything is dead. What we have the good fortune to observe is a fierce fight in the ruins of the economy. Reforming it is too late. You cannot reform what is no longer there.
And for the 25 years of Lukashenko's rule, the Belarusian elite has fully formed, ready to work only in conditions of tough conducting. The market is unacceptable to them, they will not give up power. There such an "original" impasse is being observed now: a group of people (it's not only Lukashenko) are struggling to hold on to power. Market reforms for them are unacceptable precisely for this reason - the loss of power, and therefore they will not be, do not wait. Unification with Russia is also a loss of power, so there will never be any "unification".
We somehow underestimate the difference in systems: in Russia it is not at all necessary to be in the power structures in order to have enough. In Belarus this is exactly so. Only power provides a reliable piece of bread. A kind of feudalism. Therefore, no one there will ever give up even a piece of power. And for any movement (towards the market, towards Russia) it is necessary to give up this power. No one will ever do this. Everyone wants to eat.
That is, for very objective and deeply internal reasons.
none
"Internal reforms" in Belarus are impossible in principle. And no "movement" is possible anywhere either. But the economy is collapsing (prefeudal and not adapted to feudalism) and popular anger is growing. And here it is necessary to look for ways and loopholes where to direct this anger. Well, not for Lukashenko? And the throne begins to fall ... you can't delay.
Given the focus of the "previous" propaganda, the solution is simple: Russia is to blame for everything! Her oligarchs, her "tax maneuver", her "wrong foreign policy." Seeds fall on "fertilized soil" - Belarusians have been accustomed to this for many years. And then "Yanukovych's syndrome" begins. Only Russia can / is ready to provide economic assistance, but any steps towards it are perceived by the population as sharply hostile (surrender of sovereignty!).
And it turns out that there is no "room for maneuver" for the rich-vector Lukashenko. Generally no. What he wants and what he does not want is not so important today. His "Wishlist" here do not play a role. The elites of the Republic of Belarus and the population today, in principle, are not ready for a serious rapprochement with Russia. That is, everything is like in Ukraine in the winter of 13-14. Dead end. He cannot get normal international loans, he cannot reform the economy, he cannot get closer to Russia. He has no moves. And the situation is rapidly deteriorating (zugzwang is called - when any further move only worsens the situation).
By the way, flirting with the junta, among other things, bore a populist character - it was a kind of attempt to set up the opposition on its field. That is, as if Lukashenko confronts the empire together with the entire civilized world. Power is terribly unpopular; therefore, desperate measures are needed. Because - like this. Lukashenko - he seems to be living and working in Belarus, and the mood in Vitebsk, and not in Smolensk, is important to him. And in Belarus - yes, in Belarus, cooperation with Poroshenko added certain popularity. You are not for the "cotton wool"? Well, in Ukraine, he raised his popularity (to the heap). True. And this is no longer whims, this is a struggle for political survival. First, the dog turns its tail, then the tail of the dog ... That is, today it does not matter if he wants to turn to Russia. He cannot do this with all his will. He'll just be demolished.
That is, his flirting with Ukrainian nationalists is not stupidity, it is also a struggle for power and influence. What to do if among the Belarusian electorate Azov is more popular than Sparta? Supporting the militia, Lukashenko would not have gained any political points in Belarus. In fact, in order to "beat" the opposition, he is forced to play on its field and run "ahead of the main Bandera", accusing the same opposition of trying to organize the Maidan and the invasion of the "green men".
When there is a struggle for power, it's not up to sentiment
.
And it is simply impossible to engage in political propaganda in Belarus today without using a "pinch of Russophobia".
Conclusions for Russia
And here just the most difficult and unpleasant begins. In the upcoming political confrontation of Russia, there is simply no one to bet on. Alas and ah. In the Republic of Belarus, it is so bad with "pro-Russian" that there simply is no such "axis of coordinates." As a matter of fact, such a question simply baffles Belarusians. They are "all pro-Russian" (theoretically), or all "independent and European" (when it comes to making decisions), which shows confusion in the minds ... It's like a mathematical team from the Republic of Belarus called "Union State" with the BCH flag.
People sincerely do not understand what is at stake. That is, even Mr. Babich did not meet any understanding from the Belarusians. The Ambassador Extraordinary and Plenipotentiary of Russia did not meet any understanding among Belarusians. In general, no (a pro-Russian country!). We have been "trumped" for many years by the fact that the head of this country is "exclusively a pro-Russian president." Say, what the hell do you still need?
Then, when the president turned out to be not entirely pro-Russian, it turned out that on the next "steps" no one was pro-Russian at all. No ministers, no politicians, no journalists, no one at all. No, there is! Recently dug up: as many as two figures with an interesting surname Draco. Seriously: Yuri Draco and Valery Draco. One simply writes adequate texts about Russia, the second promotes (unsuccessfully!) The Immortal regiment. Searched for a long time, and now - found! Happy immensely.
And if you consider that in Belarus there is a pro-Western opposition named Dracohrust, then you can make a bold conclusion about the habitat of the last dragons in Europe.
But seriously, the "pro-Russian figures" in Belarus are almost as rare as fairytale dragons. Oddly enough, this at first glance dramatically eases our task of helping Belarus. Indeed, it is possible (according to the American example) to help not the whole country, but politicians that are interesting to you (Saakashvili will not let you lie). To help public figures.
If you take them all "in bulk", then all one will succeed
much more economical
than one "emperor Lukashenko." The problem, oddly enough, is that at the moment in the Belarusian socio-political space there are very few figures of interest to us and there is especially no one to help. That is, even with a radical change in the leadership of the Republic of Belarus (which, in the conditions of an economic collapse, seems quite probable), one does not have to wait for any progress in Russian-Belarusian relations. Neither the security forces, nor the business community of Belarus are pro-Russian. Neither in general nor separately. That is, roughly speaking, that very "national unity" in the Republic of Belarus in some form was formed. A sense of "community" arose. But for some reason this "unity" turned out to be anti-Russian and pro-European. It's like reality.
It is no coincidence that Mr. Lukashenko is rushing and rushing to the Kremlin "in the same face", that is, apparently, there are no other "informal ties" between the leadership of the Russian Federation and the Republic of Belarus. Thus, there is Mr. Makei (head of the Belarusian Foreign Ministry), who represents the "pro-Western wing." But to name a high-ranking official of the Republic of Belarus, representing the "pro-Russian wing", simply does not work. Apparently, there are simply none. Apparently bad for a career. But the scheme turned out to be unbalanced, one-winged.
Classics of the genre: there are "Lukashnik soil workers," there are "Westernist nationalists," there is a struggle, but the pro-Russian group is completely absent (that is why Russia's interests are defiantly ignored). By the way, it seems that the single control over all politics has been lost, and foreigners have long been tightly controlled by the Westerners. In principle, if you formulate the national strategy in the key "Russia is the enemy, Europe is a friend", it is not surprising that sooner or later foreign policy will be completely shaped precisely by the "Westerners".
Therefore Lukashenko is so furious. Because the economy "remained behind him" as a "strong business executive" and the economy depends on Russia. And Russia is primarily interested not in "factories and collective farms", but in the foreign policy of the Republic of Belarus, which Lukashenko, apparently, no longer controls or does not control at all.
That is, Lukashenko today can't turn around for Russia for one simple reason: there are no pro-Russian elite groups in Belarus, there are no pro-Russian sentiments among the people, and such a "reversal"
technically impossible
, even if we leave aside the personal preferences of the president himself.