As you know, the United States of America today is not only the first economy in the world, but also has a strong army, writes the Chinese edition
Sohu
... Russia ranks second in terms of military power, while being far behind in economic power. Ironically, with a much more meager defense budget, the Russians manage to effectively compete with the Americans in the field of advanced
armory
developments, in some ways even ahead of them.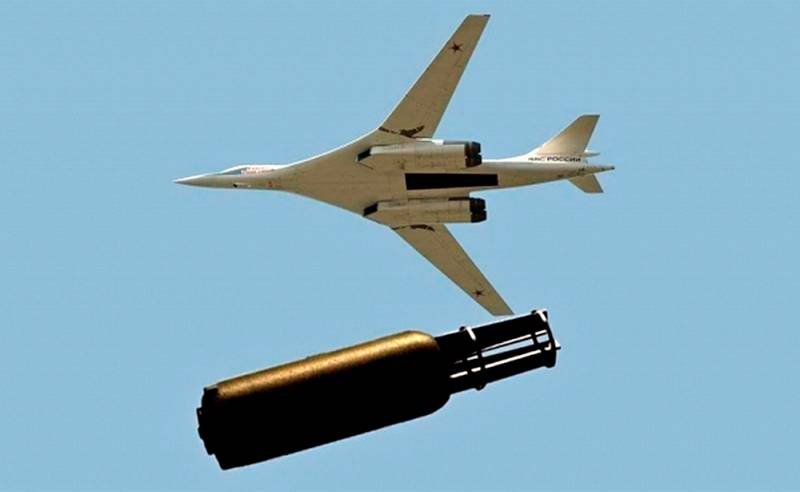 For example, in the early 2000s, a gigantic
aviation
ammunition called the "Mother of all bombs". GBU-43 / B Massive Ordnance Air Blast (MOAB) is the most powerful non-nuclear weapon ever made by Americans. The explosive, known as H6, consists of TNT, RDX, nitrocellulose and powdered aluminum.
With a warhead weight of 8,5 tons, the explosion power is 11 tons of TNT. The temperature at the epicenter of the explosion reaches 1500 degrees Celsius. The shock wave partially hits the enemy within a radius of one kilometer.
In Russia, they took a different technological path in the determination to create an even more powerful conventional ammunition. So it turned out AVBPM - Aircraft vacuum bomb with increased power. In September 2007 of the year, on the air of the Russian state television channel, footage of the tests of this ammunition was shown.
The principle of operation of the bomb is to spray a high-energy aerosol over the area with its subsequent detonation. It is alleged that the explosion power reaches 44 tons of TNT, which is 4 times higher than the capabilities of the American GBU-43 / B bomb. The temperature at the center of the explosion is about 3000 ° C, and the radius of total destruction is 300 meters.
Thus, the creation of the "Pope of All Bombs" in Russia mocked the Americans, writes Sohu, as if hinting that the Russians will always have a threaded bolt on any tricky nut.