The Chinese media publish materials on the export potential of Russian 5 fighters of the Su-57 generation. It is noted that if as early as 3-4 years ago, few people took this aircraft seriously as a new generation combat vehicle in the world, now different countries are showing interest.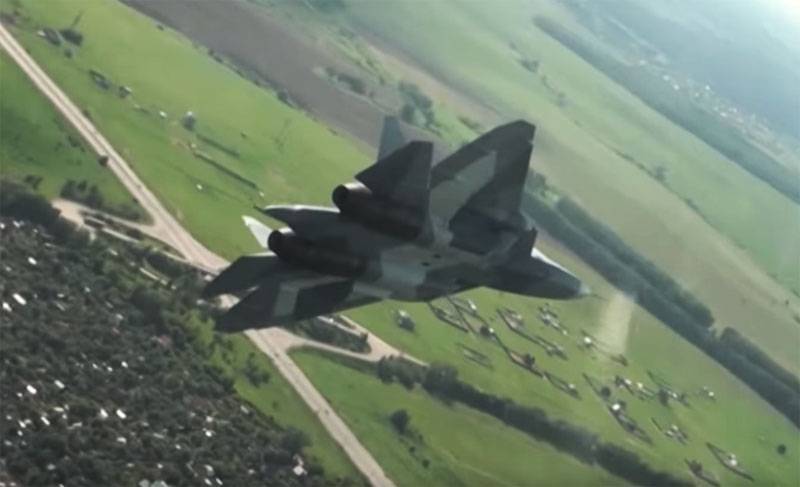 In particular, attention is drawn to the interest in Su-57 from countries such as Malaysia, Turkey and Myanmar. And this, apart from the interest from India, which is minimized, it "flares up" against the background of the understanding that New Delhi has no other options yet. At the same time, Chinese experts note that it is the market of Southeast Asia that may prove to be successful for fighters of the 5 generation of Russian production, and therefore "competition must be made."
SINA Military:
The Su-57 fighter is the first invisible fighter developed by Russia, it competes with the American F-22 fighter. In addition to advanced avionics and powerful rocket
arms
, the aircraft also has super-maneuverability, which was shown in detail by Russian pilots at the MAKS-2019 air show.
The Chinese media recalls that Russia is traditionally active in the market of Southeast Asia and in terms of the sale of other fighters - to Vietnam, Indonesia, the same Malaysia and Myanmar. At the same time, the following fact is given with obvious regret: Myanmar decided to purchase Russian Yak-130 UBS and simulators for them and refused the Chinese offer.
Next is an attempt to kind of complacency:
Of course, the Su-57 cannot be compared with the F-35, so it must be noted that countries that have a request for a modern fighter with high performance and capabilities will not buy a Russian aircraft. And other countries actually have no choice. They should be considered as a possible customer for the purchase of a fifth-generation fighter, China. We need to actively enter these markets.
As a result, it is argued that the design of the Chinese J-20 and FC-31 is more advanced than that of the Su-57. It is also traditionally added for Chinese experts that the latest Chinese fighters have more efficient stealth technology and avionics. And when did you manage to compare in business?
Chinese users, commenting on this material, noted that the country's authorities themselves are extremely reluctant to export modern funds
aviation
.