January 27 (February 8 new style) 1837, on the outskirts of St. Petersburg near the Black River, next to the great poet Alexander Pushkin stood Konstantin Danzas. After a second, a shot of Dantes (more precisely, d'Antes, and after adoption, Gekkern) will divide
history
and the whole country, and Danzas in particular, on the "before" and "after". When the seriously wounded Pushkin, Danzas picks up his hands, Konstantin will not yet know that the people's love for the poet for him will result in the efforts of gossipers, haters and libelists into an ocean of abominations poured on his soul, the soul of a wounded military lieutenant colonel.
The author will not dwell on all aspects of the tragedy on the Black River - let us single out Danzas himself and how he was thirsty to slander. Even the title of friend of Alexander Sergeevich tried to wipe next to the last name Danzas.
First, accusations that he agreed to become Pushkin's second fell on Constantine. It's important that the duel Alexander Sergeevich tried to prepare in secret, as many of the poet's friends (such as Zhukovsky, for example) wanted to dissuade him or to completely disrupt the duel. Thus, in an effort to restore justice, Pushkin was alone. Realizing this position of a friend of the lyceum fraternity, Danzas agreed to be his second precisely because of a sense of friendship and the greatest trust that Constantine could not deceive. And Danzas did not give consent out of idle curiosity, because, depending on the outcome of the duel, Konstantin Karlovich could have been pulled up on the gallows without a hitch, and most importantly completely in accordance with the laws of the Russian Empire.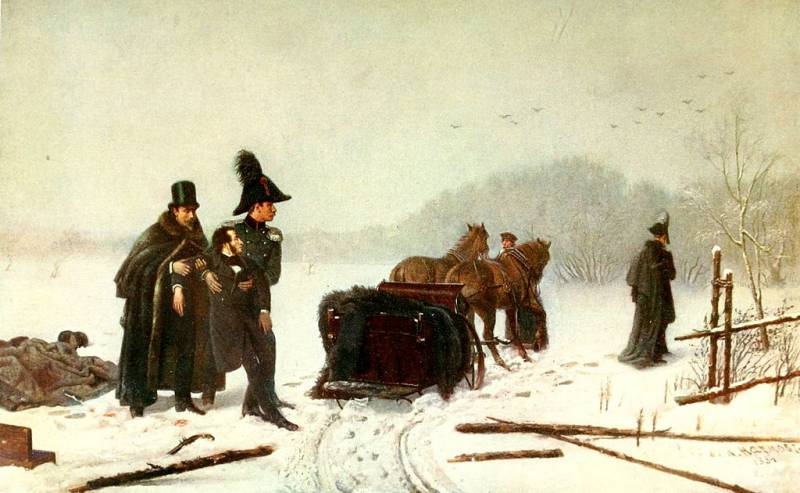 Alexey Naumov's painting "Pushkin's Duel with Dantes"
Then Constantine began to be blamed for the fact that he did not try to dissuade Pushkin. And here it was worth knowing the character and reputation of Danzas - an unshakable brave officer with a keen sense of justice, who, while still a lyceum student (he was nicknamed the Bear), threw himself into any dispute up to a scuffle for mockery and especially insult. He defended his friends with the same fervor. Of course, if they remained lyceum students, Danzas could well have thrown himself into a hectic scuffle, from which Dantes would have crawled out with a broken nose. But both Konstantin and Alexander were already adult representatives of aristocratic families with the corresponding laws of honor. To imagine that such a person would dissuade a friend from protecting his own dignity and the truth itself is absurd.
And the accusations that Danzas did not report the forthcoming duel to the authorities looked completely unthinkable. Pushkin's lyceum friend, a nobleman, a military officer, and suddenly engaged in informing, knowing full well what punishment from heaven would fall upon Alexander Sergeyevich ... It was absolutely impossible.
Moreover, having agreed, Danzas, in fact, signed his own honor in loyalty to Pushkin. It will be Konstantin who, for long hours, will coordinate with Dantes' seconds the rules for the upcoming duel, which was supposed to follow the principle of "before death" (often before being seriously wounded). As a result, the conditions will be officially written on paper and guaranteed, I quote:
"The seconds, the undersigned and invested with all powers, ensure, each for his own side, his honor the strict observance of the conditions set forth here."
Constantine was also blamed for the fact that they didn't call a doctor to a duel and didn't take any medicines with them. This, of course, can be considered the tragic mistake of Danzas, if one does not take into account the strict and brutal rules of the fight "to the death" and the immense haste of Alexander Sergeevich. A criticism about the absence of a doctor seems to be generally taken from the ceiling. The fact is that the same laws, which could throw a rope around Konstantin Karlovich's neck, did not see much difference between the second and the doctor attending the duel. Besides, I have to repeat, they tried to keep the duel with all their might in secret, and even then Pushkin regretted that he had to shoulder such a heavy burden on the shoulders of an old friend. With any outcome of the court was not to be avoided. True, Alexander Sergeevich hoped that he had repeatedly wounded the hero of many battles who had been awarded gold
weapons
, a heavy sentence will not be made.
After the deadly shot, Konstantin brought a weakened Pushkin to the Moika Embankment, the house of 12, at the insistence of the poet himself. Immediately after that, he reported the tragedy to his wife Natalya Nikolaevna (as cautiously as possible, since Alexander did not want his wife to see him in this form). Then Constantine rushed to look for a doctor what to do in evening Petersburg was very difficult. In a dark frosty evening, Danzas literally broke into the house to every famous doctor, but to no avail. As a result, he managed to literally drag Professor Vasily Scholz to the wounded man. Heavy minutes of waiting for a medical sentence flowed.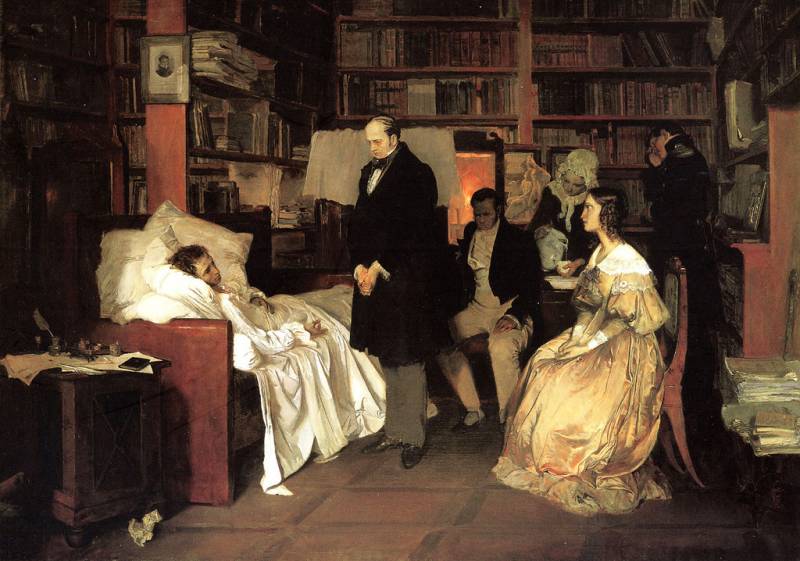 Painting by Dmitry Belyukin "The Death of Pushkin". Danzas is on the right, near the bookshelves.
All this time, shrouded in gloomy feelings, helplessness and pain for comrade Danzas was near Pushkin. It was Danzas who soon called Pushkin himself and talked with him for a long time, dictating to a friend all of his unaccounted debts that were required to be returned, and Alexander Sergeyevich had neither bills nor receipts on them. Moreover, the poet asked Konstantin Karlovich to burn some of his papers, and which ones, never to be disclosed. Danzas kept his oath. It is still unknown what exactly the burned materials contained.
Already at the end of this long and painful tragedy of January 29, on his deathbed, Pushkin asked to call on Constantine, who had been in the house all this time, allowing himself to just take a furtive nap. Apparently, seeing Danzas in some unnaturally embittered and overwhelmed with pain, like no one had ever seen him, Alexander Sergeevich begged his old friend not to avenge Dantes. And the poet addressed his entourage (Peter Vyazemsky, Vasily Zhukovsky and wife Natalya Nikolaevna Goncharova) to stand up for a friend before the court: "Ask for Danzas. He is my brother. " Dying, Alexander Sergeevich took off his ring with turquoise and presented it to Konstantin as a souvenir. Danzas did not part with this gift until the last minute of his life.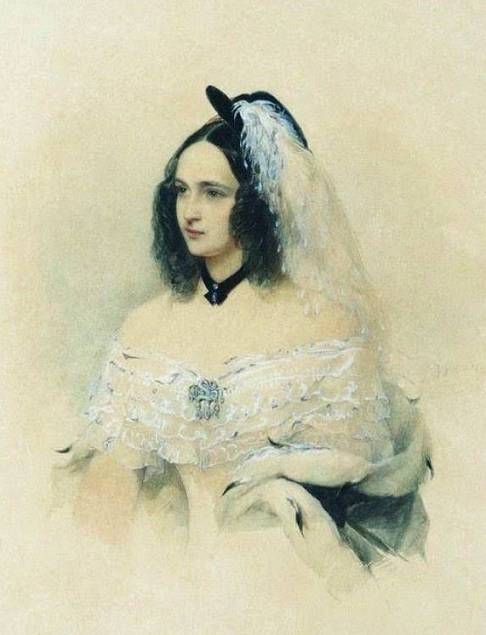 Natalia Pushkina (Goncharova)
Permeating her husband's request, rightly, the only thing she was able to do for him now was Natalia Nikolaevna wrote a petition to Nicholas I. She begged the sovereign not to punish Danzas too strictly and allow his friend's body to be sent to Svyatogorsk Uspensky monastery for the last rest. But Nicholas I decided that Danzas had enough of the fact that he was not arrested immediately after the duel and allowed to brighten up the last moments of a friend. Therefore, just as Pushkin closed his eyes for the last time, Konstantin Karlovich was taken under arrest.
Later Sofya Nikolaevna Karamzin, who was friends with both Pushkin and Lermontov, as the mistress of the popular Petersburg literary salon, would call Danzas one of the "three guardian angels" of Alexander Sergeyevich. But in those days after the death of Pushkin Konstantin Karlovich was sitting behind bars, isolated from the whole world and alone. He knew perfectly well that already at those moments his throat was either tightened by a rope, or this fate was passing him by.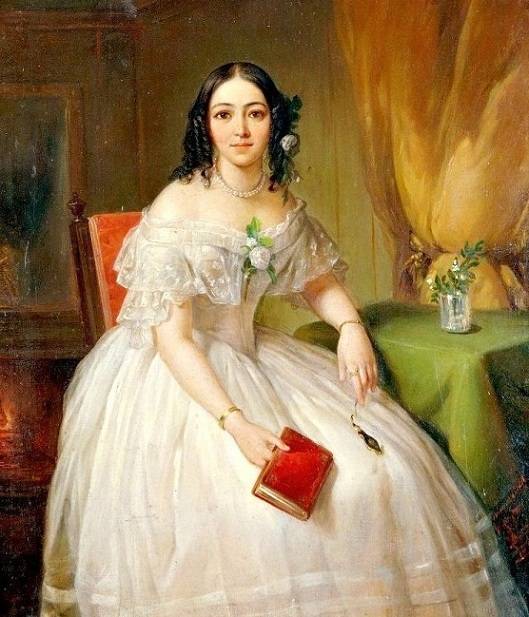 Sofya Nikolaevna Karamzina
Petersburg was flooded with the most awkward rumors, to the extent that Danzas himself received a bullet, saying that he had bad hands with his arm (occasionally tied up due to a battle wound). And, of course, some appointed Constantine as the culprit in Pushkin's death.
Overwhelmed with memories of the last terrible days of a friend, Lieutenant Colonel Danzas behind bars, right, fortunately, did not yet know that his former students-lyceum students turned away from him. Ivan Pushin, a former classmate of Pushkin and a Decembrist, would even write in their hearts: "If I were in the place of Danzas, the fatal bullet would have met my chest." Then it never even occurred to anyone that it was physically impossible, since Constantine was both from Pushkin and from Dantes at a decent distance in order to stand before the shot. In addition, duelists shot not by command, but by readiness.
The military court of first instance handed down the most severe sentence. For the fact that Lieutenant Colonel Danzas did not inform about the planned "evil intent" and thereby "allowed a duel and murder to take place," he was sentenced to be hanged. However, apparently, the sovereign nevertheless condescended to Natalia Goncharova's tearful petition, and the second instance court decided to deprive Konstantin Karlovich of the golden half sable (he was awarded her "For Bravery") and demoted into the ranks. The next instance even more softened the sentence.
As a result, in prison in the Peter and Paul Fortress Danzas spent two months. 19 May 1837, a lieutenant colonel was released and continued to serve in St. Petersburg in engineering units. But for a long time to stay in the capital Constantine could not. Either the eternal hardship with the authorities of the authorities prevented him from becoming accustomed to Petersburg, or the evil tongues pursued the lieutenant colonel, who honorably fulfilled all the requests of his friend and thus risked his own life. One way or another, but soon Danzas personally demanded a transfer to the Caucasus in the Tengin regiment. At this very time, the "Tengins" were among the most hardened fighters, their fame spread throughout the Caucasus. It was they who built the Black Sea coastline, paving the road to where the foot of the empire soldier had not yet set foot.
Konstantin Karlovich again wanted to be where the "real deal" was, where he did not need to understand the subtleties of the beau monde feelings and justify himself to people who are sometimes very far from the concept of honor.
To be continued ...