Air strikes of the Western coalition air forces led by the United States in Deir ez-Zor led to the death of civilians. The United States delivered a new batch of military equipment to the Kurds in Hasaka. Reports about it
FAN
with reference to Syrian sources.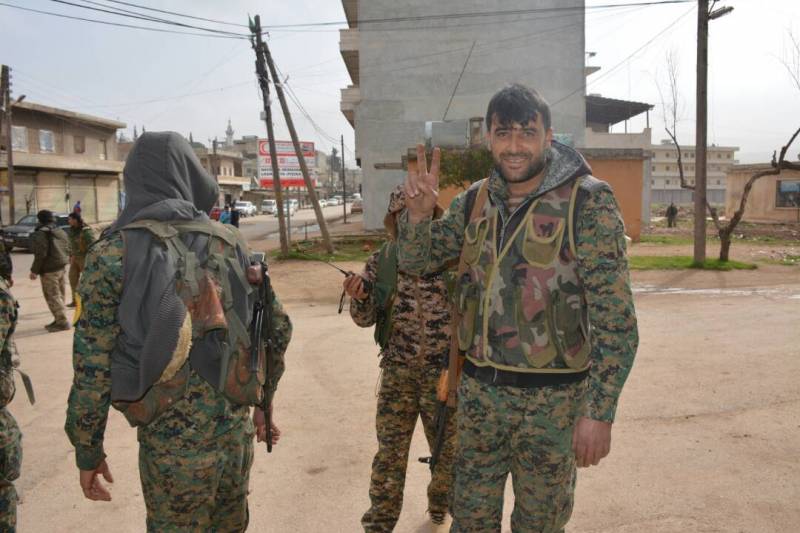 During the day, south of Damascus, armed clashes between government forces and Islamic State militants did not cease (IS, group is banned in the Russian Federation). Violent battles were fought in the vicinity of the Hajar al-Aswad quarter. Skirmishes in the Yarmuk area were also recorded. The Syrian Arab Army (CAA) and the pro-Assad Shiite militia occupied several building blocks on Dir Yasin Street. In addition, after the rocket attacks, igilovtsev defenses were partially destroyed. The Syrian Air Force and the Russian Aerospace Forces also struck at Islamist positions. In the afternoon, there were reports that terrorists were preparing for a counterattack.
Turkish units continued to clear the territories of Afrin from the traces of the military presence of the Popular Self-Defense Detachments (YPG) and the Kurdistan Workers' Party (PKK). In the village of Haj Hasan they managed to find a large military base with an extensive network of underground tunnels belonging to the Kurdish troops.
Representatives of the local population living in the area of ​​the so-called Rastan boiler, which the day before had passed under the full control of the Syrian army, went out to meet the government troops to greet the soldiers. Recall more than 65 settlements were freed from the long-term occupation of the Islamists. In addition, the Damascus-Homs highway officially came under the control of the CAA.
In the afternoon, military missions in the region resumed military aircraft of the Western coalition. Promiscuous airstrikes of american
aviation
undergone an air base near the village of As-Susa, located in the south-eastern part of the province. During the bombing killed exclusively civilians. The deaths of four and the injuries of ten civilians were reported.
The United States continued to supply weapons to the Syrian Democratic Forces (SDF): around 200 military pickups loaded with
weapons
, were sent to the settlement of Tel Bide, which is under the control of the Kurds.