In Kamchatka, the anti-sabotage forces and means detachment (PDSS) of the connection of the ships of the protection of the water region carried out a joint
aviation
Pacific Fleet training on neutralizing a group of conditional saboteurs, reports
press office
Eastern District.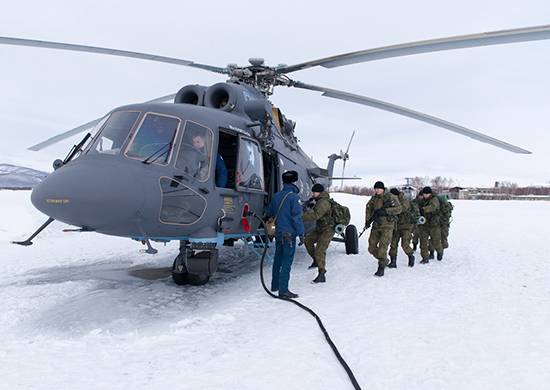 According to the legend of the exercise, the duty shift of the observation post found the landing of an enemy assault force in the coastal part of the Kamchatka Peninsula.
It is reported that "the fighters of the PDSS detachment were divided into two groups in the course of practicing practical tasks: the first played the role of saboteurs, and the second carried out their search and neutralization."
A helicopter with a search party was sent to the landing area. The actions of the PDSS servicemen in search of "saboteurs" were provided by the unmanned aerial vehicle "Orlan-10". After the discovery of the "enemy", the search group of the PDSS detachment in a given area was parachuted from a Mi-8 helicopter without a parachute "by assault". The servicemen of the Pacific Fleet successfully blocked, and then, after a short battle, destroyed conditional saboteurs,
says release.
About 30 PDSS servicemen were involved in the exercise.
Press service reference: "PDSS units are designed to ensure the protection of ships and submarines
fleet
from enemy sabotage and reconnaissance units. They are equipped with high-speed boats and the latest boats of the Grachok type, modern diving equipment and special
weapon
for combat, both on land and under water. "