Two strategic bomber of the US Air Force B-52H, capable of carrying nuclear
weapon
, on Thursday, within the framework of the exercise in the airspace of the Baltic countries, conducted training flights near the Russian borders in the Baltic Sea region, reports
Interfax
Post by Western Military Tracking Sites
aviation
.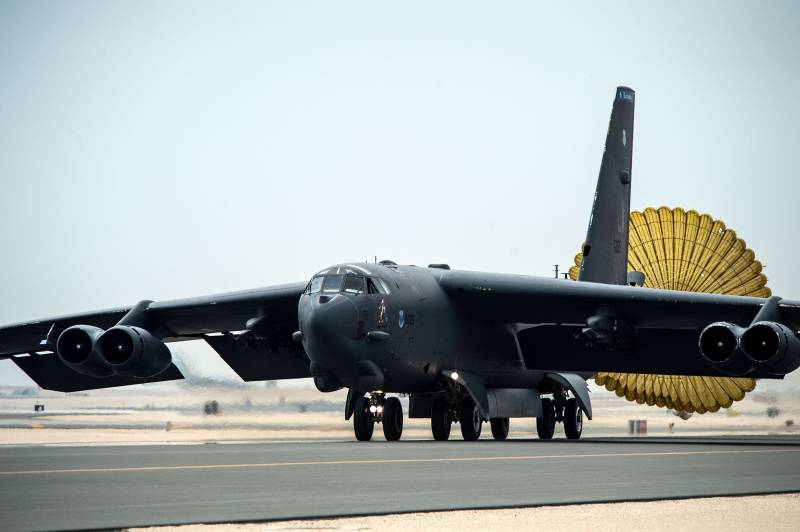 According to the resources, "the American B-52H bombers with onboard numbers 61-0005 and 60-0012 and respectively as BARON43 and BARON42, which had risen in the afternoon Moscow time from the forward base of Fairford in the UK, were involved in the flight mission.
It is reported that before the many-hour flights, which were carried out in the sky of the Baltic States, a training ammunition was loaded aboard the aircraft to conduct training bombings.
Earlier, the General Staff of the Estonian Defense Forces reported that this week American B-52 "will take part in a training exercise in Estonian airspace, during which bombing will be conducted at the Central Defense Force training ground located in the north-east of the country without explosive. "
At the same time, "aircraft builders from Estonia, Latvia and Lithuania, as well as from NATO (Great Britain and Denmark)" deployed in the Baltic countries should be involved in the exercise.
Last week, the US Embassy in Lithuania also reported that US Air Force bombers would take part in a training exercise in the area of ​​the Kazlu-Ore Lithuanian test site, located in 40 km from the border with the Kaliningrad region.
According to Western sites, five B-52Hs were deployed to Fairford Air Force Base last week. They are part of the 5 Bomber Air Wing of the United States Air Force, based in North Dakota.