The CAA, with the support of the Allies, destroyed more than 20 terrorists in Aleppo, and 23 civilians from Deir ez-Zor were killed by the Western coalition air forces. Reports about it
FAN
with reference to Syrian sources.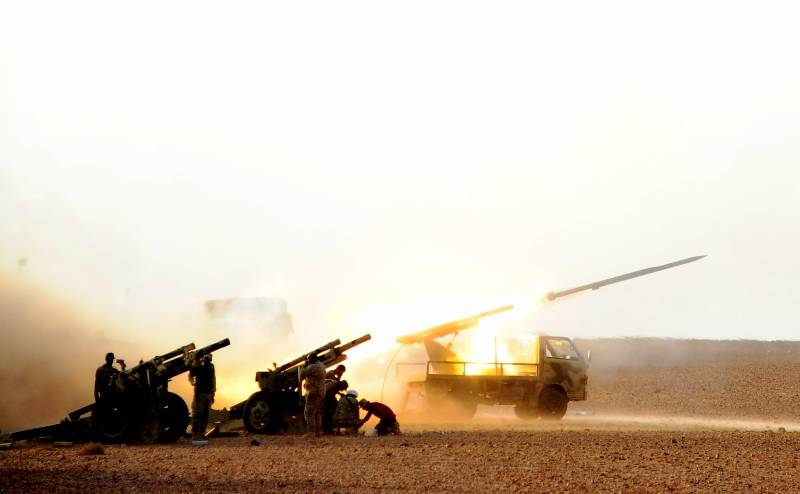 On the outskirts of the Syrian capital, Syrian army soldiers destroyed a jihad-mobile stuffed with explosives along with a suicide bomber. Residents of Damascus from the explosion was not injured. In East Gute, exchanges of fire between government forces and militants of the radical opposition intensified. Not far from Beit Djinn, there were fierce battles between the CAA and armed opposition units.
Not far from the city of Hanasser, in the south-west of the province of Aleppo, soldiers of the Syrian Arab Army (CAA) destroyed more than 20 militants of the radical coalition led by Dzhebhat al-Nusra (grouping prohibited in the Russian Federation). In addition, government troops liberated Rasm al-Qabbara and Tell Siryatel from the Islamists.
In the province of Homs, he resumed his work after a four-year hiatus at the Jausia checkpoint located between Syria and Lebanon. Warehouse found in eastern province
weapons
and the ammunition of the IG terrorists (the group is banned in the Russian Federation).
The air forces of the Western coalition attacked the supposed zones of deployment of ISIS terrorists in the village of Al-Jurzi el-Sharqiyah in the east of Deir ez-Zor province. As a result of the attack, 23 civilians were killed; the exact number of injured is not yet known.
The Russian Aerospace Forces attacked fortified areas of Al-Nusra in the area of ​​the settlement of Al-Huwain in the south-west of Idlib province. In the north of the province, one of the commanders of the alliance controlled by en-Nusra was destroyed. According to sources, the Islamist was neutralized as a result of the explosion of a mine laid in the group's stronghold.
A new explosion of a mine, laid during the retreat of IS terrorists, occurred in the administrative center of the province of Rakka. The improvised explosive device detonated near the building of the National Hospital. As a result, several fighters of the Syrian Democratic Forces (SDF) suffered.
Fierce fighting between the army of the SAR and the militants of the Islamic groups belonging to the terrorist coalition continued on the border between the provinces of Hama and Idlib. Collisions were noted in the vicinity of Al-Mushayrif and As-Siryatel. Also Russian
aviation
in conjunction with the Syrian Air Force launched a series of attacks on strongholds of the Islamists in the area of ​​the settlement of Al-Havin in the north-east of the province of Hama.