The CAA, with the support of the Russian Aerospace Forces of the Russian Federation, dislodged terrorists from a number of Hama settlements, four civilians of Deir-ez-Zor died under the air strikes of the international coalition, reports
FAN
with reference to Syrian sources.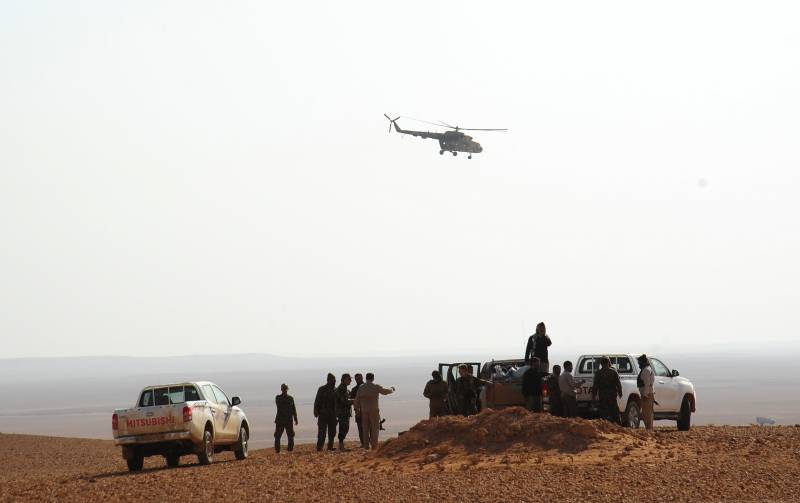 In East Ghouta, confrontation between government forces and radical opposition groups continued throughout the day. In the morning, the radicals announced the start of a large-scale operation against the Syrian Arab Army (SAA) in the province of Damascus. Syrian
aviation
struck at the fortified areas of radical groups in the vicinity of the settlements of Madira and Arbin. In addition, the SAA conducts shelling of zones of deployment of armed opposition groups in the vicinity of the settlements of Duma, Sabka, Hizza, Kafr Batna, Hamuria.
In the province of Aleppo, Syrian air forces are attacking radical armed units in the vicinity of the villages of Siala and Ramla, as well as fortified militants near the town of Ar-Rashidiya.
In the administrative center of the province of Deir ez-Zor, Syrian army soldiers discovered a warehouse
weapons
and IG ammunition (grouping is prohibited in the Russian Federation). Hezbollah reinforcements arrived in the Abu Kemal area. The CAA and allies continued to sweep the terrorists around the strategic city on the Syrian-Iraqi border. The operation of the Syrian army is supported by the Russian Aerospace Forces, striking the militant dislocation zones near Abu Kemal. At the end of the day, it was reported that government forces liberated Hamdan Airport, located near the city.
The air forces of the Western coalition attacked the settlement of Darnage in the east of Deir-ez-Zor province. As a result, four civilians were killed.
Armed opposition fighters opened fire on the locations of government troops in the area of ​​human settlements and Skalba Salhab in the northwest province of Hama. Positions of the SAA near the settlement of Mharda also came under fire from radical formations. According to sources, the radicals use tools caliber 130 mm. The Syrian army under the guise of Russian VKS continued to advance in the east of the province. Troops liberated from the militants settlement Sarh al-Shimaliya, Al-Hazim, rhabdom, Qasr Ali and Al-Hadari. In addition, the Russian Aerospace Forces jointly with the Syrian Air Force launched a series of attacks on the deployment zones of supporters of Dzhebhat al-Nusra (grouping banned in the Russian Federation) in the vicinity of the Al-Balil settlement.