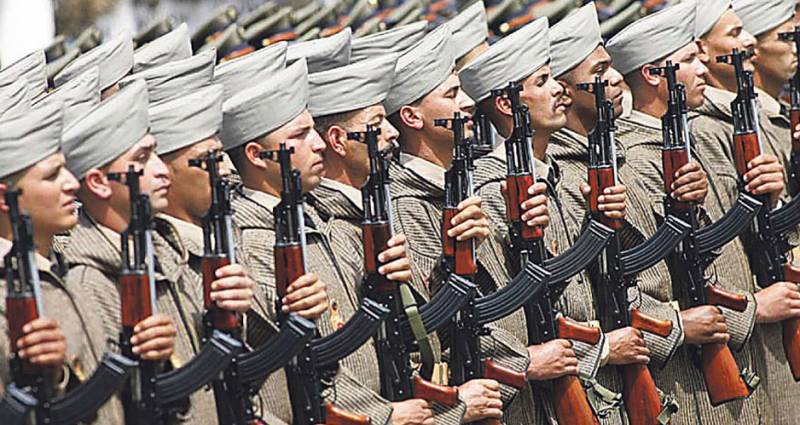 Tunisia and Morocco in the second half of the 50's almost simultaneously came out of colonial control. The first said goodbye to French rule in the course of the bloody events in and around Bizerte, the second is not without collisions, but agreed with Madrid and Paris. Currently, both North African states are pure regionals who do not claim to participate in the affairs of the Greater Middle East. Its problems to solve.
Before the collapse of the Gaddafi regime and the chaos of Libya, Tunisia was the most economically, politically and militarily vulnerable country in North Africa. Its armed forces are equipped with a meager amount of outdated technology mainly of American and French origin, as well as Italian, Brazilian and Chinese. Of the Arab armies, again, if Libya is not considered, only Lebanon is weaker than Tunisian ("Under the command of the Secretary General").
Ground forces - three mechanized brigades: 1-I (headquarters in Keyroun), 2-I (Gabes), 3-I (Beja) and two brigade MTRs.
Tank
the park has 54–84 American M60s (54 A3 and, possibly, 30 A1) and 54 no less than the old Austrian lungs SK105. There are 72 BRMs (18 French AML-90 and 10 AML-60, 20 English Saladins, 24 Brazilian EE-9) and about 400 armored personnel carriers (90 American M113A1 / A2 and 14 V-150, 18 Brazilian EE-11, 120 Italian Fiat-6614, 10 French VXB-70 and 4 ASMAT, 100 Turkish Kirpi). The artillery has 165 towed guns (mainly American - 48 M101A1, 30 M114A1, 57 M198 and 30 French M-50) and 139 mortars. ATGM: 135 American "Tou" (including 35 self-propelled M901), 500 French "Milan". Ground defense has 25 American Chaparel air defense systems, 60 Swedish RBS-70 air defense systems, 16 very old American M42 air defense systems, 115 anti-aircraft guns (100 Yugoslav M-55, 15 Chinese Type-55 and Type-65).
The Air Force is armed with 13 old American F-5 fighter (10 E, 3 training and combat F). Training aircraft: 8 Czech L-59, up to 17 Italian MB-326 (up to 6 B, up to 3 LT, up to 8 CT) and up to 21 SF-260 (12 WТ, 9 CT), 12 MX-7. L-59 and MB-326KT can be used as light attack aircraft. There are 7 French helicopter gunships (5 SA341, 2 SA342L1) and 18 US intelligence ON-58D, as well as multi-purpose and transportation (1 French AS365, up to 8 SA313, to 8 SA316), and 6 SA350, 14 SA3, 23 SA205 22 AB-1, up to 3 UH-212H, up to 2 "Bell-412", XNUMX AB-XNUMX).
The Navy is primarily 3 missile boats of the La Galette type (French Combat-3 type). Also in the composition of the Navy, there are guard ships and boats: Xizer Bizerta-type (French Р-3 without ASM), 48 Albatross (German torpedoes without TA), 6 Utika (Chinese Shanghai), 4 Spanish Barcelo ", 1" Condor "(former minesweepers of the Navy GDRs), 6" Bremse "(also from the Navy of the GDRs), 5" Gabes ", 4" Rodman ", 4" Sokomena ".
As is known, the "Arab Spring" began precisely with Tunisia, for him the consequences of this catastrophe turned out to be the easiest. Now he has returned to what he has left, a moderate dictatorship under the guise of a presidential republic. Because of the insignificance of the military and political potential of Tunisia, no one tried to drag him into a showdown in other Arab countries.
Morocco, the most western country in the Arab world, controls the Straits of Gibraltar of great strategic importance from the south. Rabat continues to occupy Western Sahara, although the independence of the latter has already been recognized by 48 countries ("The subsoil is more important than the referendum"), and also has a rather complicated relationship with Madrid due to territorial disputes over the Pereille island and the Spanish enclaves of Ceuta and Melilla ("Corrida of Terror" ). The main potential adversary of Morocco is Algeria, which in the last 10 years has significantly strengthened and updated its Armed Forces ("Immunity from the" spring "). This forces the kingdom to acquire a significant amount of military equipment. Main suppliers
weapons
in Morocco, the former metropolitan France, as well as the United States, which the country focused on after independence, traditionally perform (for some time American nuclear weapons were even deployed in the kingdom). At the same time, a significant range of weapons and military equipment was acquired in the USSR, then in Russia, as well as in South Africa. Recently, China has become the most important supplier of military equipment in Morocco, one of the 17 countries, which certainly recognize Western Sahara as part of Morocco.
The ground forces consist of the commands of the Northern (with headquarters in Rabat) and the Southern (Agadir) zones. The latter is also called Sahara, it includes the entire territory of Western Sahara. Of the six brigades of ground forces, only one (8-I infantry, Daura) belongs to the South zone. The rest - to the North: 7-I (Umud) and 10-I (El-Arak) infantry, 1-I (Rabat) and 2-I (Tan-Tan) paratroopers, 1-I light security team (Rabat) . The ground forces also have over 100 individual regiments and battalions for various purposes, the number and location of which is constantly changing.
Tank fleet: 54 of modern Chinese VT-1A (export version of the Toure-96), 50 of American МХNUMXА1 "Abrams" (total will be 1), 222 of Soviet T-100, 72 of old American М427А60 (of them XNXXX, 3 of old American М260ХXUMUMX of them XNMXX, 60 of old American М3А108 of them XNHMX, 105 of old American М112А13 of them XNXXXXX, 140 of old American М90-20 (of them XNXXX, 108 of the old American M10-36) Old light tanks remain in service - up to the 75 of the Austrian SK-30 "Cuirassier" and, possibly, to the 240 of the French AMX-10. There are a significant number of French BRMs: up to 105 AML-150 and 20 Lynx, 90 AMX-29RC, 30 EBR-110, and up to 1300 South African Iland and 763 Israeli RAM. It should be noted that the AMX-113RC, which has an 1-mm gun, is sometimes classified as a wheeled tank or BMTV. There are more than 1 BMP (South African "Ratel-2» and «Ratel-28» - 49 and 257 respectively, 60 Dutch AIFV-B), more than 11 BTR (95 American M64A25 / A64-B / A500, French 45 AMX VCI, 61 VAB VCI and 252 VAB VTT, 318 Brazilian EE-109, Czech 74 OT-3C and possibly up to 60 OT-110C). In artillery up to 2 French and American SAUs (up to 150 AMX Mk10, 30 – 18 M46, 48 F36, 21 M12A03), around 800 towed guns (including Soviet - 105 X-ch-ch-ch-ch-ch-x-chX-XX-XX). American and English), about two thousand mortars, as well as 901 MLRS - 150 Soviet BM-440 and 40 latest Chinese PHL-80. ATGM - over 8 (100 American self-propelled M-28, 56 "Tou" and 6 "Dragon" in a portable version, 36 Soviet "Malyutka", 37 French "Milan"), PTO - 12 Soviet self-propelled guns SU-70 from the Second World War and 2 French M-110. Surface VOP includes 163 batteries (314 PU) American SAM "Hawk», 42 SAM short range "Chaparel», 167 Russian ZRPK "Tunguska», 160 Soviet MPADS "Arrow-23», 2 American SoL M-100, 90 flak ( 002 American M12, 19 Soviet ZU-XNUMX-XNUMX, XNUMX Toure-XNUMX (Chinese copy of the Swiss GDF-XNUMX), XNUMX Soviet KS-XNUMX).
The Air Force has approximately 100 combat aircraft (fighter-bombers). These are the 23 newest F-16 (15 C, 8 D), up to 27 F-5 (up to 19 E, up to 4 B, 4 F), up to 37 old French Mirage-F1 (up to 11 EN, up to 14 CH, 7 upgraded EM and 5 CM). There are up to 23 German-French combat-training aircraft (attack aircraft) "Alpha Jet".
In service with the 14 are the British BN-2T patrol and, possibly, the 1 German Do-28, the 3 American EW aircraft (1 EC-130Н, 2 "Falcon-20") and 2 of the KC-130H tanker. All US-made training aircraft: 24 T-6С (before 18 T-6G in storage), up to 14 T-37В, 9 Titan-Tornado. In the arsenal to the 24 French combat helicopters SA342L "Gazelle" and more 120 transport.
The naval forces of Morocco have the newest frigate Mohammed VI (built according to the French-Italian project FREMM), the French 2 of the Mohammed V type (Floreal), the Dutch 3 Tariq ben Ziyad (the Sigma project), 1 Spanish Descubiert. Ships of the last two items are more often classified as corvettes.
There are 4 missile boats of the "El Khattabi" type (Spanish "Lasagas", but, apparently, the anti-ship missiles were dismantled) and around 90 sentry, 18 patrol ships - 1 "Zaran" of the French project ORV-70 and there will be more 3, 5 "Rais Bargash" (OPV-64), 4 "El Lahik" of the Danish project "Osprey-55", 6 "Rabhi", 2 "Okba" (PR-72), and also 5 TDK: 3 "Batral" and 1 " Sit Ifni (type LCТ50М), all French, American Newport 1.
Marine Corps includes 2 battalions without heavy weapons, marine
aviation
- 3 French helicopters AS-565SA.
On the whole, the country possesses powerful enough armed forces, however, in terms of combat potential, they are noticeably inferior to the Algerian ones. However, a war between these countries seems unlikely. Since Morocco is a monarchy, Riyadh actively draws Rabat into the GCC, although the Persian Gulf is very far away. The intervention in Yemen cost Morocco the loss of the F-16C fighter. In Syrian affairs Rabat chose not to climb.