Jordan, in contrast to the monarchies of the Persian Gulf, does not have significant oil reserves, therefore it is limited in financial possibilities. Nevertheless, the Amman armed forces are among the three most combat-ready in the Arab world, primarily in terms of personnel training.
This partly contributed to the participation in three wars against Israel, in which the Jordanian army, despite the defeat, gained considerable combat experience. In addition, the army consists mainly of hereditary Bedouin warriors, as well as Circassians and Chechens, a significant number of whom migrated to Jordan in the 19th century after the Caucasian War. The term "professional army" suits them much more than mercenaries of oil monarchies.
And the technical equipment of the Armed Forces of Jordan is much better than most countries in the region. The main exporters of military equipment to Jordan are the United States and the United Kingdom. Among the suppliers are also France, China, Turkey, South Africa. Most of the ground defense equipment of Soviet and Russian production. Together with our country in Jordan produced the latest RPG. There are no other military enterprises in the country.
Army, aviation and port
The ground forces include six commands: Northern (consisting of two mechanized, infantry and artillery brigades), Central and Eastern (two mechanized and one artillery brigade in each), Southern (one mechanized brigade, one armored), MTR (aviation, royal rangers , MTR brigade, special reconnaissance regiment), border (four brigades), as well as a division and two more brigades.
Tank
The park has 392 modern British Al-Hussein (Challenger-1) and 364 older Khalid (Chieftain), 122 American M60, modernized in Jordan under the Phoenix program. It is planned to purchase T-72 tanks in Poland.
There are up to 50 British BRM "Ferret", 571 BMP (37 Russian BMP-2, 518 Dutch YPR-765, 16 German "Marder"), about 2000 BTR (up to 967 American M113 and 92 armored "Cougar", 143 English "Spartan "And 12" Saxons ", up to 100 Turkish ACV-S, 306 South African" Ratel-20 ", 25" Marauders "and" Matador ", 28 Brazilian EE-11, 30 English" Saratsin "). Jordan purchased the Chentauro B-1 BMTV from Italy (sometimes classified as wheeled tanks), but so far their entry into the country has not been fixed.
In service - about 500 American SAU: 321 М109А1 / 2, 120 М110А2. The towed guns are also made in the USA: 50 M102, 18 – 40 М114. Mortars are mainly Chinese (1275 PPT-89, 375 WW-90, 150 W-86) and American (450 M-29, 70 M-30, 50 self-propelled M106) plus 300 French "Brandt". There are 56 newest MLRS: South Korean 20 Xanw 70, 12 American HIMARS, 24 Chinese WM-80. ATGM: 192 newest American "Javelina", 310 old "Dragons", 742 "Tou" (including 73 self-propelled М901, 45 on YPR-765, 285 on "Hummer"), 200 Russian "Cornets".
Military air defense systems include 300 Soviet and Russian air defense missile systems: 50 Strela-10, 48 Osa, 182 Djigit (2 Igla MANPADS, Jeep Launcher), 1190 Old American XRNXX (250 of old American Red Ay, 300) Soviet Strela-2M and 300 Strela-3, 240 Russian Igla-1 and 100 Igla, 420 ZSU (100 American M-163, 48 Soviet Shilka, 60 German Hepard US M-212), 42 Swedish anti-aircraft guns L22.
The Air Force is armed with 41 relatively modern American F-16 fighter (28 A, 13 B) and up to 35 of old F-5 (up to 26 E, up to 9 F), as well as X-NUMX light attack aircraft AT-6U. It is expected to receive another 802 F-15 from the Dutch Air Force. By the fighting can be attributed converted into the "ganships" Spanish light military-technical cooperation (16 C-1 and 295 CN-2). Transport aviation has 235 American C-7, 130 "Cessna-6", 208 Soviet IL-3, А76, А318, Polish М-340, Spanish C-28. Training aircraft: from 295 to 15 English T24M, 67 Spanish C-9, 101 English "Hawk Mk13".
As part of the 39 Air Force American combat helicopters AH-1S / F Cobra. There are multi-purpose and transport: 14 European EU-635, 10 French AS332M and 8 AS350B3, 5 American S-70A, 25 UH-1H, to 2 «Bell-212», 11-12 «Hughes-500» (3 E, 8 –9 D) and 8 MD530FF, 8 R-44, 13 UH-60 (3 A, 8 L, 2 M), 1 German Wo-105.
Ground defense includes 14 batteries (126 PU) for the Advanced Hawk SAM and 5 batteries (40 PU) for the Patriot PSR.
Navy Jordan are purely symbolic. The coastline of the country is very short, consists actually of one port of Aqaba. As part of the Navy 3 patrol boats of the English built "Al Hussein", 24 small patrol boats, 18 boats MTR.
September Specialists
Jordanian military intelligence is considered the strongest in the Arab world. It effectively fights against Islamic radicals. Amman warned Americans about the September 11 2001 attack, but for some reason Washington did not take advantage of this warning. Jordanian intelligence actively interacts with the Israeli Mossad.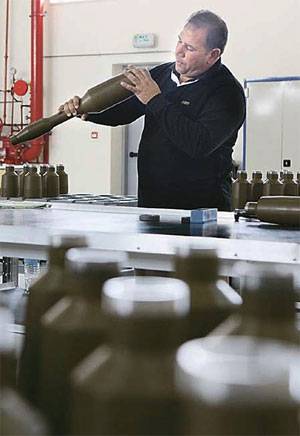 In general, the cooperation between these neighboring countries is quite old, although they fought three times among themselves. Back in 1971, during Black September, Tel Aviv helped Amman prevent the Syrian forces from invading to support the Palestinians. And the year before last, Israel handed over to Jordan several AN-1 "Cobra" helicopters, which has no precedent: never before has the Jewish state provided
weapon
Arabic. Moreover, it is likely that in the near future at least some of the X-NUMX F-98A / B fighters, which have just been withdrawn from the Israeli Air Force, will follow the same route.
Jordan has a long border with Syria, and passing close enough to Damascus. The kingdom tried in every way to avoid being involved in a civil war in this country, but the pressure from Washington and Riyadh was too strong. Therefore, Amman, though without much enthusiasm, is supporting the Syrian opposition. The Jordanian air force is participating both in a farce called "Unshakable determination" (collective IS bombings) and in attacks on Yemeni Housits. However, just for Jordan, the farce turned into a tragedy - in December, the X-NUMX of its F-2014 was shot down by terrorists (apparently, with the captured SAM "Osa"), the pilot was captured and burned alive.
At the same time, it is likely that war will have to be fought with the "Caliphate" of Jordan on its territory. The first precedents of fighting with terrorists of a banned grouping in Russia took place in December 2016. And it is quite natural. Any playing-up of the anti-Assad opposition means, in essence, the support of the IG, which as a "gratitude" comes from the war to those who helped it. In this regard, you can only once again rejoice at the adequacy of Russian politics. It is very important not to make any compromises, not to reduce pressure, not to engage in an absurd search for a nonexistent "good opposition" against the background of "bad terrorists."