Information Agency
Sputnik
publishes a statement by the head of Titan Information Service Konstantin Lamin. According to the interlocutor of the news agency, the complex of combat equipment "Warrior" to 2019 year will be equipped with a voice control system. This will increase the chances of a fighter to survive.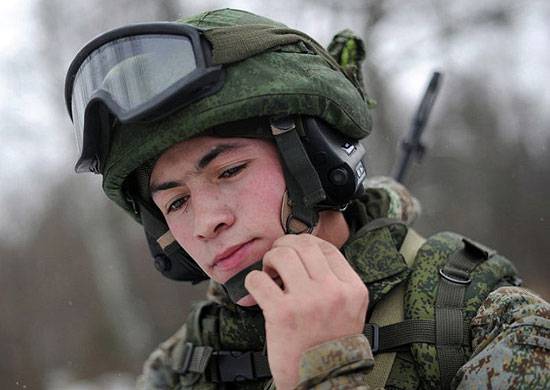 Konstantin Lamin:
This technology will allow to win the seconds that are extremely important on the battlefield to save the lives of our soldiers. The ability to voice control allows the soldier not to be distracted from the fighting, and at the same time move, shoot, watch the enemy and give commands to the computer.
The voice mode, implemented in the "Warrior", will allow the fighter to exchange information with other military personnel of the unit involved in the operation, to receive "tips" and encrypted messages.
In addition, the head of the company "Titan - information service" told that the possibility of managing the complex "Warrior" is being considered through special gestures.
Of
Press Release
Russian Ministry of Defense:
"Warrior" - Russian military equipment of a soldier, also called "a set of soldiers of the future." "Warrior" is part of the overall project to improve the quality of an individual soldier on the battlefield by using the latest scientific advances in navigation, night vision systems, monitoring the psycho-physiological state of the soldier, and using advanced materials in the manufacture of armor and clothing fabrics. The system is a complex of modern means of protection, communication,
weapons
and ammunition.
"Warrior" is different modular layout. His tests were held in various climatic zones, including the Arctic.