Having already expressed our opinion once about what happened in Turkey and about possible consequences, we decided to look at everything that happens near our southern borders from a slightly higher height. And try to predict who is next in line for a fire.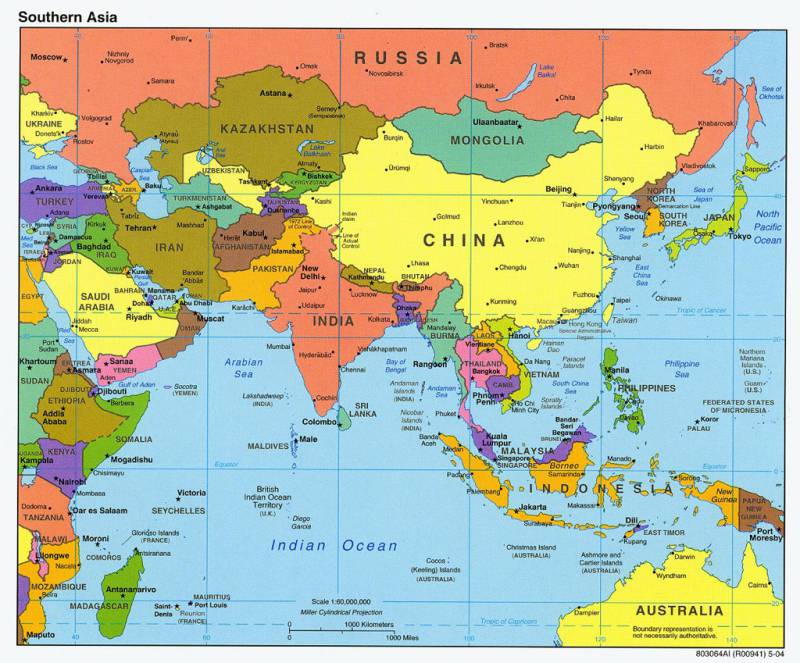 If everything is more or less clear with Syria and Iraq, the fire there has already been burning for a long time and, apparently, for a long time. In Syria, there is a clear destabilization of the situation, the fault of which is, first of all, misunderstanding between Russia and the United States about who the terrorist is "frank" and who is moderate. And who needs to be cut first, and with whom you can try to come to an agreement.
Meanwhile, the terrorists who are frank for us are clearly not going to give up. And, as long as they have bases in the territory of the same Iraq, which, under the occupation of the United States, can be anything but an independent country, as long as the militants dress in Turkey, this song will last more than one year.
Turkey, despite the seemingly declared war on terrorists, will not be in the near future. Especially if the war with terrorists will not be on the Internet. For this, as it were, an army is needed, and with this, in the near future, the Turks have the tension drawn. 6 000 arrested military officers from among the officer corps - this is not a joke. It is clear that part of the release, but ...
It would be strange if the Islamic State and the Kurds did not take advantage of this to the full extent. We are sure that they will take advantage.
Go ahead on the map, up and to the right. There we have two inveterate neighbors: Armenia and Azerbaijan. Russia's ally in the CSTO and the "younger brother" of Turkey. The rehearsal has already been in Karabakh this year, so, in principle, the situation is normal. And with a certain desire and "help" the neighbors again cling to each other in the back of the neck with a normal southern temperament. Sure.
On the other hand, the situation in the Karabakh region is quite possible, as practice has shown, to resolve, if not by persuasion, then at least by a shout from the side of the stronger. While they are obedient, it is difficult to say how much "while" it is long in time. But there were already rehearsals both in Armenia and in Azerbaijan from the side of internal forces. Again, while everything seems to have settled down, as you remember, but again, it is a matter of time and desire to start a fire.
But our view is directed somewhat further. There, beyond the Caspian.
Strange as it may seem, but we have overlooked Afghanistan. Firstly, while Massoud's "Northern Coalition" rules there, everything is more or less calm, and secondly, it's worse than it is, if it does, it will not be soon. Although the existing clan system is quite conducive to the emergence of both those who are dissatisfied and willing to solve their problems in the usual way for this country, and for ISIL, which can take the side of the opposition.
Middle Asia. Uzbekistan
In our opinion, this is the point at which it is most profitable to "ignite". And, if we have a constant increase in tension around our borders, then here is a possible next point for you to apply these forces and means.
Tell me where is Uzbekistan, and where are our borders?
It's simple. In fact, our borders are much closer than it seems when looking at a map. But first, a couple of words about the country itself.
Quite a developed country with even more ambitious plans. The economy of Uzbekistan is among the most dynamically developing, everything is pretty good with proven gold reserves (4-e place in the world), uranium (7-e), molybdenum (8-e). It seems that everything is quite well with the extraction and sale of agricultural resources and products (cotton and astrakhan fur).
True, despite all these rather beautiful figures and places in the world rankings, citizens of this country, claiming the most diverse positions in the field of employment, have already become quite familiar to Russians. Strange, but true.
However, Uzbekistan is a rather ambitious neighbor for the rest. And Karimov's policy is rather tough and pragmatic with respect to his neighbors.
Yes, the army of Uzbekistan is pretty decent. At least, at first glance, superior to the armed forces of Tajikistan and Kyrgyzstan and second only to the Turkmen army. But Turkmenistan pursues a neutral policy in the region, while Kyrgyzstan and Tajikistan are members of the CSTO. Unlike Uzbekistan, who left this organization in 1999 year.
We deliberately leave aside Kazakhstan, which is also a neighbor. For very specific reasons. Mr. President and the leader of the nation today, and comrade member of the Politburo of the Central Committee of the CPSU Nursultan Nazarbayev yesterday, no matter how criticized his opponents, conducts a very definite course in which it is difficult to imagine total changes of any color. Orange, chestnut and other.
Moreover, the arson rehearsal in Kazakhstan has passed. We wrote about it, it is not worth repeating.
Neither should we compare the armies of Kazakhstan and Uzbekistan.
What is the most negative today in our vision and understanding? Uzbekistan is the most religious country of all of the above. This is the center of Islam in Central Asia. With all the ensuing consequences. We all know the consequences, as they say, in the family not without a freak, but for some reason it is from a Muslim family that today the main majority of freaks of a terrorist nature creep out. Alas, but a fact.
But it is precisely in Uzbekistan that religious influence is strong, as in no other neighboring country. This is also a fact. Moreover, according to our Kazakh friends, it is precisely from the territory of Uzbekistan that today there is a flow of religious figures of a clearly reactionary nature. In Kazakhstan, they coped with this by introducing state certification of imams. But then Kazakhstan ... Which, by the way, according to the Gallup Institute (USA), is the least religious country in Central Asia.
Let's summarize some. The points, starting with the least significant.
1. Uzbekistan is a country where the influence of the religion of Islam is very strong.
2. There are claims to neighbors (Kyrgyzstan, Tajikistan), both economic (dam construction, for example) and territorial.
3. Claims for the title of "the first country in the region."
4. Foreign policy that does not support membership in the EAEU, the CSTO and similar organizations.
5. Rich raw material base.
6. The neighbors with whom the relations are not the best are Russia's allies in the CSTO and partners in the EAEU.
Moreover, today Karimov is pursuing a policy like "yours and ours". Not complicating relations with Russia, but completely giving out advances to our "partners." Judging by the image and likeness of some politicians who worked in this style (Gaddafi, Yanukovych), then Karimov's future is not drawn in the most radiant light.
And, of course, oil, gas, uranium and other pleasures. Plus, Afghanistan is close by, from which you can transfer anything from
weapons
and ending units of militants.
In April and May of this year, we predicted that Turkey would rise to its ears sooner or later. Turkey got up. The question is where the next vector of anti-Russian forces will be sent. There are weak points. This is Moldova, this is Karabakh.
It is possible that our enemies will deem it necessary to kindle another bonfire in Central Asia, where we have friends and allies in Kazakhstan (well, Kazakhstan is Eurasia, but we are not to blame for being so healthy in territory and bordering Uzbekistan) Kyrgyzstan, Tajikistan.
Why not exactly in the countries listed? About Kazakhstan, we have already said, and, unlike Kyrgyzstan and Tajikistan, Uzbekistan simply has more than what might interest others. Gold, uranium, oil and gas are, forgive, not Ukrainian factories and black earth. This is real money.
The region is interesting for our enemies, and rehearsals have already been there. It remains only to check the time these assumptions.