I don't know if the book by Vladimir Vladimirovich, the most famous commander and theorist Sun Tzu "The Art of War" was a desk book. However, considering everything that has been happening in Ukraine for almost three years, I get into the idea that I was.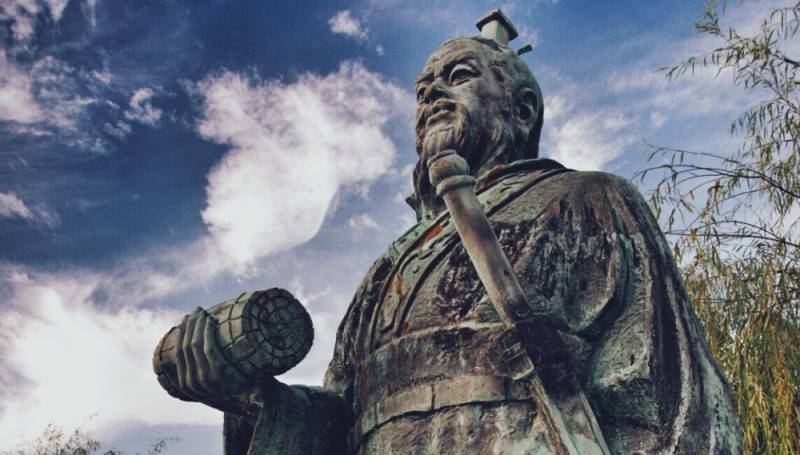 And some processes that occur around and near the object confirm this. I can not boast that at once I caught the word "Chan" and understood the point. The puzzle didn't take shape for quite a while, but it was formed with the help of a colleague Yuri from Sumy, aka Yurasumy, for which many thanks to him.
So, what did I see in the ancient Chinese treatise that made me think about Ukraine and that Putin was studying this book? Just leave quotes to start.
"Sun Tzu said: according to the rules of warfare, the best is to keep the enemy state intact, in second place - to crush this state.

The best is to keep the enemy army safe, in second place - to break it ...

Therefore, to fight a hundred times and win a hundred times is not the best of the best; the best of the best is to conquer a foreign army without fighting.

Therefore, the best war - to break the plans of the enemy; in the next place - break his alliances; in the next place - smash his troops.

Therefore, he who knows how to wage a war conquers a foreign army without fighting; takes foreign fortresses without besieging; crushes a foreign state, not holding his army for a long time. He always keeps everything intact, and this disputes the power in the Middle Kingdom. Therefore, you can not dulling weapon to benefit: this is the rule of strategic attack. "
I hope it is clear what this is all about. A hundred times it has been said that the war is on, but Russia never came to it. But the topic that I decided to touch on is not related to the strategy as such, but to one of the particulars.
How to save a state that seems to be at war with you, or crush, without resorting to military actions?
If correctly interpreted / comprehended, then, in general, Mr. Sun Tzu, referring to the preservation of the enemy's state, had in mind the following: to maintain integrity does not mean not to conquer. It means not to tear it to shreds
tank
wedges and other pleasures of today.
So what are we talking about? We are talking about some gestures that can provide something like a night opening gates. The thing in ancient times is despicable, but effective. And, by the way, saved a lot of lives. Winners, of course.
Immediately emphasize that this is not about the conquest of Ukraine. Rather, about some kind of work on sticking to a more or less digestible for Russia. Say, and why did you take it, dear? But from what. The evidence so far is two and a half, but it may be more if you dig deeper.
But before proceeding with the evidence, a few more quotes from the ancient Chinese. And they relate, strange as it may seem, to spies. Generally, Sun Tzu is considered to be the father of all special services for a reason.
"Knowledge in advance cannot be obtained from gods and demons, it cannot be obtained by concluding by similarity, it cannot be obtained by any calculations. Knowledge of the position of the enemy can only be obtained from people.

Therefore, the use of spies is of five kinds: there are local spies, there are internal spies, there are reverse spies, there are spies of death, there are spies of life.

All five categories of spies work, and you can not know their ways. This is called an incomprehensible mystery. They are a treasure for the sovereign.

Local spies are recruited from the local people of the enemy's country and used by them;
internal spies are recruited from his officials and used by them;
Reverse spies are recruited from enemy spies and used by them.
When I use something deceitful, I let my spies know about it, and they pass it on to the enemy. Such spies will be spies of death. The spies of life are those who return with a report.

Therefore, for the army, there is nothing closer than spies; no big rewards than spies; There are no more secret cases than spyware. Without perfect knowledge, you cannot use spies; not possessing humanity and justice, you will not be able to use spies; not possessing subtlety and insight, you can not get a real result from the spies. Subtlety! Subtlety! There is nothing that spies cannot use. "
Today, the word "spy" sounds somewhat impartial, but the essence has not changed. I hope that what you said to Sun Tzu, you read and understood, and therefore turn to the evidence.
So, the first proof. Crimea.
Yes, it is the Crimea. And I will begin again with the Battle Rules so often mentioned by us. It is more modern than the "Art of War" and more understandable. As part of the formulation of the problem, understanding it and others. The smartest book, I'll tell you.
So, according to the "Art of War", if we are faced with the task of not capturing Ukraine, but quietly "squeezing" it, then everything looks quite logical. Especially taking into account the fact that today in the territory of Ukraine they will not really work in the information field. It's not worth talking too much about the pretty crap brains of one part of the population and frank refusing the other, we all know perfectly well.
The military option is really unacceptable here. Because quite the same 1946 year can turn out, and so on.
But there is one feature of Ukraine, which gives a definite clue.
These are Ukrainian oligarchs and elites close to them. Moreover, in the Crimea, these elites and oligarchs were no less in percentage terms than in the rest of Ukraine. And this site has recently been Ukraine. With all that it implies.
You can say a lot about the fact that Crimeans are all like one Russians, and so on. But every day more and more convinced in the opposite. On this topic, you can talk for a long time, but nonetheless. The fact that Crimeans are habits, reflexes, the psychology of everyday life are very, very similar to the population of Ukraine.
By the way, this is not a minus, fortunately, but a plus.
Many people, including me, are very, very surprised by the fact that in Crimea at the administrative places there are still mostly local personnel. Moreover, there are reports that "returnees" are felled by the specialists, who are immediately employed. And this today in the Crimea annoying many.
I also draw attention to the complete absence of administrative terror in Crimea, and this despite the fact that, although they do not steal in the same way as in Russia, they also cause the planting season to be above the roof.
But once again, "they pointed out the shortcomings," "they instructed to finalize," "they urged to draw conclusions," and that was all ... And the administrative system actually remained the same as it was three years ago. Well, the flags have changed and membership cards. Rave? But no. This has its own logic and meaning. According to Sun Tzu.
Crimean elite is part of the Ukrainian elite. Former Ukrainian, future Russian, not so important. The dollar, he, if anything, is international. And his power also does not have this feature. And, in fact, all these gentlemen are smeared with one world. Ukrainian.
But today, those who are in / in Ukraine are definitely closely watching what Moscow will do with their Crimean counterparts. Of course, a certain temptation in the plan to imprison or disperse them all exists. And perhaps, planting on their places, it would be possible to achieve greater effect.
But this scenario, you know, is not particularly acceptable for the Ukrainian elites. For, oddly enough, but they also want to live. And live well.
In the meantime, we have repeatedly had the opportunity to make sure that the opinion of the oligarchs and their confidants sometimes means more than all of the Wishlist of the Kiev junta, coupled with the Armed Forces of Ukraine, the Security Service of Ukraine, VRU and other government agencies. There is enough evidence of this, starting from Mariupol and ending with Odessa.
And it is the local elites that often mean the formation of the information field on the ground more than the central structures. And it was they who were the first to enter into a conflict of interest with pro-American gentlemen from the team sitting in Kiev.
And it is for them today that there is a signal from the Crimea that "it could be worse." And it could be better. And this signal comes from their own colleagues, who were not kicked at the FSB, who were not taken away from anything. NOTHING! Moreover, they even made it possible to work for the good of the new Motherland.
Well, what are not internal spies, tell me?
That's probably why all the antics of the Crimean authorities, the frank inability to work and other pleasures are tolerated in Moscow. They are tolerated, apparently, in the name of precisely those interests that I have indicated.
Moving on.
Next we have ... Savchenko.
Strange as it may seem, but Nadia fits perfectly into the Chinese espionage strategy.
stories
. Of course, not as an internal or local spy, but as the reverse.
Proof of? You are welcome. Consider the whole picture.
Nadezhda Savchenko, a hitherto unknown officer of the Ukrainian Air Force, was captured in the summer of 2014, was accused of killing two Russian journalists and after a long trial in the Russian Federation was sentenced to 22 years in prison.
During the investigation and trial, Savchenko made just a dizzying career: she became a deputy of the Rada, the PACE and a kind of symbol of modern Ukraine. The first status was helped by Yulia Tymoshenko, the second by the Rada deputies, and the symbol was made by Ukrainian journalists and ordinary people. And if the journalists clearly received an appropriate order, then the townsfolk, already processed in the right direction, amicably rode "For Nadia". It is quite normal and familiar.
Live icon martyr zafigachili. The status of a deputy twice and the information campaign launched to defend her, of course, strained Russia a little, but the court confidently went to its final. And by the way, everything suited everyone. Especially Ukraine, whose authorities occasionally squealed, waving a portrait of Savchenko and invoking all the sacraments of heaven on Putin's head.
Well, there it is accepted. Or a torn flag, or a riddled sheet of iron, or a portrait of Savchenko. All the script.
And everything went on as usual, because everyone in Ukraine was firmly convinced that Putin was watching "The venue cannot be changed" or read Weiner. And Savchenko "... will sit! I said! ..."
But that still happened unexpectedly. Back in 2015, the countries of the "Norman Four" decided that Nadezhda Savchenko should be returned to Ukraine! And here Putin made a seemingly incomprehensible move. All these words about humanism and so on, all regarded who as. Who is like a weakness, someone like, sorry, incomprehensible sly ...
And the prospect of something Poroshenko collapsed in his eyes. It is clear that Savchenko needed them either alive, but in prison in Russia, or dead, but there too. And definitely, the variant of the tortured Savchenko would suit everyone, from a woman with a scythe to a man with a glass. The main thing is Savchenko in Russia (in any condition).
Savchenko has no weak points in the informational plan. Quite a flawless biography, a high degree of fraud. She did not take bribes (not because she was honest, but simply there was no place to take them), she was obsessed with her own ideas, which, in principle, are completely nothing for today's Ukraine. At trial, the mind did not shine, rather the opposite. Replaced the mind of political slogans. In short, a very convenient character to create an icon.
The modern heroine of Ukraine, and, preferably, posthumously.
Accordingly, the team was given to the promotion and glorification of Savchenko in the media. We responded with a wave of discontent, the supporters of which declared that in no case could Savchenko be changed and that it was a shame, a drain, and stuff like that. On our site, 8 from 10 readers spoke this way, remember? I remember.
But in Kiev, worried. Live Savchenko, and even at large, forgive them, they didn't dig there at all. Even began to delay the trial of those Russians who were to be exchanged for Savchenko.
But then the Europeans intervened. And ominously roared at Poroshenko, they say, sing, you either take off the cross, or put on panties. Who yelled "Freedom Savchenko!"?
Further, we observed a solemn procession barefoot along the path at the airport, inadequate cries of Savchenko, and nothing foreshadowed trouble. Everything was as we expected.
And then the unexpected began again. Both for Russians, and for Ukrainians.
Where did the hysterical psychopath go? Where are the rather outrageous behavior and cries of "Glory to Ukraine!"?
No, shouts, note for the sake of justice, are still present. But not in such quantity. And T-shirts with a fork left. But everyone suddenly realized that Nadia was not exactly what was expected of her. That she is absolutely not going to go with a machine gun to the front and there to take revenge on Putin for everything.
It turned out that Savchenko has not only well-established views, but also a clear program of action. Where she developed it, the question is, of course, interesting. But Savchenko began to say what they wanted to hear in Ukraine. And not representatives of the authorities. Nadia began to broadcast terrible things: peace with Russia, status for Donbass, amnesty for political prisoners, Minsk should be implemented. And in general, the war must end and seek a consensus in Ukrainian society.
Zrada? Seem to be...
This would not have been forgiven to anyone else, and most likely they would quickly be sent to meet with Buzina. But Savchenko at this moment in Ukraine could say if not all, then almost everything. With impunity. For the heroine and all that. The only thing that could be done on the Poroshenko's place is to shove Nadia somewhere in the PACE, so that she defended the rights of the citizens of Ukraine and did not loom in Ukraine itself. But it turned out that late.
Savchenko has become the most popular politician in Ukraine, with a huge margin from opponents. Of course, this is the same Nadia, for whose freedom the Ukrainians stood at rallies and signed petitions. And now this Nadia says that these Ukrainians want, in fact, from the authorities: peace, work, income, peace of mind. Reasonably, by the way.
And who was the second, or second, after Savchenko? It is clear that Ms. Tymoshenko! Yulia Vladimirovna, a two-year-old snake sat in ambush these two years, made a bet on Savchenko and ... won! But how! The Yulia Tymoshenko Bloc rating overtook everyone in Ukraine except the Opposition Bloc. And then, I think, for now. Oh, how to wind the former regionals, Tymoshenko knows. And Savchenko will teach.
If you step back from the personalities and look at the essence of what was said, as well as scroll through all the statements of Nadezhda Savchenko for the last month, then you unwittingly smile. After all, this is the same thing that Putin has been saying for the last one and a half or two years.
I don't know how to achieve this result, but it's already obvious that Savchenko is not just the most powerful weapon against President Poroshenko. She is a mine planted under the political train of Ukraine, which hit the road in 2014.
But the most terrible thing for the train passengers is that the mine turned out to be the person whom these passengers so hard have been spinning all this time. Hero, symbol, icon. Funny.
Here's how once again not to bring the words of a wise Chinese, who died even 500 years before the birth of Christ?
"Only enlightened sovereigns and wise commanders know how to make high-mind people their spies, and in this way they certainly accomplish great things. The use of spies is the most essential thing in war; it is the support that the army relies on."
The great thing after all is the book "The Art of War", written two and a half thousand years ago. Especially if applied correctly. Apparently, we have people who can.
Although, to be honest, I prefer "Science to win". But if in the end we will have the option that suits Russia, that is, us, in terms of bringing Ukraine into a divine form, then what difference does it make, what methods will be used for this?