The red level of the terrorist threat was announced in the largest city of Kazakhstan, Alma-Ata (Almaty). First, information about the shooting at the district police department appeared on social networks, then the leading Kazakhstani began to replicate it
news
resources. And after some time, major information portals of Kazakhstan announced "carrying out technical work" or "access errors". The vast majority of media that continue to work on the Internet do not publish any details about the situation in Alma-Ata.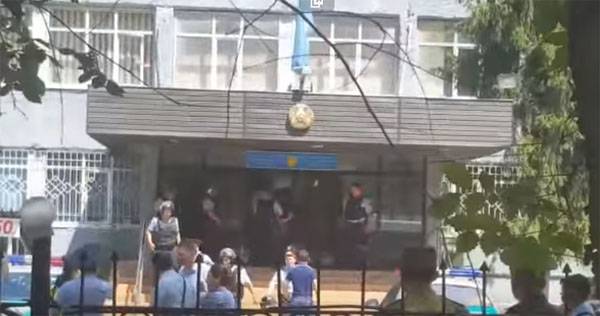 IA Sputnik
reports that the attackers fired at the police building and attempted to capture it. As a result of the shelling, two law enforcement officers died, several more policemen were injured.
From social networks (Bolat Mukashev):
LIGHTNING!!! URGENTLY !!! Abylaikhan Tole bi exchanged fire between policemen and unknowns !! One of the employees of the Department of Internal Affairs inside the car is covered in blood, two other policemen are lying on the street right on the road. # Almaty
It is not yet known exactly how many people attacked the police. Initially, it was said about two armed men, then they started talking about one attacker, armed with automatic
weapons
. Previously reported that the attacker may be involved in radical Muslim groups operating in Central Asia.
The official authorities of the country are asking the residents of Almaty not to leave their homes for the duration of the special operation.