Russian President Vladimir Putin put his signature on the so-called "Spring package". Recall that this is a package of legislative changes that is declaratively defined as anti-terrorism. In the "package" of legislative changes, one of the authors of which is the deputy from the faction "United Russia" Irina Yarovaya, for the first time at the legislative level the concept of "international terrorism" is defined.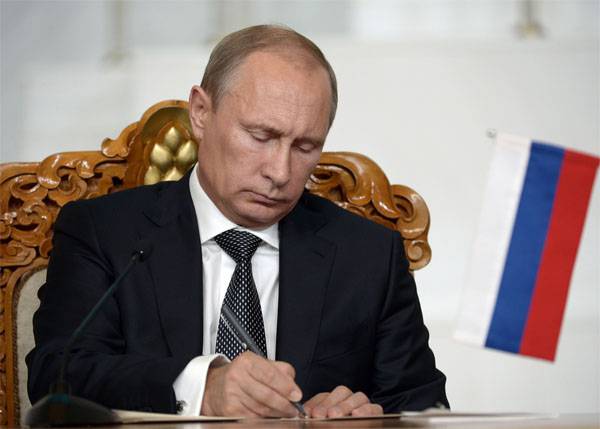 Criminal liability is introduced both for participation in international terrorist groups and for recruitment to terrorist cells.
The Spring Package provides criminal liability for individuals who have participated in the financing of terrorist groups. The greatest resonance was caused by that part of the legislative package, which implies the need for cellular operators and Internet providers to store information about calls and messages of their customers when communicating with each other. Cellular operators and Internet providers have announced a possible significant increase in tariffs for communication services.
TASS
cites the press secretary of the President of the Russian Federation Dmitry Peskov:
The President signed a package of documents, amendments to the law on measures to counter terrorism. Along with this package, a list of instructions was signed by the government, in which the Cabinet is charged with monitoring the implementation of this law very clearly, in order to minimize possible risks associated with expenses, using domestic equipment for storing information, etc., and, if necessary, take appropriate initiatives to adopt relevant acts that minimize these risks.
Among the legislative measures is a ban on "missionary activity" (in other words, sect activity) aimed at popularizing suicide, destroying the family, and encroaching on the rights and freedoms of citizens. This kind of activity does not provide for imprisonment, and those who carry it out will face a fine of up to 1 million rubles. Foreign preachers from sects are awaiting expulsion from the Russian Federation with a ban on re-entry.
Kremlin press service
:
In particular, a ban is introduced on the use of the main parts of combat manual rifle
weapons
and service firearms in the production of certain categories of civilian weapons and products structurally similar to weapons, clarifies the concept of "financing terrorism", establishes the right of the federal executive body in the field of security and the Foreign Intelligence Service of the Russian Federation to receive free of charge from state bodies and state extrabudgetary funds information systems and (or) databases, additional requirements for telecom operators and organizers of information dissemination in the information and telecommunication network of the Internet, as well as to the implementation of freight forwarding activities.