The reports of the command of the Syrian government army contains information about the bloody battles with ISIL militants in the province of Rakka. In this case, the Syrian command details about the progress of these battles is not yet. But in the social network accounts of the militants of the Islamic State terrorist organization, it is claimed that the igilovtsy counterattacked the SAR forces, defeating in the area of ​​the Abu Alladzh settlement. As a result of a counterstrike on the part of the igilovtsevs, this town was seized by them. If you believe these reports, the Syrian government army units were forced to retreat about 15-20 km west of their previous positions, partially leaving the province.
If the retreat of the SAR forces did take place, then it turns out that all the successes of the government army in the province of Racca over the past few weeks have been virtually nullified.
Meanwhile, the Syrian government army claims success in the province of Suwayda. One of the command posts of the ISIL militants was destroyed here, from where the terrorists coordinated actions in the southern part of the Syrian Arab Republic. The militants are trying to regroup, but receive a powerful blow to the flank, which in the near future may allow splitting the group operating in Suwayda and free the province from ISIS. However, until the complete liberation of even a single Suweida is clearly far away.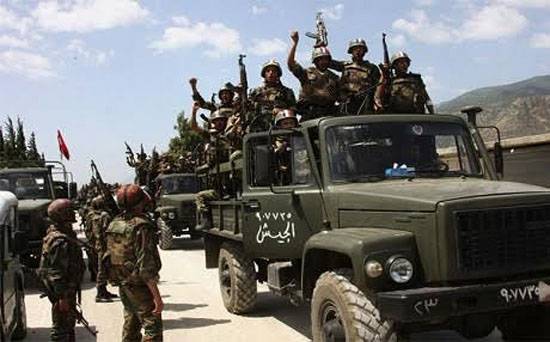 The greatest successes are achieved by the government forces of the SAR in the province of Homs near the Iraqi border. Here the Ishilovites are suffering substantial losses, including due to the intensive work of the Russian military
aviation
. On the same site of the Syrian army, volunteer formations from Iraq are helping, which makes it possible to squeeze a relatively large group of ISIS into fire mites.