In connection with the obviously heightened desire to achieve the introduction of a police mission in the Donbass (an armed OSCE mission), the Ukrainian security forces once again increased their activity. At the front line, according to the DPR intelligence, the Ukrainian side is concentrating military equipment, the presence of which in this area contradicts the Minsk agreements.
Donetsk News Agency
cites statements by the deputy commander of the DPR Defense Ministry corps, Eduard Basurin:
Our intelligence continues to record the concentration of proscribed weapons and enemy personnel along the line of contact. 27 howitzers "Msta-B" were identified in the villages of Umanskoye (Yasinovatsky district) and Ivanopole (Gorlovka direction). In addition, in the Avdeevka area, five kilometers from the contact line, 12 mortars of 120 caliber mm were installed.
Against this background, the Ukrainian side declares the death of the Ukrainian security officials in the so-called Mariupol direction, where the Ukrainian side continues to attempt to move deep into the territory of the DPR after gaining control over the village Shyrokyne. At the same time, Kiev claims that "only the enemy (DPR) violates the ceasefire regime". "
TV channel
112 Ukraine
cites a statement by a representative of the Ukrainian volunteer movement, Darya Bora:
Now the hottest situation in Avdiivka. There, according to our military, is planned an offensive every day, an attack on the city. Because of this, Zenith is being fired at, Butovka is being fired at, they are shooting at Avdeevka herself, at the village point at the old part. Even a few minutes flew to the area of ​​the coke plant, which is quite far from the front line. It is probably fired from Spartacus. Shelling the city from Makeevka and from Donetsk. Our will not answer in Donetsk, because it is a residential area, people live there. Accordingly, the enemy knows about it, and therefore they are shooting at us, but we cannot. Two Ukrainian soldiers died near Pavlopol on the Mariupol direction, another one was wounded.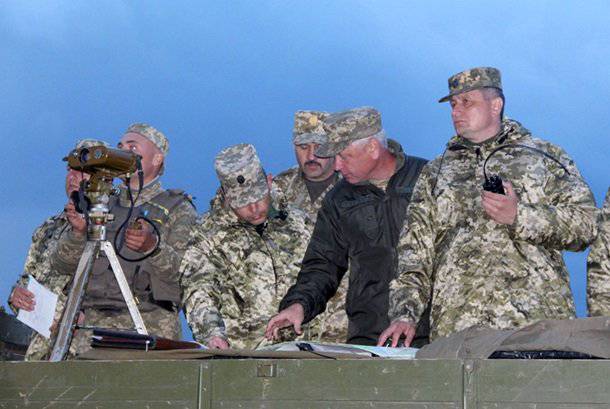 "Because it's a residential area" ... For some reason, for two years now, nothing has been stopping Ukrainian law enforcers from irrigating residential areas in Donetsk and other DPR cities from all types of arsenal
weapons
as evidenced by the numerous sacrifices and destruction in the territory of the people's republic.