A spokesman for the Ministry of Internal Affairs of Kazakhstan, Almas Sadubaev, reports that on the eve of a series of attacks on shops in the city of Aktobe
weapons
and to the military unit. As a result of the attack, three Kazakh police and military personnel and three civilians were killed. Several people, including the security of the Pallas gun shop, were injured. According to Sadubaev, four of the attackers were liquidated, another seven were detained by Kazakhstani security forces.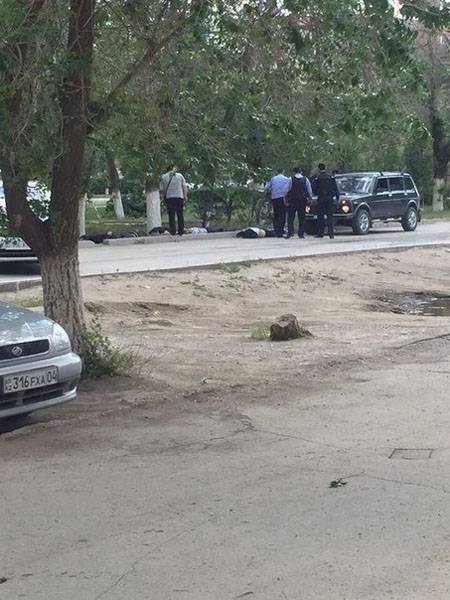 From the message of Almas Sadubaev:
In 14: 45, in the Department of Internal Affairs of the Aktobe region, a message was received about the attack of unknown persons on the Pallada gun shop in Aktobe. During the attack, the store salesman was killed and one person was injured. In 15: 45 it became known about the attack on another gun shop, located in the military unit of the National Guard of Kazakhstan, while repelling the attack killed an officer and one military contract soldier, nine soldiers were wounded.
Several of the wounded later died.
The authorities of the Republic of Kazakhstan qualify the events in Aktobe as terrorist acts. Akim (Mayor) of the city Berdibek Saparbayev in connection with the incident appealed to the citizens with a speech, excerpts from which leads the Kazakhstan information portal
Bnews.kz
:
Dear countrymen! Please be calm, a planned anti-terrorist operation is underway. I want to reassure you that the situation is under complete control, at the moment the situation is stable. The region declared a mode of anti-terrorist operation. I ask Aktobe residents to be vigilant. Those who notice suspicious personalities should be reported to the internal affairs authorities by 102 number.
In Aktobe, classes in educational institutions were canceled, kindergartens were closed, additional detachments of police special forces were transferred to the city.
According to the information portal
nur.kz
, militants before the attack on the military unit carried out the seizure of a shuttle bus. From the message of the Ministry of Internal Affairs confirming this information:
For an attack on a military unit, the criminals seized a shuttle bus, disembarked the driver and passengers, and then rammed the gate with a bus, where, having entered the territory, they opened indiscriminate firing.