The Coordination Center for Reconciliation of the Warring Parties in Syria provides information that armed groups in the north of the SAR receive
weapon
and ammunition from Turkey.
Press Service of the Ministry of Defense of the Russian Federation
reports that in the area of ​​the city of Azaz (Aleppo Province), as well as in the area of ​​Dar-Taaz (Idlib Province), armed militia groups arrive, as well as trucks with various weapons.
From the message of the press service of the Ministry of Defense of Russia:
The Center also receives information from local residents about the intensive movement of armed groups of militants, cross-country vehicles with various weapons, as well as armored vehicles and
tanks
, to the areas of the settlements north of the city of Aleppo: Hraitan, Kafer Hamra and Mukhaim Khandrat, as well as south-west of this city: Khan Tuman and Khan al-Assal.
Map of the distribution of forces in the north of Syria: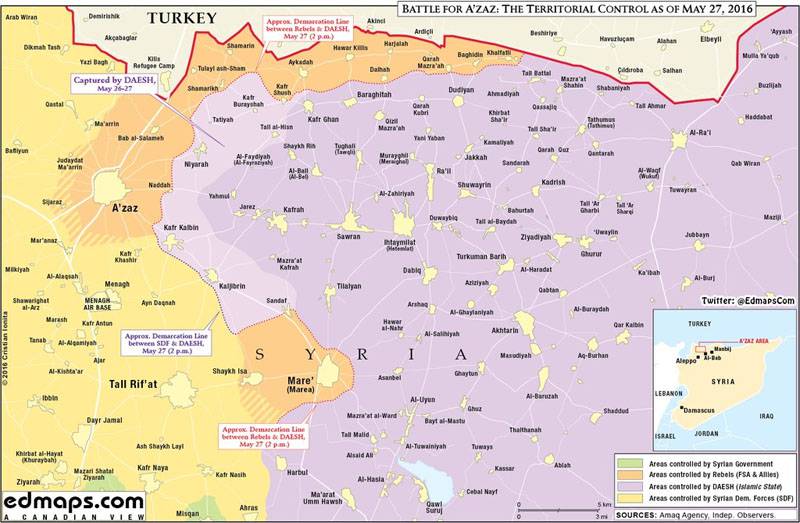 Earlier on our site was published material that from the aircraft of the so-called American coalition in the north of Syria carried out the dumping of weapons and ammunition. Representatives of the coalition claim that these weapons fell into the hands of the "rebel group" holding the town of Marea (Aleppo Province). Information Agency
Reuters
cites information that this armed group allegedly acts against the Dzhebhat al-Nusra militants. The Russian Defense Ministry has not yet confirmed the information that the "rebels" armed by the American "coalition" are really fighting against a group recognized as terrorist at the international level.
In the Coordination Center for reconciliation of the warring parties, it is noted that within a day two more settlements have joined the cease-fire regime in Syria.