Another absentee discussion showed itself between official representatives of the Russian and American military departments. A couple of days ago, the Russian Ministry of Defense announced that Russian air defense systems discovered an American reconnaissance aircraft RC-135 over the Sea of ​​Japan, which flew with the transponder turned off, performing aerial reconnaissance near the Russian borders. Russian Defense Ministry called such a flight threatening the safety of civilian air traffic
aviation
.
A military attache at the US embassy was also called.
From the statement
press service
Ministry of Defense of the Russian Federation:
A representative of the US Department of Defense indicated that the 22 of May 2016 of the year by Russian air defense weapons was detected by a reconnaissance aircraft of the US Air Force RC-135, which carried out aerial reconnaissance over the Sea of ​​Japan near the state border of the Russian Federation. The US Air Force aircraft flew with the transponder turned off. Information about the route the crew was not brought to the dispatching services in the region. In this case, the aircraft used flight levels intended for regular flights by civil aircraft. The Russian Defense Ministry drew attention to the need for measures to prevent the recurrence of such situations during flights of American reconnaissance aircraft near the Russian borders.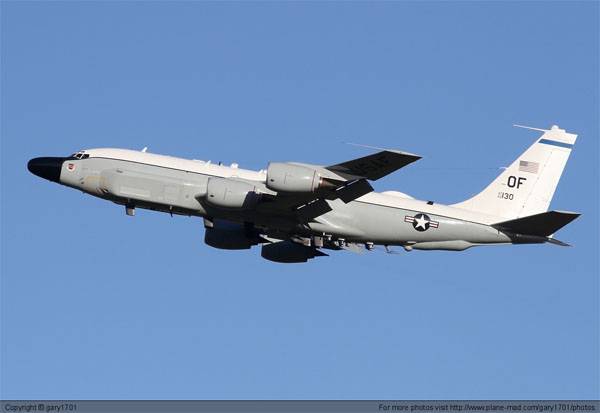 In connection with the flight of the American reconnaissance aircraft, civilian air traffic controllers of the Russian Federation were forced to change flight levels for two passenger airliners.
On the eve of the United States decided to answer Russia. The Pentagon stated that the US reconnaissance aircraft did not threaten anyone and "performed an ordinary routine reconnaissance flight."
Interfax
cites a statement by a Pentagon representative:
The RC-135 aircraft performed a routine reconnaissance flight over the Sea of ​​Japan 22 in May 2016. During his mission, the plane complied with security measures. The mission was carried out safely and professionally, in accordance with international law and without incident.
Apparently, the wording "routine reconnaissance flight" in the echelons of civilian airliners has long ceased to raise questions among the US military itself. And Russian air defense questions have arisen, because the RC-135 could well have been a tragedy in an accidental collision with a seagull ...