The press service of the Southern Military District reports that in Eisk, on the basis of the air defense training center, the district stage of the Clear Sky army contest has ended. In this competition took part anti-aircraft units of the Southern Military District. From the press service:
The competition was held among the offices of man-portable air defense missile systems (MANPADS) "Igla" on BTR-80 armored personnel carriers, as well as calculations of 23-mm anti-aircraft units ZU-23 mounted on army trucks. 8 teams from formations and military units of the Southern Military District, totaling about 50 troops, took part in them.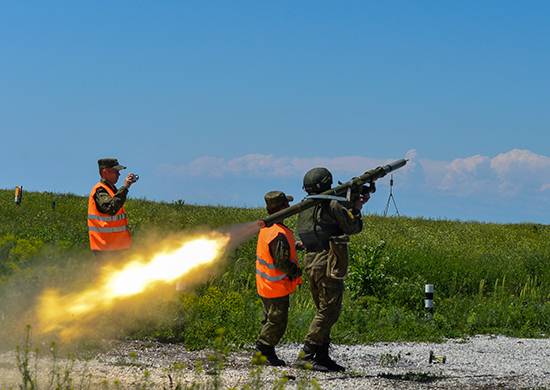 The report says that the competition was a set of exercises on different parts of the route with a total length of about 8 km. At one of the stages, it was necessary to strike at suddenly appearing targets, among which were targets of the "helicopter" type.
Press office
The Southern Military District reports that, in addition to using directly anti-aircraft weapons,
weapon
other types, including small. On the "Attack" type band, obstacles were overcome: a labyrinth, a destroyed bridge, etc. The servicemen worked throwing grenades at a distance and for accuracy.
From the report:
Among the departments of MANPADS and ZU-23 calculations, the best teams were those representing motorized rifle formations stationed respectively in North Ossetia and Chechnya. The winners of the district stage will present the Southern Military District at the All-Army competition "Clear Sky", which will be held in June at the Yeisk training ground.