British
Media
publish information that the company
Monitor Coatings Ltd
commissioned by the United Kingdom Navy has developed a new heat-resistant coating for aircraft carrier decks. It is reported that we are talking primarily about the decks of aircraft carriers "Queen Elizabeth" ("Queen Elizabeth") and "Prince of Wales". The material states that the coating has a special composition that can withstand heating to 1,5 thousands of degrees Celsius. At the same time, the durability of using the new deck cover of an aircraft carrier will be at least half a century.
Creating a new heat-resistant coating due to the fact that the new British aircraft carriers are going to exploit the American aircraft F-35B - for resistance to red-hot jets.
The coating is a mixture of metals: titanium and aluminum. This metal powder is applied to the deck of aircraft carriers with a special robotic system using a layer of special thickness. The system heats the powder at a temperature of several thousand degrees Celsius, and it melts, forming the same protective layer that "meshes" with the metal surface of the deck. According to some reports, the thickness of the layer does not exceed 2,5 mm.
Such an alloy is not applied across the entire deck, but only where the take-off and landing of deck aircraft
aviation
.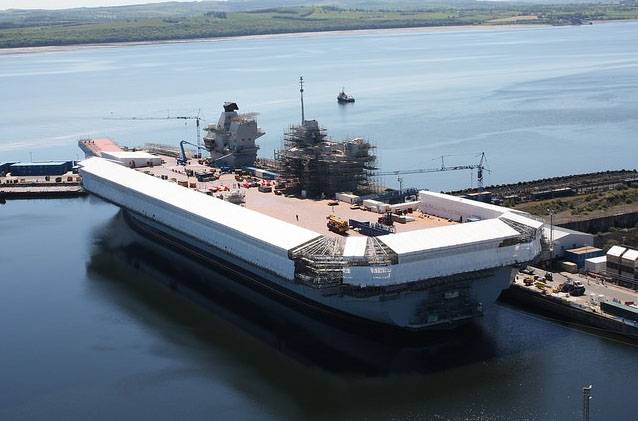 Information portal of the company
Monitor Coatings Ltd
reports that work on the newest British aircraft carrier "Queen Elizabeth" are nearing completion. The total area of ​​the deck covering with the metallized heat-resistant layer will be about 2 thousand square meters.
Simon Pettit, senior naval officer of the British Navy, said that the new deck cover is only one of the innovations that were implemented on the largest ship of the British military
fleet
.
Work is also underway on the construction of the Prince of Wales aircraft carrier. The total value of these ships for the British Navy is (under contract) 6 billion pounds (8,7 billion US dollars).