The Russian Defense Ministry decided to resume production of amphibious helicopters Mi-14, reports
Look
with reference to the Deputy Minister of Defense Yuri Borisov.
"Yes, and work is already underway on the relevant issue," said Borisov at the HeliRussia-2016 exhibition, answering a reporter's question about the resumption of production of the Mi-14.
"Near the end of the Cold War in the late 1980s, the Mi-14 gained fame after it successfully discovered a western submarine (supposedly American) in Soviet territorial waters. Allegedly due to strong pressure from the United States, Russia was forced to abandon all of its Mi-14
fleet
in 1996, "the newspaper quoted The Diplomat.
"Vzglyad" reminds that the production of the machine was discontinued back in the 1980, and in 1996 Russia removed the Mi-14 from service.
It is planned to resume production at the Kazan Helicopter Plant.
It is noted that "the upgraded version will be equipped with new engines, modern electronic equipment and an improved guidance system." The car will stay in the air longer and it is better to stay on the water surface.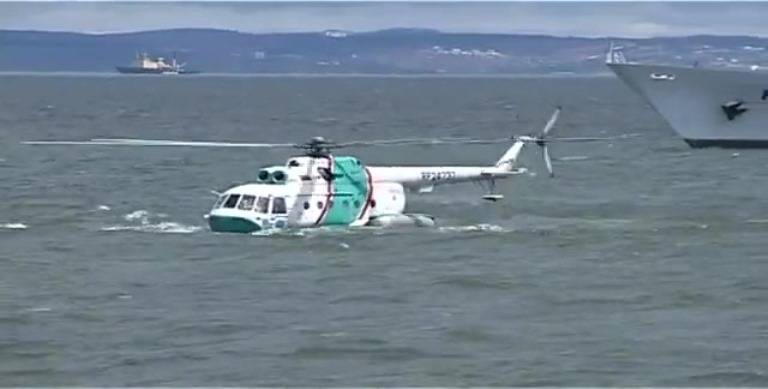 Help military-political magazine Interpolit:
"The Mi-14 was developed in the 60-s based on the multipurpose ground-based Mi-8 and was mass-produced at the Kazan aircraft factory in 1973-1986. A total of 273 machines were produced, of which approximately 105 was exported. The main modifications: Mi-14PL - anti-submarine, Mi-14PS - rescue, Mi-14BT - minesweeper.

The armament of the Mi-14PL was either one homing aviation anti-submarine torpedo, or aircraft anti-submarine torpedo, or eight 250-kilogram bombs. In the early 80s, the Mi-14 received powerful air-to-ship missiles. Mi-14PL naval aviation could carry a nuclear depth bomb with a capacity of one kiloton. For this, several crews and vehicles with additional security and coded communications devices were trained in each regiment. "