Today, the nuclear cruiser "Peter the Great" went to sea for the first time in 2, to work out combat training tasks, reports
press office
Northern
fleet
.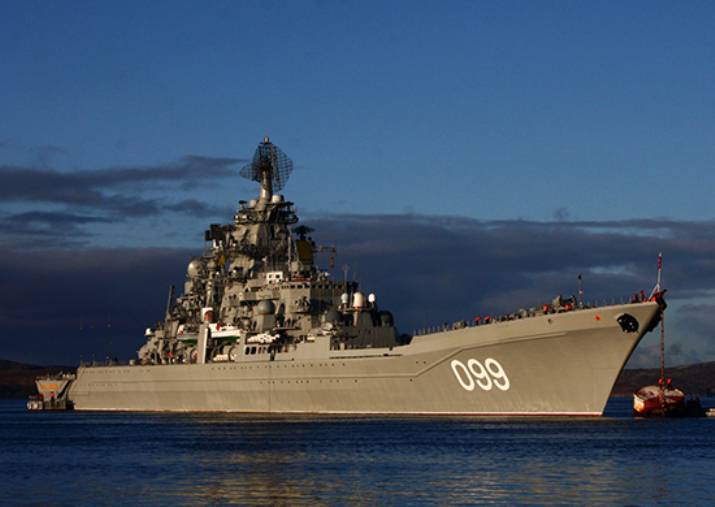 "This is the first cruise at sea after the restoration of its technical readiness. Earlier, the crew of "Peter the Great" worked out the full range of basic training tasks, checked the readiness
weapons
and technical means of the ship to action at sea, "- said in a release.
The first exercise has already taken place on the roadstead of Severomorsk: "the crews of Peter the Great and the tanker Sergey Osipov conducted a joint training session on the replenishment of stocks at the anchorage with the actual transfer of liquid cargo from the tanker to the cruiser".
The next task that seafarers will have to work out is "the exit of the cruiser from the basing point in the provision of mine-trawling forces". In this episode will be involved also two ship groups of minesweepers.
"For several days the TARKR crew will work out the field service organization, check weapons and equipment in the Barents Sea. Onboard the ship, combat survival exercises will be held on the move and at the anchorage, on receiving helicopters, as well as on anti-submarine and air defense, "the message reads.
It is noted that "this launch of the cruiser" Peter the Great "will become the first naval practice for conscripts and a number of contract soldiers who entered the military service in the crew of the cruiser in 2015 and 2016."
Help press service:
"The nuclear-powered missile cruiser" Peter the Great "is the world's largest non-aircraft assault warship with a nuclear power plant. Designed to defeat large surface and coastal targets, providing integrated anti-aircraft and anti-submarine defense of warships. He carries on his board the most modern weapons. "