Tomorrow will be tomorrow. And today is Easter. One of the greatest holidays of Christians around the world.
Greetings to you dear readers! Christ is Risen! Though we are a family of cockroaches, we keep traditions. True, like most of you, the post does not hold. But break the fast ... This is a sacred thing. Especially since there are plenty of tables in people's apartments. The choice ... As in the time of the bloody Yanukovych.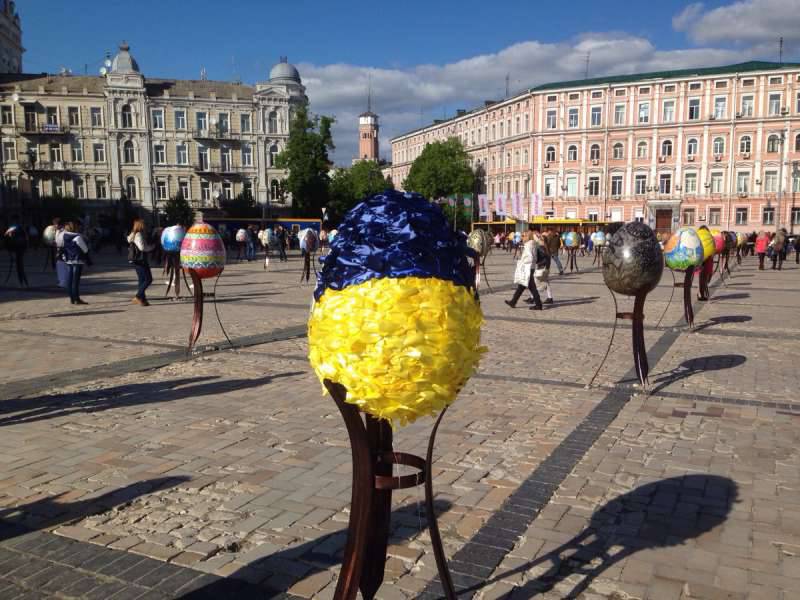 And I wanted to write today "Notes ..." for a reason about which the majority do not know. But the reason is quite serious. At least for those who believe in God.
Remember the main difference between Orthodox Easter and all others? That's right, on Orthodox Easter, grace descends on the world of people and all life on this planet. We are granted forgiveness for our sins in the past year. We sin a lot, with skill. As if we specially study the divine Commandments, in order to break them later. But the Most High forgives us.
And for especially unbelievers on this day, the only day of the year, the Holy Fire comes to Earth. One that, as they say, does not burn. The one from which then candles are lit in all Orthodox churches of the world. Mira!
But this fire comes down only in one place. Then do not even write. All to whom it is important saw the live broadcast of this action. And a crowd of people who lit candles. Lit up to bring in their temples on the Great Feast! Lit up to grace spread to the flock of these temples.
Naturally, the delegation was sent to Jerusalem and the only correct for Svidomo Ukrainian UOC-KP. We are now not Muscovites. And this delegation, like everyone else, also lit their candles. Lit to bring to Ukraine. But not brought!
God did not want to share Fire with us! The delegation was late for the plane. This is the grace of God for us this year. But the fire in the temples will still burn. Just think, did not have time. Matches and lighters have not been canceled. And in the opposite (paradise) department there is also fire. Even more.
And our media, such as TSN, will announce to everyone that all is nonsense. Arrived and brought. Even three lamps. And we will believe it together. Such is selyava (nothing, that I on EeSovski?). Do you know how Vyshivanok reacted to this message? If you miss all non-printed expressions, then ... didn't say anything! And this Vyshivanok.
Other interesting information will concern you to Odessa. I do not know what will happen tomorrow. Maybe I will add at the end of the notes, but for now about today. Our media began an active "preparation" for the tragic event. True, the word "tragic" must be quoted for these "our media".
What is hammered into our heads is perfectly illustrated by a quote from TCH.
"A large-scale provocation was organized there, a scuffle (sic!) Was fabricated. And when the activists found themselves in the House of Trade Unions and the fire started, it was the pro-Ukrainian activists who dragged people out."
Through all channels today are exactly the same comments "experts" and "participants" of events. So, what you saw on the Internet and on TV channels before - fake. And the fake made personally by Putin. From the fight, which was unleashed by separatists from Russia, to self-immolation.
See what we are watching. And you will understand what a simple Ukrainian man in the street experiences. And how can you make God the devil and vice versa ... https: //www.youtube.com/watch? V = MfD9HKOhjgU
Only now it is not clear how separatists can come from another (not only from Russia, just any other state)? Probably it is worth our journalists to stroll through the encyclopedia. Read what is what.
In the meantime, so many all and every kind of patriots were overtaken in Odessa, that today it is really scary. And punitive from terbatov, and the National Guard, and Yaroshevsky "Dayashniki", and pravoseki ... Every creature caught up.
Here, even local and go nowhere. They shoot themselves from fear. Friendly patriotic fire. We are waiting for the whole of Ukraine.
Sadly May began. Yes, and you read a serious cockroach sad. Because let's go, we walk on the Square walk.
Let's start, as it should be, from the capital of our Motherland. Hotly my beloved Kiev. And the main
news
- our great speaker, beloved, deeply respected, and so forth, and so on, mayor Vitali Klitschko decided to become a writer. Well, not really a writer, but a writer of national importance. I decided to give us a constitution of my own performance. Well, can not the new Kiev live by the old rules.
Imagine how much joy will comedians now? The whole charter of the city to the services. Read as a quotation of clever thoughts and give "to the mountain" to the place and just like that. Sort of smart ...
There is a new tradition in Ukraine today. Which reader of our press has already understood what I mean. This tradition - not a day without a grenade! What is the reason, to be honest, I do not understand. Every day in any city or village, and, very far from the ATO zone, someone either undermines himself or undermines someone. And all the grenades. Terrible
weapon
. A terrible pistol for sure.
The last such case was in the Kharkiv region. Imagine, the man decided to rest on a clearing in the fishing line, and there ... Babakh. Again the grenade is "scattered." It's sad. How much later we will need the strength of the funds to collect all these "scattered" and "lost" ammunition and weapons ...
In Dnepropetrovsk, a whole bunch of "ATO warriors", "policemen" and other people with these grenades, like oranges in a string bag, walk. They arrest, arrest, arrest ... But they still wander to and fro.
All ... I will not be more about sad things. Now about peremoga in the economy. Whether you like it or not, but in Ukraine today it has become generally beautiful. Do not believe it, but we have increased real wages. Of course, we also do not believe, but the media report!
"In March, for the first time in March, real wages in Ukraine increased for the first time, and debts to workers were reduced, despite the absence of clear signs of economic recovery. Experts claim that wage growth is a natural process caused by high inflation in the country. also influenced by the revision of the rate of the Unified Social Contribution, after which the business reduced wage fund expenses. This also helped the business to reduce the debt to employees "
Take a closer look at the quote. And that you in Russia cannot solve all problems just as simply? Inflation has gone up - wages have gone up! It's funny, but ... Why are we being held for idiots? Or have we really become such?
In the same way, the new government decided, more precisely, proposed to solve the problem with new gas tariffs. It is clear that it is no longer possible to pay at the new prices. There is simply no such money. Physically, no. And not foreseen. Especially with retirees.
Of course, now smart "people" will start talking about the confiscation of apartments and other property for debt. Like, they will begin to select apartments immediately and money will appear. Well, the problem will appear. I already wrote above why, and with apartments? Same problem. Well, they will take away the apartments and houses from half the population, so what? Where to put them? Lease the same former "owners"? May be. But it still does not return the debts to the state.
In short, we went according to the old, still for some reason, not "de-communized" method. Increase pensions! (about the real salary you read above). And so increase, so that everyone has enough for a comfortable life. At 16 percent! True, they had previously planned for 12. That will be what to carry to the bank.
The only thing I don't understand is how much tariffs have been raised? Well, obviously more than 16%. But there will be increases in heating, hot water, everything else. And the gas in the price is growing again ... By the fall it can jump ...
Ukraine beats today like a fish on the shore ... And do not blame us, they themselves wanted. We wanted another, and us ... On the shore. And the water ... Here it is, very close, a little bit of a jump and that's it ... But for some reason I just can't make it. And the holidays continue. And soon Victory Day. And again something will be thought up about "Russian provocations". But we all understand.
My Vyshivanok from this all completely moved his head. I decided that the omor rally protesters could not prove anything and would not get across to the stupid (it's like me). And he decided with a "group of comrades" to get his own podium on the Internet. And, what do you think, how did they decide to call her? That's right, "Vyshivanka"!
Saw some kind of commonality at all. And the Ukrainians are, and Russian, and Belarus. Well, the beginning of their work is not far off, it means that I will be more about one topic. I will be happy to keep all readers informed of what they are raising there. As they say, democracy and freedom of speech in the literal sense of the term. Let's be free now together.
Yours sincerely, Tarakan Tarakan