Turkish security forces massively violated the rights of the Kurdish population living in the city of Cizre and its environs, such actions by the military can be regarded as crimes against humanity, according to a report of the Turkish Human Rights Association, transmitted to the UN.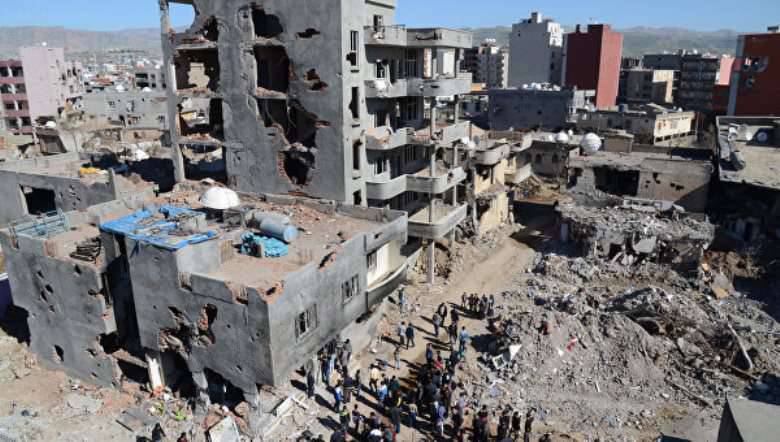 "Evaluation of the situation in Cizre was carried out on 6-8 in March on March 2016, in the suburbs of Yafes, Cudi and Nuh. The delegation of independent experts included representatives of the Turkish Human Rights Association, the Turkish Human Rights Foundation, the Public Health and Social Workers Union, the Diyarbakir Association and the Agenda Association for Children, "explains
RIA News
with reference to the document.
The report states that "not only houses, but also mosques and cemeteries were destroyed or burned in the suburbs of Cizre." According to experts, "the damage was caused mainly by shelling from mortars, grenade launchers, barrel bombs and bullets." City power lines are torn off.
"Residents were forced to leave their homes on the 25th day after the curfew was imposed in the city, as the Turkish Armed Forces continued to shell the city with heavy weapons and
tanks
and snipers shot off any moving target, "eyewitness accounts are quoted in the document.
The security forces also "forced people to leave their homes under the threat of the destruction of buildings and the use of chemical
weapons
"They said.
In addition, witnesses said in the basements of several houses were carried out mass executions of residents. This happened after they tried "to demand through the media to stop the military operation." Later, the corpses were taken by the military in an unknown direction.
Independent experts concluded that "massacres were committed in the basements, while the investigation of the incident was not officially carried out, and obstacles were created to record the events."
"Due to the imposition of a curfew, communication with the outside world was cut off. Deaths that occurred in these areas should be investigated, and the need for murder explained. An effective and independent investigation should be conducted, and those responsible for them should be punished. Investigations of human rights violations, torture and political killings should be conducted transparently and with the participation of experts, "the report says.