Another success was achieved by the Syrian government army in the province of Homs. 67th
tank
the brigade, together with the militia and the special forces of the "Tiger" took control of the territory of the military base north of Palmyra. We are talking about the base of the 550th brigade, which the militants of the so-called "Islamic state" continued to keep under their control.
In addition to the military base, the Syrian soldiers managed to take the mountain range of Al-Mazar under their control. ISIS militants were pushed back a few more kilometers to the north.
The Syrian army army operation continues in the north of Latakia. Here recently, Dzhebhat al-Nusra militants have been activated, receiving reinforcements and fire support from Turkey. Information Service
AMN
reports that an attack fist was formed in the region from among the fighters of the special unit "Desert Hawks" (participated in the liberation of Palmyra), units of the 103 Brigade of the Republican Guard and naval infantry units of the SAR. These formations were joined by Kurdish militia. After the regrouping, the assault on the strategically important settlement of Kban (Kabani) began.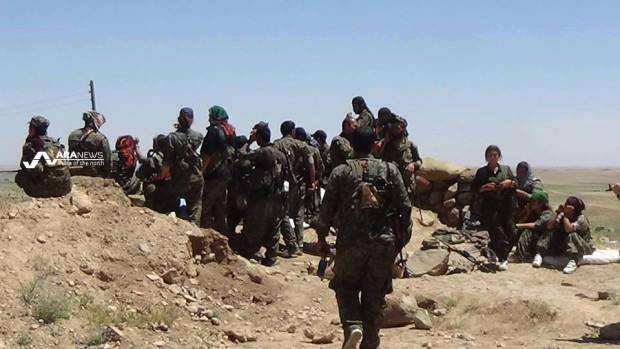 After several hours of fighting, it was possible to take the height on the border of the provinces of Latakia and Idlib and from there to conduct massive fire on the positions of the terrorists. It is reported that the militants "Dzhebhat al-Nusra" suffered serious losses in manpower and military equipment.
For the complete capture of Kabani under the control of the Syrian army and the Kurdish militia will take the height of 1154.
Syrian and Russian
aviation
conducted a joint air operation against ISIS militants in the province of Deir ez-Zor. Information Agency
SANA
reports that dozens of igilovtsevs were destroyed in the area of ​​the settlement of Al-Bhelia in a few kilometers from the military airfield of Deir-ez-Zor.
Information comes in about the regular armed clashes of ISIS militants with "twin cities" from Dzhebhat al-Nusra. Thus, in the north of the province of Aleppo, the igilovtsy attacked the positions of "en-Nusra" in the area of ​​the town of Mare. The attack began with the fact that the ISIL militants sent several vehicles filled with explosives to the position of the Al-Nusra Front. Fighting for Mare continues now. It is noted that the igilovtsy aim to seize the strategically important settlement Azaz, which is under the control of the so-called Syrian Free Army, as well as militants "Dzhebhat al-Nusra" and "Jaish al-Islam". Control of this city will allow igilovtsami to once again take control of a section of the border with Turkey in the area of ​​the border crossing point of Es Salamia.