Residents of the Nikolaev region of Ukraine blocked traffic on the Odessa-Melitopol-Novoazovsk highway, advocating for the state to return to them the land previously selected in favor of the so-called "heroes of the ATO." We are talking about arable land and pastures, which the authorities transferred to the use of persons who took part in the hostilities in the territory of Donbass.
As a result of the actions of local residents near the village of Komsomolskoye (the name had not yet been "de-communized"?) Of the Nikolaev region, dozens of heavy trucks and hundreds of cars had accumulated on the highway. Protesters declare that they will open the road only after the authorities hear them and return the lands taken away from the local residents.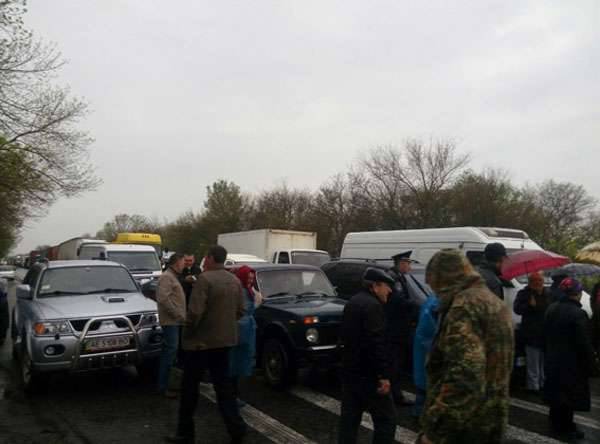 Policemen and soldiers of the so-called National Guard arrived at the protest venue.
Clashes with the police manifest themselves in the Rivne (Rivne) region. Here the real fight broke out between the "black" diggers of amber and law enforcement officers. It all started with the fact that the Ukrainian police tried to disperse the miners of amber from the deposit in the tract Smithnyk. According to the portal
"Correspondent"
, the miners of amber decided to defend their fishing and began to beat the police. Arriving reinforcements from among the police officers applied traumatic
weapon
. Armored vehicles ("Kozak") and National Guard units took the place of the conflict: