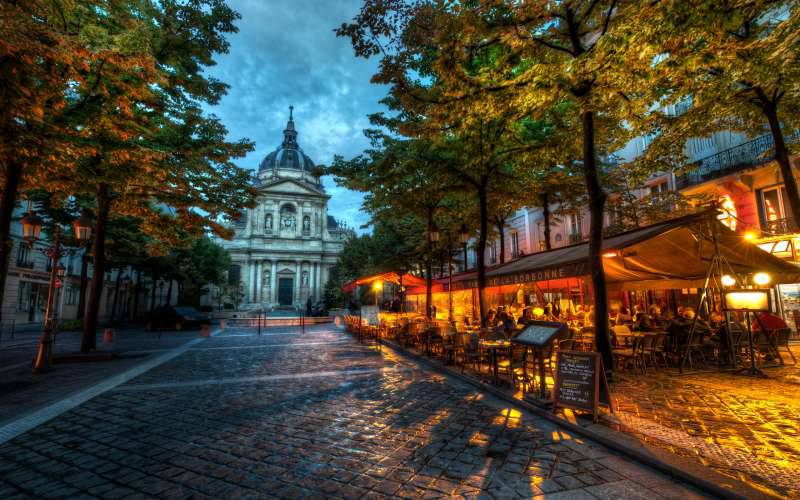 Some thought is sometimes spinning in the head, spinning, and you can't grasp it. But I read the post of Anatoly Sharia about the terrorist attacks in Brussels, and the mosaic has taken shape. The author does not originally call not to rejoice in another's grief and indicates that we are all in the same boat. First of all, I want to agree that it is inappropriate, not Christian, to rejoice at someone's violent death. Generally, if you are attracted and cause positive emotions of photos of bodies disfigured by an explosion, most likely you have certain mental abnormalities. To rejoice at someone's death is very unnatural for a normal person with a normal psyche.
However, this is about the fact that we are all in the same boat ... It's just that everything is not so simple and not so straightforward. First of all, ask the question on the forehead: "Do the Europeans themselves think that we are in the same boat with them?" I understand that the question is very tough and incorrect. And yet. Otherwise, it is customary (in Russia) to voice this topic: they say, we are all in the same boat, and we shouldn't swing it. It sounds interesting, but that's what the Europeans themselves think about this? Judging by the decisive introduction of sectoral sanctions against the Russian economy and the full support of the Russian genocide in the Donbas, the answer is obvious. If someone does not agree with this, then his indignation must be addressed to the very same-sex-same Europeans.
That's the position they took. And they are not going to let us into their boat, rather, they are striving to make a hole in the bottom of our boat with a hook. And propagandists continue to flood: "We are in the same boat." Something does not look like one. If we are in the "same boat", why does this boat have a hole in the bottom? Somehow it does not fit in ... Taki yes, it is necessary to call someone here somewhere, to figure out how many boats we have. And the embarrassment can come out. I still adhere to the version that we have at least two boats with Europeans (the Germans and the Greeks are also obviously on different vessels, but for simplicity there are two pictures). Cynical, of course, but try to challenge. Two different boats.
By the way, a good analogy with boats. Ukrainians were also bred on this "single ship." Saying: "Let's come to us on board, you will have pasta in a naval manner," and then let the fragile raft of Ukraine to the bottom. So I don't urge to be glad that scurvy and malaria is raging on the neighbor's boat, I just want to point out that this is not our boat, but a European one. Do not hate anyone and enjoy his problems, you just need to soberly and soberly assess the situation. And that's all. I do not in any way claim that I live on another planet, just in another boat.
Now further. As for rejoicing / not rejoicing, rejoicing, of course, is not good, but to point out that the Europeans themselves chose and supported precisely such politicians who constantly organize absolutely incomprehensible adventures are necessary. Was there any serious threat to Europe and its prosperous residents by Colonel Gaddafi? Just no. He even financed the election campaign of Sarkozy and actively bought real estate in Europe and put Libyan money into European banks. Quite a harmless character. Yes, exotic and unusual, yes, the "permanent dictator." So what? Is Europe accustomed to the exotic leaders of the indigenous peoples? French, Italians?
He could not defend himself, and he was destroyed, and his country was ransacked. That's all. And again, I wonder: Libyans and Europeans in the same boat or in different? Here, the theme of "our common pie" bothers me; it has been bothering for a long time, since the days of the "last secretary general." It does not give way to sleep, I want to understand the number of boats that we have. You know, I don't like racism: in Libya, in the course of "punishments",
going on
much more terrible things. But who cares about the fate of North Africans? The point here is not even that European politicians carried out a "regime change" operation in Libya; the fact is that it did not cause a mass protest by European voters.
The fact that their countries attacked Libya in the 21 century did not shock anyone in Europe. People,
overall
, remained indifferent to this fact. But Gaddafi did not threaten Europe, did not prepare to attack her. But Europeans nevertheless supported this very "colonial war." And in the course of the bombing attacks, civilians of Libya died, but Europe remained indifferent. Morality did not act in any way. The suffering of the Libyans concerned only themselves. No discussion, no protest. Complete indifference.
Soon after the "demolition of the regime," a flow of refugees into Italy began. Which, in principle, is quite natural: Libyan state and public structures were completely destroyed. And the Italians started having big problems. For us, these are just the lines
News
and television spots, but for Italians, life began to change significantly, and not for the better. But when the Gaddafi regime was "demolished", none of them protested. Although Italy is quite a democracy. There is no need to fool around and malice on this occasion: the opinion of Italians quite plays a role for Italian politicians, and the opinion of the French for French. This is a medical fact.
So the Italians and French could stop the bombing of Libya. Quite to myself. Approximately, how mass protests in Russia (for example) would make VKS operation in Syria problematic. Democracy, she is such a democracy. But the French were silent, and the Italians were silent. Thus, they supported the war against Gaddafi and the mass beating of Libyans. Anything can be said about Gaddafi, but he was not a "puppet of the Kremlin or Beijing," he did not develop nuclear weapons or even chemical weapons. He did not threaten Europe. But his country was destroyed, and there was no remorse from Europeans. They are not concerned.
Gaddafi did not attack anyone and was not going to attack. Gaddafi maintained the closest contact with European politicians. But that did not save him. That's when they say that our rockets and
Tanks
They threaten someone and cause someone a sense of fear, I immediately have a question about Gaddafi. Why did this, quite a herbivore politician, become an enemy of the "Free World"? Why is that? And if, let's say, Russia disarms, as many urge it to do, will not its fate befall Libya?
When a flood of refugees poured onto the Italian island of Lampedusa, this became a problem primarily for residents of the island of Lampedusa. Something like this. Although it is unlikely that anyone will rush to assert that it was the "Lampedusians" who were the main shooters of the attack on Tripoli. None of those who enjoyed the overthrow of the Libyan dictator wanted to see the Libyan refugees. You know, the impression is that these people really "live on another planet." First them
aviation
they bomb peaceful cities in a neighboring country, and then they are outraged by the influx of refugees.
Strange they, these Europeans, incomprehensible. Why did they need a war in Libya? What did it give them personally, what problems did it solve? And they have some kind of morality: they massively supported the Maidan in Kiev, they say something about the rights of Ukrainians to freedom and the European choice. Well, in principle, one would believe in some kind of "pink idealism". Say, naive Europeans want to promote democracy. If it were not for the "revolution" in Libya, where the interests of the Libyan people simply trampled into the mud. And then the population of Europe was silent, and the European "rebels" and "intellectuals" were silent.
But the matter does not happen in the 19 shaggy century, every active citizen has the Internet at hand. Information is more than accessible, and in real time. But this situation did not bother anyone in Europe. Yes, there is officialdom, propaganda and "party line". It's like that. But it seems that the ordinary Frenchman / Italian didn't care that his state was committing war crimes. The bomb is not his! But then, when the refugees rushed to France through the Italian boot, the situation changed dramatically (it was just recently, but many have already forgotten), and so, the French already (at 2011!) Blocked the border.
Even then, almost five years ago, there was a question about Schengen. Still in a shaggy year 2011! You will not believe it, but it was so, almost five years have passed since that "happy moment" when the flow of African refugees swept Italy, putting the Schengen agreements at risk. Then there were an order of magnitude less refugees, but a united Europe was already cracking at the seams. New events are happening, the old is forgotten ... Who remembers Lampedusa now? For example, I remember, and someone else remembers? For example, Angela Merkel? I doubt it. But conclusions could have been made already then: the revolution in the neighboring state, the military intervention of the "European democrats", the defeat of the state, the flow of refugees. Profit (joke).
But, as it seems to me, even the most stupid European could build such a scheme in his head. And shout, coming to the central square: "Never again!". Suppose you have a very unusual hobby: on Friday evening you pour in yourself an expensive strong alcohol. And on Saturday you find it difficult to get out of bed, you feel sick, and you are curling. What to do? How to help your grief? I do not know what to say. Pogato arranged life in this sublunary world. And now the Europeans are tormented by a cruel "hangover". They are rotten, absolutely rotten, the "terrorists" roam across France and Benelux ... And they are not afraid of the devil or Hollande.
And people are blown up, and scary, and bad, and the head is spinning. But these same French from the very beginning very actively supported the "armed opposition" in Syria. Gaddafi felled a long time, but still piled up. With Assad it turned out even more fun: the war is already going on for many years. And all this time, European politicians support terrorists. And European voters do not pay attention to it. In France, there is democracy, and the French are outraged, politicians would not be happy. But the French do not care. Syrians are dying and let them die.
I, forgive, do not gloat, I wondered: did the French really expect that this would not affect them? It seems that there is still some truth in the statement "Ukraine is the price of Europe".
Europeans do incredible nonsense and suffer from their consequences.
. But they were warned, they were told that hundreds of young Muslims from France and other EU countries were going to fight in Syria on the side of the terrorists. French politicians are not interested, their voters, too. Now they have tragedies. The irreparable happened. People died. Not the first, by the way, time it happened irreparable.
The difference in time between the "indicative" terrorist attacks in Paris and the same "indicative" terrorist attacks in Brussels is very small. In principle, we can talk about a series of terrorist acts, especially since one person involved figures in both the Paris case and the Brussels case. Now the question is, do not these most peaceful French and Belgians want to live in peace and security? Do they like to be blown up? If not, then why did they not stop this mess in time in Libya and Syria? Mass, multi-million protests could change everything.
The answer is quite simple: they didn't give a damn about the bombing of Belgrade, the bombing of Baghdad, and the bombing of Tripoli. The moral aspect of these actions did not bother them in any way. You see, it is difficult to build long-term, friendly relations with such people. Agree, if a humanoid is concerned only with the integrity of his own skin, then he will hardly become a friend to you. Neither the president of France, nor the president of Italy, nor the prime minister of Britain are absolute dictators. They can't live like that, live great, raise combat aircraft in the air and bring down thousands of bombs on a foreign politician who they don't like.
Need political support. There, even if you are building a new road or a new aircraft carrier, you need political support. No other way. Even if you need money for a social program, then no one will give it to you. Try to coordinate in parliamentary commissions. Everything is difficult, long and dreary. And then the money was found for the war, and no one particularly objected. And the war is not in order to protect, but in order to attack someone there. All one nobody objected. Well, it was so easy to stop all this: mass protests against the war and thoughtless spending of huge money is not clear on what.
Politicians could also make a fuss and make a request: "And how many pounds / euros will we kill to overthrow the aged dictator?" No, everything worked like a clock, nobody intervened in protest. But these are not all the problems of a united Europe: the Ukrainian "demographic bomb" should soon be launched. No, the point is not that there will be a lot of Ukrainians, the fact is that there are already too many of them for their disappearing economy. And they want to eat and well remember that they were actively called to a democratic Europe. Just put yourself in the place of an ordinary Ukrainian from some Zhmerinka or Zhytomyr: mess, poverty, unemployment, a vlada in Kiev confuses something incomprehensible ... Tired! And here at the side - a clean, cultural, civilized Europe, where they are waiting for him so ... And if they are not ready to go there in Kiev "to go to Europe", then I am ready, he will say, packing wearable things. Moreover, European politicians called the Ukrainians on a visit.
Or, at least, they said they were waiting. In fact, Europe itself "brought" and the upcoming problem of Ukrainian refugees. And there are a lot of them (Ukrainians), outwardly they differ little from Europeans, and they do not need to sail across the sea. And the economy there continues to fall, and the state is falling apart. Until a certain point, the situation under control will keep, and then? I understand that the Europeans voiced all this for propaganda purposes and did not intend to let the residents of Ukraine come to themselves in any case. But you see how it all turned out. But two years ago, Ukraine was a fairly stable country without millions of potential refugees. And there was no war there.
And, what is most funny, a European voter could not support Maidan and the coup d'etat in Kiev. And European politicians would be extremely difficult to promote their line in the former Ukrainian SSR. The European voter, by and large, supported the "special operation" in Kiev, and the Donbass shelling also supported (not his own house is shelled!), And now the costs of this decision are gradually increasing: political and economic. Tensions are rising in Europe, the economy is falling, the Russian market is lost. And for what? The despicable desire to harm Russian "for no reason" turned out to be serious and growing problems for Europeans. But at that moment when the decision was made, nobody wanted to think about it. And the moral? And it applies only to their own and then with reservations.
That is, they certainly have a moral, but it's own, "local" (as an air defense system) and extends, for example, to its city, its country ... Therefore, that same morality cannot serve as a common, unifying factor: own and for their own. The shelling of Donetsk by the Ukrainian artillery did not cause any protests in Europe, while we are well aware that an attempt to solve political issues in Western Europe by force would have been met with a storm of indignation. And here he is, the referendum in Holland, and it means so much and so much decides ... And why did the opinion of the residents of Donbass proper mean and much less? Why nobody tried to agitate them? Why are there political processes immediately slipped to the level of tanks and howitzers?
I agree, Western Europeans fought a lot and very bloody, including in civil wars. And they finally came to the conclusion that important political issues should be resolved through negotiations and compromises. Remarkable conclusion, but why it does not apply to the east of Ukraine? Why does it not apply to Syria? Assume that the Assad regime would be overthrown, as it was planned, and even suppose that something like a "coalition government" would arise (which seems quite incredible). But let's say, okay. What would happen to the population and the economy? How many people would have died and become refugees? How many decades would the Syrian economy recover even after the rapid overthrow of Assad (in a year, for example)?
In this case it is useful to ask the question: how much and how long would the Syrians suffer? But in Europe it was not interesting to people. There is the dictator Asad, and he must be overthrown, whatever the cost to the Syrians. What I like is the readiness of the average European to make key decisions for other nations. But in this case one must be ready to bear responsibility for such "bold decisions". But it is clear that
to that
Europeans are not ready. So I don't know how to react to explosions in European cities: on the one hand, we are even outwardly similar to Europeans, and our morality is Christian, on the other hand, we are so far apart ...
They often ask: will we find a common language with aliens from distant stars? Lord, what are the aliens? We categorically cannot agree with our neighbors in Europe even on the issue of combating terrorists. For them, there are good, bad and "transitional" terrorists ... And what is characteristic: all three lists are classified ...