The destroyer of the US Navy Zumwalt will be equipped with special screens to "increase the visibility of the ship for radar," reports
Rossiyskaya Gazeta
with reference to the resource VPK.name.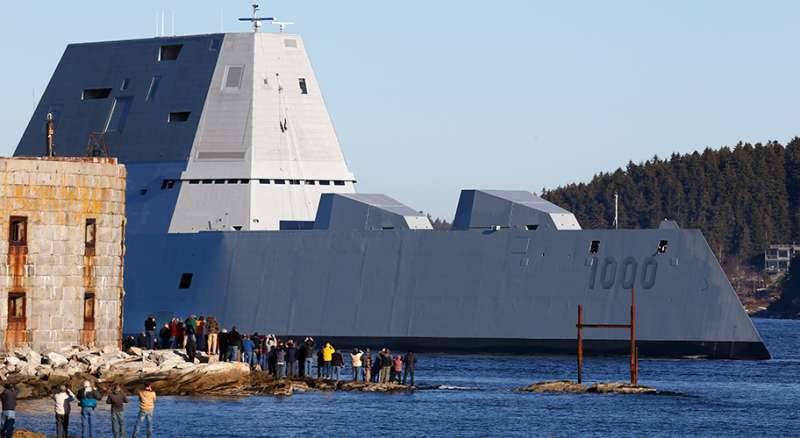 Such measures the US Navy were forced to go because of numerous complaints about the danger of navigation in the area where the destroyer is being tested.
According to the captain of a civilian vessel, "on the radar, the ship looks like an 12-meter fishing boat, while in reality the ship exceeds 185 meters in length."
"The ship's low radar visibility is achieved due to faceted forms and widespread use of radio-absorbing materials - the body with the superstructure is wrapped in a special coating of inch thickness, the number of protruding antennas is reduced to a minimum. After the tests are completed, the measuring equipment will be removed from the side of the destroyer, after which its mark on the radar will become even smaller, "explains the publication.
Recall, the head Zumwalt (DDG-1000) was launched in 2013 g, 2015 was launched in December for sea trials. The launch of two other serial destroyers is expected in the 2016 and 2017 years.
Help "WG": "
The ship's low radar visibility has become a problem for shipping in the US territorial waters, but it is unlikely to make the ship's modern anti-shipboard difficult. weapons Russia. Stealth technology was created based on X-band radar (8-18 GHz), while the Russian army is intensively equipped with "antistelsovnymi" means of detection and targeting. They operate on millimeter waves (30 MHz - 3 GHz) and clearly see ships and airplanes, no matter how bizarre they are. "