We all studied human evolution in biology class. Australopithecus, a skillful man, a man erect, Neanderthal, Cro-Magnon. According to our humble ideas, dinosaurs first lived, then mammals "ousted" them, then the brain began to develop in some monkeys. Somehow it was assumed by default that at first there were Neanderthals (squat, hairy and stocky, with large brow ridges). Then in their place appeared more slender Cro-Magnon man with a large volume of brain. And those same Neanderthals smoothly disappeared, like the ancient 90's computers. However, science does not stand still (Fomenko will not let you lie): new facts are revealed, archaeological expeditions are being conducted, research is being conducted. Including using those same computers. So, as it turns out - there was a problem, there was an interspecific war. Neanderthal and Cro-Magnon tens of thousands of years existed side by side, in the same area. And this existence was not peaceful.
The fact is that both Cro-Magnon and Neanderthals occupied the same ecological niche. This means that they used almost the same food sources in practically the same habitat. Yes, of course, this is not uncommon. Different predators claim the same prey. A flock of hyenas can take prey from a lioness, etc. Even different types of ants cruelly compete with each other. However, here the whole picture was complicated by the presence of mind in both species. Yes, this was exactly the case: two intelligent species were fighting a fierce battle between themselves, at least in Europe. Neanderthals eventually lost, but that does not mean that the war was easy and transient.
Before stating further material, I would like to point out one important moment. If a
history
We can restore the XXVII CPSU Congress in colors and colors, then with the II Congress of the RSDLP the situation is not so rosy. All the more problematic to hear the speeches of Cicero. The trouble is that modern man has become accustomed to an abundance of information, but this historical abundance has arisen quite recently. Photography is the 19th century, Gutenberg is the 15th century. All that used to be before is manuscripts, which, of course, do not burn, but which are unique and do not have backup copies. Therefore, the further we get into the history, the more difficult it is to restore even its details, but simply the general course of events. Wars, invasions, fires ... "Sometimes there are no names left from the heroes of bygone days ...". Alas - it is. There are epochs about which more information has been preserved, there are epochs about which practically nothing is known. And this applies to civilized eras with architecture and writing. The era about which I would like to tell, did not leave a single written document about itself. Most likely, they were not there then.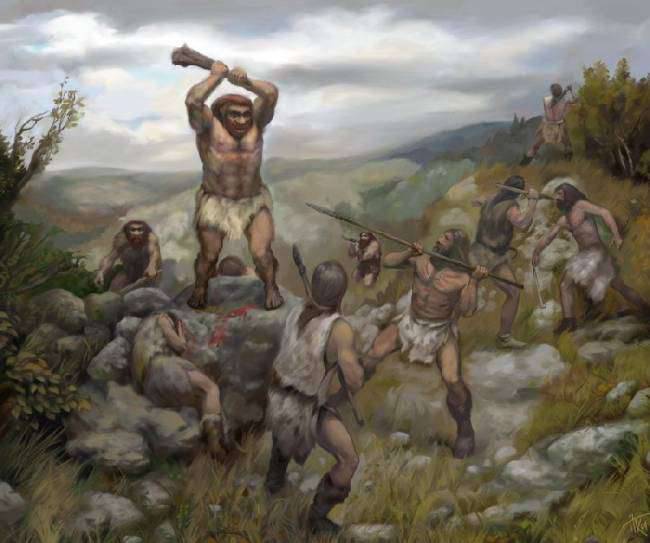 But even when writing was not yet invented, history was happening in Europe, and the story was bloody. Two types (or subspecies) of a person found out the relationship (mostly, oddly enough, it was on the European continent). Previously it was thought that the Neanderthal was an ancestor of the Cro-Magnon and accordingly our ancestor. So we were taught in school. But it was considered so before serious DNA research. When such studies were conducted, it turned out that we and the Neanderthals are too different. They are not the ancestors of the Cro-Magnon and, accordingly, not our ancestors. A certain confusion took place, and in the genome of the modern man there is from 1 to 4 percent of the Neanderthal genes (this percentage varies among different nations), but we are not relatives.
In 1997, researchers from the University of Munich, after analyzing the DNA of the remains of the very first Neanderthal found, found that the differences between him and the modern man are too great to be considered relatives. At the University of Zurich, a comparative study of the skulls of a two-year-old Neanderthal and a Cro-Magnon corresponding in age was conducted. The conclusion is stunning: the cranial bones were formed in completely different ways. Based on these data, a number of scientists in the United States and Europe came to the conclusion that Neanderthals were neither ancestors nor relatives of modern man. The paths of Neanderthals and Cro-Magnons diverged 500-600 thousands of years ago (according to other estimates, from 200 thousands of years to a million), they had a common ancestor, and for a long time they existed on the planet together, and then 35-40 thousands of years ago - ( here the timeframe is much more accurate than the Cro-Magnon man began to force out the Neanderthal man, and the latter disappeared without a trace. By the way, the last surviving Neanderthals lived in the area of ​​Gibraltar and even in the Crimea. So what were they: Neanderthal and Cro-Magnon?
The physique of the Cro-Magnon was less rough and massive than that of the Neanderthals. They were tall (height up to 180-190 cm) and had elongated "tropical" (that is, characteristic of modern tropical human populations) body proportions - for example, the Tropicans' legs and arms are longer than the "polar explorers" (and especially the forearms and shins). Their skull compared to that of the Neanderthals had a higher and rounded arch, a straight and smoother forehead, protruding chin. Cro-Magnon type people were distinguished by a low but wide face, angular orbits, a narrow, strongly protruding nose and a large brain. In general, we are the direct descendants of the Cro-Magnons (anatomically, we are practically indistinguishable from them). And the whole subsequent history of mankind is the history of Cro-Magnons and their descendants. So we know more about us, less about them.
As we now know, Neanderthals were stocky, short (165 cm) and with a large head of an unusual shape. Powerful eyebrows, massive nose and inconspicuous chin. The constitution of the Neanderthal people was much heavier and stockier than that of the Cro-Magnon: a broad chest, strong long arms, short, thick legs, a large head on a thick neck. They weighed about 90 a kilogram, and it was a real bunch of muscles. By the way, the Neanderthal had a brain larger than a Cro-Magnon or a modern man (1400-1600 cub. See vs. 1200-1300 cub. See), but a slightly different "configuration": the frontal lobes were poorly developed. The maximum lifespan did not reach 50 years. The flowering of life activity fell on the period from 12 to 35 years. It was in 12 that the Neanderthals turned into a full-fledged man, that is, Neanderthals were born more mature and developed faster than Cro-Magnons. Up to senile age, the units were sick: death, hunting, or in clashes with other tribes. So according to scientists, life expectancy at best was 20 years. The main health problems are rickets, rheumatism and, of course, traumatic injuries. They lived in small groups of 35-40 people.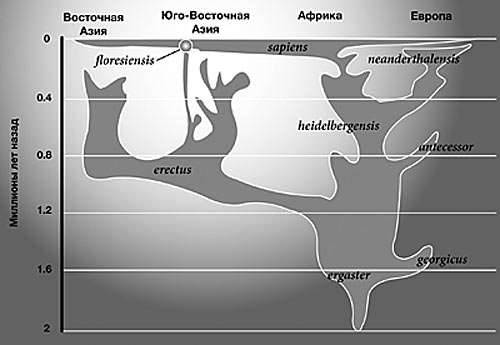 The basis of the diet was meat, even the fish they ate not so willingly. It should be noted that along with the bones of buffaloes and mammoths on the sites of Neanderthals there are Cro-Magnon bones. But it must be said that well-gnawed Neanderthal bones are also found at the Cro-Magnon camp sites. This somehow contradicts this idea of ​​peaceful existence, side by side of two different intelligent species. That, however, is not surprising, based on our knowledge of the world. By the way, the Neanderthal was a "native" European. The main habitat of his habitat was just Europe. And he lived there and lived there, roughly from 500 000 years BC. Was, so to speak, the top link in the food chain. The main source of food - hunting for large and very large game - driven hunting. Unlike the Cro-Magnon man, the Neanderthal did not paint the walls of the caves and did not use any decorations. Unlike Cro-Magnon, who actively used a variety of throwing
weapon
such as: throwing spears, bow and arrows, spear thrower, Neanderthal, did not master this technology, which had its consequences.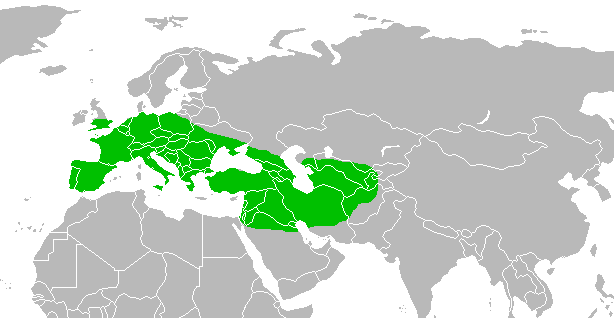 Habitat Neanderthals
He was forced to fight a large beast "face to face", which led to very high injuries. By the way, even then, hundreds of thousands of years before us, the profession of "chiropractor" existed and, as later studies showed, they worked very professionally: of the 36 cases of poor quality, the operation was performed only in 11. Once again - Neanderthals were not our ancestors, and all this happened in Europe, but a long time ago. So, even then the Neanderthals treated each other and quite effectively, and what can you do - you will not own these skills, the tribe will simply "quit" because of injuries. Yes, the Neanderthal physique surpassed any modern sportsman and possessed monstrous physical strength. But it was difficult to call this life pleasant and interesting. Making daily bread during an everyday hunt for a large (and super-large!) Beast in the absence of that throwing weapon required a very specific character. And so month after month, year after year. Moreover, this very "big beast" was not a tortured little animal from the aviary and, as a rule, had good chances to maim a hunter or kill him.
It is difficult to say why Neanderthals have not mastered throwing weapons, but this is exactly how it was, and this is one of their main differences from Cro-Magnon (some Neanderthal spears can be used for throwing, but these are not throwing spears). Neanderthals also knew no jewelery or musical instruments before contact with the Cro-Magnons. But, of course, these were not semi-wild animals. They buried the dead (the first to start doing this!), They took care of the old and the maimed. Another characteristic feature of the Neanderthals was that they loved to live in caves in the highlands (which is why "short-leggedness" was not so critical for them, according to some researchers), and they had to beat off these caves from cave bears. And I must say that cave bears are more dangerous than even grizzlies. The cave bear was one and a half times larger than a grizzly. But the hunt for a modern grizzly for a modern European is, in principle, possible only with a sniper or with an automatic rifle (and therefore it seems to be forbidden), but the Neanderthals killed them constantly, face to face, so to speak. I wonder how they did it. Yes, this is not a tormented carcass of a gopher against the background of a dozen drunken muzzles in military suits, with powerful rifles. At that time everything was grown-up.
So the Neanderthals were by no means the "whipping boys." In close combat, they were definitely much stronger than the Cro-Magnon man - wider at the shoulders, stronger, even their bones were as thick as possible (even to the extent of oppression of the bone marrow function). Initially it was thought that they had a smaller brain and they were more stupid, later studies established that despite their "beast-like" appearance, and their foreheads were indeed more sloping, they were not only inferior in size to the brain, but even surpassed the Cro-Magnon. Here, some researchers immediately put forward a bold assumption that the Neanderthal was smarter, and the Cro-Magnon was smarter (more convolutions!). According to some information, during the initial collision with the Cro-Magnon in the Middle East (the Cro-Magnon was from Africa, they were from Europe), the Neanderthals managed to push him back. And in the future, their confrontation in Europe lasted many, many thousands of years. And again: Cro-Magnon and Neanderthal were not relatives - they were two reasonable, competing species. And one species actually destroyed the other. Which, of course, is very intolerant. But this is the story.

The reasons for the final victory of a slender Cro-Magnon man over a healthy Neanderthal are called the most different: Cro-Magnon tamed dogs, but Neanderthals do not; Cro-Magnons did more efficient farming, and big game was not the main dish for them - they also "hemmed": in the sense, small game, fish and fruit-vegetables (when hunting for small game - throwing weapons are absolutely necessary); There is also a version that Cro-Magnon people were more communicative - i.e. could discuss among themselves a more complex way of joint actions; there is a version that the Neanderthal birthplace, Europe, was simply much colder, smaller and poorer in terms of habitat (at the time!) than Africa, the homeland of Cro-Magnon, and thus Cro-Magnon people were "crushed by number"; There is a version that the Neanderthal was worse in child mortality - a smaller percentage of children survived, in general, studying the skeletons of Neanderthals, the scientists came to the conclusion that they had certain chronic health problems - the skeletons of young people are very worn out, as if they were from great physical overloads ; there is a version that, due to the different structure of the body (Neanderthals, as we understood, muscular, short-legged, short-armed men), the energy expenditure on movement they had 30% more percent, which reduced competitiveness; there is even a version that when the temperature of 70 fell thousands of years ago, Cro-Magnons were able to create very warm clothes made of hides, and Neanderthals were not so warm. There are many versions, it is impossible to say for the moment: too little data.
It's like with the extinction of dinosaurs, in fact, no less versions, but Hollywood directors did it easier: the meteorite is to blame for everything, which destroyed the tyrannosaurs and their food. Spectacular, cash, but not the fact that the truth. But everyone saw, everyone was impressed and everyone believes. And ask someone - who killed tyrannosaurs? You will answer - a meteorite! The masses love concreteness and tangibility, unfortunately science, as a rule, cannot give them. Unlike Hollywood. Therefore, we do not know why the Cro-Magnon won in the competition and lost to the Neanderthal. We, the direct heirs of the Cro-Magnon, see the result, but do not understand its causes. There is also an interesting question: what would have happened if the Neanderthal had won?
He was certainly intelligent, but it was a different rational kind, respectively, and he would create a completely different civilization. By the way, typical ideas that a Neanderthal was hairy are categorically incorrect. After researching human lice (yes, reader, lice!), Scientists made an extraordinarily important conclusion — about 3 million years ago, some human-like people got rid of body hair. Three million years of "lousy evolution", who would have thought, but even here great discoveries are made. Incidentally, the once-widespread notion that a Neanderthal walked "on a half-bent one" is also incorrect. The very specimen, on the basis of studies of which scientists came to such a humiliating conclusion, turned out to be sick ... arthritis. So the Neanderthal was not a hairy, half-humped freak.
Of course, he was very different from Cro-Magnon in appearance: unfortunately, we can analyze basically the skeleton. Neanderthals are characterized by: a larger, but flatter forehead, more massive brow muscles, a large nasal cavity, a larger joint size, a large bell-shaped chest, shorter lower legs and forearms, and wider hips. But he was quite a straight erect, not a "bent man."
By the way, the skulls are very different: in size and shape.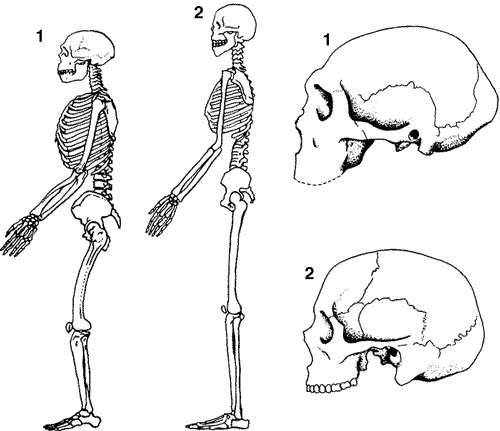 In general, there is a version that originally there were even more reasonable species than two, but as a result only Cro-Magnons remained. Of course, when it is a question of "war", it does not mean war in its modern sense. Cro-Magnons and Neanderthals did not plan any military operations on a large scale, did not draw up "strategic plans", did not analyze the course of the battle for "fortress Europe." There was then that, and could not be. Conditions are not yet ripe for a full-fledged war. But, nevertheless, the war went on: two reasonable species, occupying almost the same ecological niche, claiming the same resources.
Cro-Magnon and Neanderthal must inevitably collide. And this inevitably led to "armed confrontation." Moreover, the constant armed confrontation: both types had a sufficiently developed brain to analyze the situation and look for ways to successfully fight the enemy (in this location), and throughout his life. And since they were very different in appearance, they were automatically alien to each other, which made the compromise unlikely. This very confrontation lasted for many thousands or even tens of thousands of years. During this time, the climate in Europe has repeatedly changed, the flora and fauna changed (partially). But the struggle continued. Moreover, according to the results of the excavations, it can be assumed that this was not a "one goal game". Sometimes a Cro-Magnon won, sometimes a Neanderthal took revenge. In the same caves you can find: Cro-Magnon layer, Neanderthal, again Cro-Magnon and so on several times (while in the Cro-Magnon layer one can find the gnawed bones of Neanderthals and vice versa!). (Do not read this article for a dream coming).
A less tolerant domestic author wrote on this subject the results of such excavations: "Apparently, there was some kind of terrible struggle here." It is rather difficult to build versions and invent hypotheses about what exactly happened there, but, apparently, really - the struggle took place. And perhaps a long life side by side with another intelligent species (not at all peaceful and not cloudless), for tens of thousands of years, left in our memory indelible collective memories. Perhaps those "orcs" are exactly "from there". Although, I repeat, this is just a hypothesis (about the orcs).
So not everything was so peaceful and serene with this very "evolution of reasonable man." As we all understand, a predator (even the most terrible) is just a predator. He just hunts to find food. While another intelligent species is a much more serious threat. He, too, can unite in "organized groups", make plans, and complex and insidious, attack suddenly, even without experiencing a shortage of food. And in general, initially the victory of the Cro-Magnon was not due to "one hundred percent". The result could be different. And I would sit now a distant descendant of Neanderthals and contemptuously looked at the too fragile skeleton of a Cro-Magnon loser on a computer monitor (black and white, with large, such uneven pixels and without broadband Internet).