Terrorists can easily penetrate British nuclear submarines, as there is no proper control there, said former British Navy engineer William McNelly in an exclusive interview with the channel
RT
. This is his first interview since he first talked about gaps in the Trident submarine safety system last year.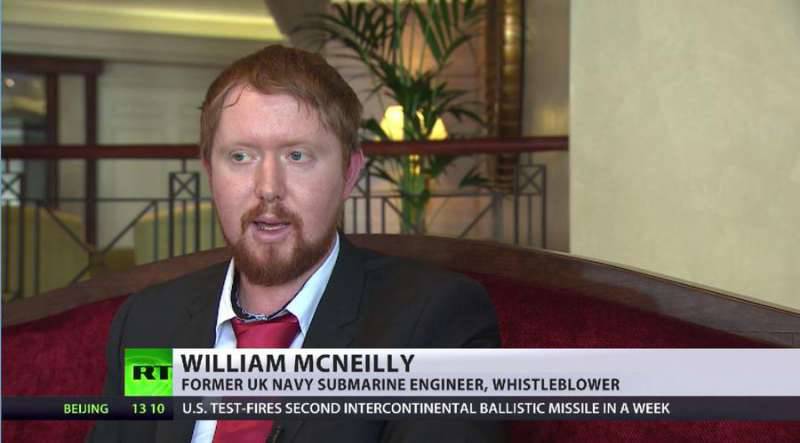 "To get on board a submarine, you only need a couple of fake IDs. We know that groups like the "Islamic State" are able to forge documents well. Every year they lose thousands of certificates of the Royal Navy. They may well get these groups. In the UK, more and more people are undergoing radicalization - it is likely that one of them could fall into the hands of such a document, "said Macnelli.
He noted that "unlike airports, where they carefully inspect the contents of all carried items, at the military facilities of the British Navy are much simpler rules."
"You can carry any bags, boxes on board - they simply do not check. For example, during patrols, an 181 man was on board. All carried large bags on board. Nobody checked them. What if there was a bomb in one of them? "Said the engineer.
McNally was in the spotlight of the press in May on 2015, when he openly pointed out weaknesses in the submarine safety system at the Clyde base. He noted that "getting into the boat is easier than in most nightclubs." According to him, "most of the equipment of the nuclear submarine is in poor condition, some even malfunctioning. And the missile bay is used as a gym. "
RT appealed to the British military department for comment, and they replied that at the Clyde naval base "strict security measures are being observed and it is absurd to assume otherwise."
However, the Trident system has become the subject of heated debate in government and in parliament. Soon the authorities should determine whether the specified system needs to be updated.
The British public is against the Trident program.
"Imagine a list of arguments against - it is huge, you can compile a book in several volumes. At the same time, there is only one weak argument for keeping the Trident system, and this is nuclear deterrence. Did it keep us from interfering in recent wars? Take, for example, Afghanistan: Will this system restrain Afghan radicals? No, they will not, because they know that we will not apply nuclear
weapon
in their countries. The presence of this system in our country is a kind of beacon for radicals, so that they come here and organize terrorist acts. This, on the contrary, can bring Britain to its knees, "says McNally.
"It seemed to me that from the inside these problems would not be solved, that I would be able to influence this issue only by making the data public. Then at least I'll know what I tried. Do not do what I would? I would continue to work, and then what? Part of the blame would be on me, because I did not do anything. I ruined my career and lost a lot of money, but my conscience is clear. Had something happened, I at least know that I warned people. Everything else is unimportant, "he said.