24 February 1898 was born in the Prussian city of Bromberg of the German Empire, Kurt Tank was born, the future creator of a whole series of aircraft of various modifications.
He always built airplanes: in Germany, Argentina (Ta 183 and the Pulka II fighter jet), India (HF24 interceptor aircraft). But the FW-190 and its modifications brought him the greatest fame, as well as the Fw-189 "frame" scout, who became the hated forerunner of air attacks by the Luftwaffe forces.
But what to say - Kurt was lucky in life. He survived after the First World War, was treated kindly and received all kinds of honors from the hands of the rulers of Germany, Argentina, and India. Although they were strange gifts.
I wonder what his mother called him: "Mayn Libe Kinder Kurt". There are no diminutive words in German, as in Russian. Maybe that's why Kurt had a rather tough and cocky temper. In his student years, he repeatedly participated in duels organized by students. He has a scar on his face.
But Kurt's war saga began at sixteen, when he, raving like many boys of that generation,
aviation
, was forced at the insistence of his father to go to study not where his soul was torn, but where his father determined - in horse cavalry. Because his grandfather served with a lancer as a sergeant, and his father in the dragoon troops.
Kurt passed the First World War with honor, he returned home wounded and thoroughly exhausted, but, I think, he was proud of himself - because he could bring his favorite book of physical experiments through all tests to understand many natural and technical phenomena. He was thoroughly prepared, and therefore surprised the teachers at the entrance exam at the Berlin Higher Technical School with a thorough knowledge of subjects. He studied well and also thoroughly, and entered the number of students who have graduated from a technical school. At that time, Kurt was already 26 years old. When this happened, he knew exactly what he would do all his life, paradoxically and self-confidently sounded. This self-confidence helped him to acquire his student love, a professorial daughter of Charlotte, whose name he would call his first paraglider, assembled in a technical school workshop under the guidance of a professor, the father of that same Charlotte.
Kurt sought to maximize the knowledge provided not only by the curriculum. He learned that the lectures of two professors of a technical school — Everling (taught aerodynamics) and Racener (taught aircraft engineering) — are the most popular.
Kurt voluntarily enrolled in the lectures of these two professors and did not miss a single lesson, because he understood that here you can get advanced views on certain phenomena.
This allowed him to assemble his second glider, which he called the "Devil" or "Devil" (his span of 11,5 m, wing area 13,7 м2) and presented the drawings of this glider to offset his predegree work. German teachers appreciated his work for the four with a "plus" and wished the young aircraft builder to give more strength to study than to disappear in the workshop. It was there Kurt sought almost all the time. At that time, he was not interested in ordinary theory, he wanted to try out and learn from his mistakes and successes in practice. There were a lot of mistakes. So, his very first glider "Charlotte" with the size of 15 meters crashed during one of the flights. In this Kurt saw some omen of his unhappy love for a professorial daughter. Kurt often thought about this, making his numerous trips on a commuter train. It was this train that once again had a truly mystical role in destiny: here he accidentally met with one of his former teachers, who worked in an aircraft-building company and invited his extraordinary student to go to work for him.
So it was just decided the fate of Kurt, who was offered at that moment to work in the company "Siemens". And how could it be
история
German Luftwaffe, if only. But the subjunctive mood is not about Kurt. Even then, one of his character traits, fearlessness, becomes noticeable. He becomes not only a designer, but he himself is called to test his aircraft, having received for this several piloting lessons in a private school and the coveted pilot certificate. Years later, Kurt will be proud of this particular title - test pilot - and value him above all awards. He will fly on his planes at almost every opportunity, rising into the sky, causing envy of rival designers. The sky, apparently, gave Kurt new creative powers, an understanding of the need to improve the apparatus, far from perfect. Landing on one of his first planes, Kurt felt the hard landing and offered the company a drawing of pillows with a damping keel. The management approved the idea and soon the drawings became a reality.
Thanks to flying on the Ro-VII plane, Kurt was able to solve and implement the idea of ​​high-mounted engines and pushing propellers.
During the six years that Kurt worked at the company, he managed to bring together many of his developments concerning the creation of new aircraft, but he lacked space. This was one of the main reasons that Kurt accepted the offer of the engineer Messerschmitt to go to work for him. In the 1930-ies Messerschmitt one after another, there were major accidents, the pilots died. One case shook Kurt. One of the test pilots working for Messerschmitt decided to show his young wife flights. Gallant cavalier instructed Kurt to accompany his wife, and he rose into the air. A few seconds later the tragedy occurred - the plane exploded and crumbled into small pieces. Kurt had to hold in her hands a woman who had fainted.
This case and the position of Messerschmitt himself, who sought to ease the plane and thereby achieve speed, had a decisive influence on Kurt's decision in September 1931 to leave the branch of the Bavarian Aircraft Plant, managing to talk so friendly with Willy Messerschmitt that he was not offended and between the two designers Subsequently, good relations developed, sometimes even they were considered friends. But this was not the case. Moreover, over time they will begin to use any information about failures and failures made during the course of their usual research work, in order to present the rival's developments in a negative light to members of the German Technical Council.
And there were a lot of failures.
In Bremen, in the Focke-Wulf company, Kurt himself finds himself close to death when he wants to understand how to deal with the flutter. He climbed to a height of about 4000 meters and deliberately put the car into a dive, somewhere at the level of 2000 meters, he could barely manage to level the plane and land on the airfield. It seemed the danger had passed. Not! The wings of the aircraft instantly turn into debris, the cockpit is about to be ignited. Kurt is able to instantly get out of the cab and at this moment everything is in a flame.
But he does not stop his flights. In the course of one of them, Kurt's eyes accidentally fell on the tail. And how can this happen! He noticed that the shadow of the tail began to tremble before the wings began to vibrate. Tail! That's where it was necessary to look for the cause of the miscalculations of German designers.
And again the fateful meeting on the road. Returning from a vacation in the spring of 1936, Kurt met the technical manager of Lufthansa and briefly outlined the bold idea of ​​creating a transcontinental passenger aircraft that can travel more than 1500 kilometers. Kurt deliberately told this grandiose idea at the time because he did not find supporters of his fantastic plan.
In the new company, the new aircraft was created within one year, he received the name "Condor" and was able to make the flight "Berlin-New York", covering the distance even more than Kurt had originally planned - 6371 km. And if the crew of Lufthansa flew to America at an average speed of 255,49 km / h, then the Germans decided to "chase" the plane back faster and flew at an average speed of 320,9 km / h. Of course, they made a splash. The company's management, who had managed to believe in Kurt's fantastic idea, realized that you could quickly get rich from large orders that began to arrive almost immediately after giving publicity to a grand flight. Even Hitler wished to have such a plane in his fleet, however, made with special comfort.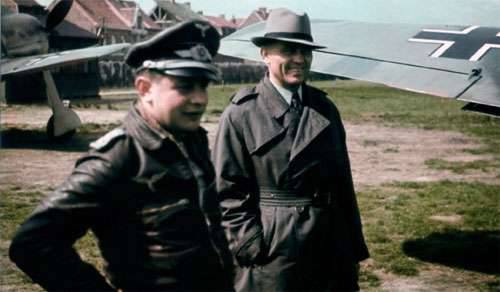 And although official biographers carefully tried to remove from the biography all these walks Kurt
Tank
according to companies, one cannot erase words from a song, as they say. If you read the official biography of Kurt, it turns out that in 1931 he immediately began working for the Fokke-Wulf company and created his own Condor there, but this is far from the case. Indeed, in this company he will make one of the modifications of the Condor - the FW-200 aircraft.
But the serial passenger aircraft of Germany after the arrival of Hitler were no longer needed. All the German aviation industry has risen under a new, fascist flag and new leaders have demanded that designers carry out completely different designs.
In 1935, Kurt managed to get a state order for the manufacture of more than five hundred Fw-56А-1 aircraft.
By this time, Focke-Wulf Fw-56 had already been put into service, and the German command favorably accepted this machine, without particularly distinguishing it from firms competing with each other. Willy Misserschmitt and his development enjoyed in the aviation environment far more prestige than Kurt Tank.
The ending should ...