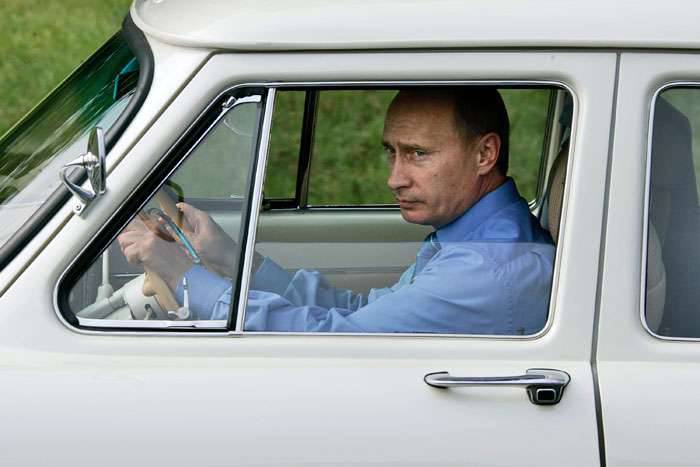 I wanted to briefly go over what was "Putin's foreign policy" (I don't really want to remember Yeltsin and Gorbachev, so we will not). So, it may surprise many, but Putin did not start as an "anti-Western". Yes, this is exactly the case, if you remember how it all began in 2000. I will say more, by nature and views and life experience, Putin is a man of European orientation. Peter, East Germany ... Capitalism is raging in 2000 in Russia. Paradoxically, by the wildest machinations it was impossible to put at the head of Russia a more adequate person and disposed to cooperate with Europe. Whatever anyone said, he was much more interesting with Schröder than with Chavez. With Chavez, he was not interested at all. People are too different. Putin is a pragmatist, not a charismatic and not a people's tribune. "Golden domes of Constantinople", USSR-2, "the holy war of the Orthodox with the rotten West" - this is not to him at all. Incredibly sounds, but the GDP turned out to be forced to play a not very interesting role for him in the beginning confrontation between West and Russia.
Well, sometimes circumstances turn out to be stronger than a person, but in general, analyzing Vladimir Putin's career and his foreign policy, one can stumble upon a funny paradox: he began as a pronounced "Westerner". At the very beginning - an active and persistent attempt to "reach heaven" and find a common language with the West. Perhaps, he spent five years doing it, until he realized that something "did not fit in." And, of course, it's strange: the democratically chosen and popular president is pro-Western - a great chance for friendship! At the same time, any Russian who is familiar with the Western press will confirm: anti-Putin propaganda has been going on almost continuously all this time. What? Why? What caused such a clear discord between potential partners? At the beginning of the "zero" Putin was not going to quarrel with either the United States or the EU. The main line at that time - partnership and economic cooperation. "Sovereign democracy" appeared much, much later. It is curious to me why the very first of his foreign policy impulse was left without a clear answer? After all, in fact, Putin was a much more consistent and serious Westerner than Latynina or Navalny.
Such a person, living in Germany, could easily fit into the structure of the German authorities ... Can you imagine Navalny in the Bundestag (even as a garbage collector)? In general, oddly enough, anyone, I emphasize, any successor to Putin will be much more cool about Germany. There is simply nothing for the Russians to love this country. Absolutely not at all. Such a chance, as with Putin, falls once in 100 years and then not always. And how did the Germans order them? Somehow, after all, it turned out that Putin is a cranberry patriot, a "primer", and therefore the evil imperialists dream of "knocking over" him. And put a person more democratic and liberal. Such as Poroshenko. From harm, we will again conduct a frontal comparative analysis - who is the politician of a more Western, European type of these two? Putin or Poroshenko? Sorry, gentlemen, but Petro Poroshenko is anyone, but not a democratic European politician. Just in fact. Well, he did not come out with a face to European politics. Such faces on the European political Olympus are already a hundred years old but in fashion - too he, forgive, has devoured her to symbolize democracy in Eastern Europe.
Then what is it? What is the reason for such an absolute rejection of GDP in the EU? But the denial was complete, maximum, adamant - "Assad / Putin must go." "We must save the Russians ...". But why? Absolutely not clear. You know, I venture to make a guess - it's not at all in Putin. The point is "Putin's politics." And these are completely different things. Propaganda is doing its job, and the GDP has become a kind of "checkpoint" of our defense. Of course, it looks great, but is it? No, if, for example, Russia was headed by another politician (I am for the poor, I am for the Russians), then the reaction of Europe to him would be understandable, and so - a mystery. I do not see in the person of the current president anything that could cause rejection from the "enlightened Europe". Allegedly, at first everything was fine and nothing foreshadowed trouble, but then Putin changed dramatically - he became tough and authoritarian. It seems to me that the matter is a little different: our Western partners were expecting a completely different policy from Putin. And above all the Germans, but he struck them unpleasantly.
Whether we like it or not, countries are different in status. Moreover, there is no direct dependence here: for example, Saudi Arabia has been pursuing / pursuing a much more active policy than Japan, although compare the development of Japan and Riyadh. So, the same with Russia: after 1991, we dropped out of the "highest league" of world politics. Well, the planet "under the guise of" redrew. Without us. It is clear that the agreements reached were not recorded on paper (as in the Mafia). Nevertheless, these very agreements were reached very quickly. That is why immediately after the collapse of the Soviet Union began to tear apart Yugoslavia. And immediately. And it turned out to be funny - in 1948, Shitty year Tito had a row with Stalin. Proud was such a Josip Broz, independent. He was friends with the West, got loans there, everything was in the openwork. At the same time, the standard of living in the "independent" Yugoslavia was much higher than in the USSR or Bulgaria. By living standards and openness, Yugoslavia was just a dream: a country that combined the best features of socialism and capitalism. Independent of Moscow. Free In short, what Poroshenko and Lukashenko could dream of.
And then bombs fell on her. NATO bombs. First, of course, was the hard work with the nationalists, their training and arming. Civil war ... and like a cherry on a cake - NATO bombs on the heads of the Serbs. With which two generations have popularly explained that the main threat is from the east. And the SFRY did not enter into the Warsaw Pact, why? And so, bombs fell on a democratic, European country. Oddly enough - not Russian bombs. Other "former" went under the West voluntarily, but Yugoslavia had to bomb. And no one called it aggression. That is, we can observe on the map many countries, it is so colorful, this is the map itself. And all these countries shout about their "sovereignty". Scream loudly. But all of these countries have owners. That is why accusations of aggression are constantly heard against Russia. We are starting to work in one of these "independent" countries, which are full of maps. We have money
weapon
and technology, we can offer them a lot, the same Bulgaria ... And in response from Brussels, there is an accusation of "Russian aggression", for what, why? Still sovereign? Not certainly in that way. All these territories and countries already belong to someone. By the way, we were also "divided" and accrued, hence the degree of hatred towards "sovereign democracy" a la Surkov.
It seemed to us that an independent Russia is negotiating something in 2013 with an independent Ukraine. But from someone's point of view - it is disgusting and aggression. For quite a long time Putin just lined up relations with Europe, without paying any attention to it. In principle, the idea was logical: to increase trade and "in the course of the play," step by step, agree on everything. Did not work. It didn't work at all. It's about as if you screw the screw in for a long time with a screwdriver in an awkward place. You twist it, you twist it, you think - it is almost wrapped. But no - it turns out, he didn't even take one turn. The problem of the current conflict with Europe is that the Ukrainian question was "solved" without Russia. They thought so. And all subsequent proposals of the Kremlin after February 22 did not receive a response. The question is closed, bye. And then the Kremlin decided to act. Also inconsistent with Europe. From here Crimea and Donbass. When the Russian troops took control of the Crimea and a referendum was announced, Merkel rushed to call Putin. But as you can imagine, it was a little late. The train has already left too. By the way, it's not about Putin. The laws of geopolitics are simple and cruel: in this situation, any adequate politician must act in the same way. Although, of course, not everyone would have the courage to do it.
So it's not about Putin. Absolutely. The thing is in Russian politics, and these are very different things. It was just that in this situation they did not leave other reasonable decisions. There was nothing to choose from. If he were a Westerner, three times more - it would not change the situation. By the way, as we all understand - this decision he took was not alone. Therefore, the Kremlin. "To dance tango, we need two" - quite a popular saying in the English-language political lexicon. Putin could simply be a "reference" Westerner - in the absence of oncoming movements it was all completely meaningless. Putin's proposal to European leaders from the very beginning was very simple: let's do European politics together. This offer was met with icy silence. By the way, you will laugh: Yeltsin also wanted to stir up something like that. Together with France and Germany. Did not work. We are trying to draw some schemes on the map of Europe, we offer them some options, not understanding the simple fact that all this is superfluous and absolutely unnecessary. All European schemes have already been drawn, agreed and approved. Including in Ukraine, and in Belarus, and in Russia ... Imagine if you live in a house on the outskirts of the city, and some kind of "developer" decided to put a shopping center there ... Something like that. And you paint paints, shut off the roof.
It's just that, as you understand, it's not quite correct to publicly announce plans and future boundaries of "euro-Jewish". It can cause a scandal, therefore, it is not publicly voiced, but there are plans, as it is easy to guess from the coordinated movements of Eastern European politicians. And it is just as easy to guess what future our "European partners" are preparing for us: look at Ukraine. Political chaos, bankrupt country, country-colony. And the invasion of "advisers" and European commissioners (in dusty helmets, who silently lean over the corpse of Ukraine). Therefore, all Putin's efforts were in vain - he was not heard and could not be heard. They did not hear it precisely because in the plans of these gentlemen the presence of a political center Moscow does not appear in principle. The crisis in Ukraine showed this vividly and vividly: Ukraine is a very large country, with an economy tied to Russia (2013). Sharply "reforming" it, not taking into account the opinion of Moscow, is extremely difficult, to put it mildly. After the Maidan and the Crimea, there were endless negotiations between Russia and Germany, France, the United States. So, what prevented them to hold up to all these events? Nothing but unwillingness to allow Russia to "serious issues." As a result of the uncoordinated actions of the world powers, there was a "collapse of Ukraine". These are our pies. The whole country is erased from the map, and it is without nuclear weapons.
In fact, this is a fundamental decision not to allow Russia into a big European policy and led to the current crisis. That is not the case in the Crimea and not in Putin. The political crisis is systemic. Would not break in the Crimea - would break in another place. Thus, discussing the personal qualities of Vladimir Putin or the strategic importance of the Crimean peninsula is not a very meaningful exercise. The conflict is deeper: we ask them why they broke off the agreements signed with Yanukovych February 21, and they look at us like idiots. From their point of view, now big politics is done without Russia. As after the WWI, this policy was made without Russia and Germany, after WWII - without Germany and Japan. Russia's attempt to "meet" is declared "revisionism." The thing is that the "reformers" in 90's were "deceiving" us a little about the real agreements and the real situation in foreign policy. The problem is that we still live on the same planet: our independent actions immediately come up against their plans. At first glance, there is nothing terrible about it, it always has been, for this, diplomacy is needed. But they are not going to discuss anything with us — that is the problem: Milosevic must leave, Assad must leave, Yanukovych must leave ... Such things. So before the war, you can finish the game.
The last reservation is not accidental, diplomacy is an excellent means to prevent unnecessary wars. Everyone understands this. The problem is that in relations between Russia and the West, diplomacy does not work. February 2014 of the Year in Ukraine gave a prime example. They first act, then, "bumping into" Russia, they begin ... no, not to negotiate. Set ultimatums. In general - everyone who is interested in politics, had the good fortune to watch the "super show" around Ukraine in the last two years. Change the name of Putin to any other, and in fact, what does it change? What other options for action open up? In the 99 year, at the time of the bombing of Belgrade, we had a Western-liberal government in Moscow, what did it give? Continuing analogies - those who demolished the "red Milosevic" inside Yugoslavia, resisted that he was not able to agree with the West, but they could. After they came to power, Kosovo was taken from Serbia. Excuse me, what's the difference? In general, the conflict between patriots and liberals in modern Russia is quite funny: the West absolutely does not care about the views of the person who rules Russia. He is interested in the complete (phased) surrender of sovereignty by Russia. After that, any views of Russian politicians will lose any meaning. As, for example, it happened in Ukraine. That's exactly what they want: the Ukrainian version.
For some reason, our liberals do not want to understand this - there is no "pro-Western" option for Russia - this is a myth. By the way, for some reason Lukashenka does not understand this either: for him as a politician, there are no prospects in the West. He bothers them too. It will certainly be demolished as Gaddafi, Milosevic and Ceausescu were demolished. By the way, Yanukovych was a completely pro-Western politician: practically nothing connected him with Putin and they didn't understand each other. He became "pro-Russian" immediately after the coup and the flight. As long as something depended on him - no one in the West called him that way. The West is only satisfied with puppet politicians like Yatsenyuk. No other politicians can arrange it. The problem with Lukashenka is that he is in big politics an absolute amateur. All actions of the West are aimed at its "demolition." But he does not understand this, and does not want to understand. A vivid example of this kind is a man-made crisis in socialist Poland: first they were given loans for the purchase of their equipment (a la South Korea!), And then they refused to buy products released on this equipment. And they raised interest rates on loans. And there was a terrible crisis in 80. The reason is not socialism, but the excessive ambition of Polish leaders. Something similar was happening in socialist Romania. Credit - Western equipment - closing the market - debt. "The crisis of the socialist system."
You see, the problem is that there are no positive examples as such. Casting bait, then a worm drive in front of the naive face of the future prey, she licks, swallows the bait, hooking! All now living observed all this on the example of Ukraine. Full cycle. It's not about the obstinacy of the current inhabitants of the Kremlin, the fact is that the Europeans do not offer us anything interesting. So, in 99, the Russian "Westerners" could not do anything to prevent NATO strikes against Belgrade. As a result of the defeat of Serbia, the whole policy of Russia has seriously changed. I would say more, if there had been no NATO attack on Yugoslavia, most likely Putin would not have come to power in Moscow. Yes exactly. This foreign policy moment is a turning point for Russian domestic politics, it suddenly turned out that the "Westerners" are not pulling. Their trump card was the statement that being in power, they guarantee friendship with the West. 99-th year convincingly refuted this bold statement, just like 98-oh put a fat point on the "economic wonders" of the liberal bloc. Putin came to power in 2000 for this reason. In order to remain in power, the Russian "Westerners" had to carry out a program of at least two parts: to attract the very Western investments that everyone was talking about for so long, and to stop the attack on Serbia by diplomatic means.
As we know, neither of these things happened. It did not work, it did not work out. And "liberal politics", like liberal politicians, came out in circulation, which they still terribly regret. In fact, the difference between them and Putin is not in political orientation. The difference is in what role they are ready to accept in the future hypothetical union of Russia and Europe. For Putin, this is a principled account of Russian national interests, for them, the role of Romania in dancers (by the way, Romanians also have oil). Thus, the conflict is obviously served in the wrong way: Putin really wanted to be friends with the West, but not in the style of Gorbachev-Yeltsin, but they just very much hoped for such a glorious trinity (Gorbachev-Yeltsin-Putin), which will multiply Russia to zero. That's where the main fork. Attracting our liberals in 90 at least several tens of billions of dollars into the real sector and repelling even western north of Kosovo from the Western diplomats (everything that was inhabited by Serbs) could have been different. But they turned out to be completely impotent, they could not do anything at all. The West did not want to meet their friends from Russia. And when they shout about oil prices as the reason for their failures, they need to ask these two simple questions: about foreign investment and about Serbia. The problem is that the West is not ready to take into account Russia's opinion even in problems that are not fundamental to it. In this case, the name of the national leader is not absolutely important.