The topic of patriotism today acquires a certain topicality. Laws, programs, government decrees ... It seems that everyone is ordered to be patriots at the level of the law. But the question arises: what to do with those to whom the law is not written? With them how?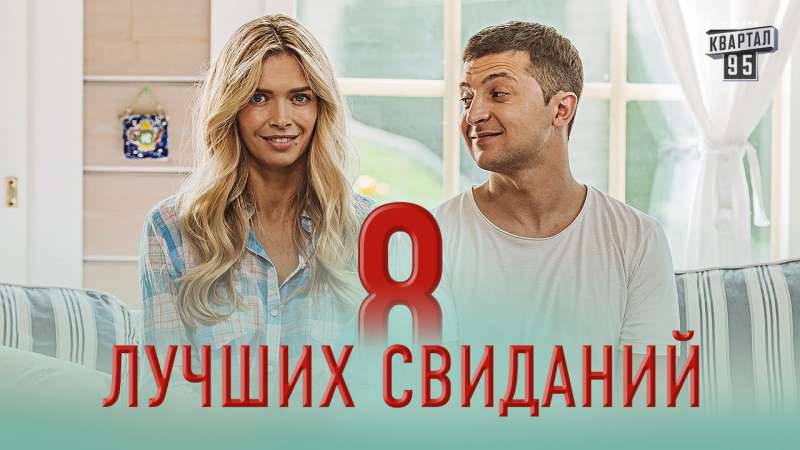 We have an original country: if you look at the letter of this most unfortunate law, then everyone should be patriots. And seemingly without exception. However, the exceptions are not just there, they are paraded, not hiding it at all. As if it should be.
If, it turns out, a business, then there is nothing personal? Money and patriotism are different things altogether?
I already wrote about how a famous Odessa restaurateur, who watered Putin's damnable occupation regime at all corners, suddenly opens a restaurant on the Arbat. In the very center of Moscow. Normally, the occupation of the Crimea is one thing, and business is another?
All right, it would be possible to write off on a single case. Say, overlooked. Blame the restaurant will not. But here is a new feed.
3 March in Moscow will begin the premiere of the movie "8 best dates" seems to be a Russian director (well, he writes about himself, at least) Maryus Wiiberg. Well, God bless him, with Viberg. But who is in the lead role?
We look carefully. Pane Vladimir Zelensky. Yes, yes, that one. Hot patriot of Ukraine, a loyal friend and assistant to the murderers of the terbats, who regularly pay them part of their fees.
Here it is, admire.
Oh, what a brilliant actor and humorist, right? Indispensable and unique. It was impossible to invite anyone but him to this role. And the movie was filmed not 5 years, everyone was aware of how Zelensky breathes.
Yes, Zelensky is an open patriot of the fascist junta. The accomplice and breadwinner of those who bombard the city of Donbass and kill people.
Patriotism is here in Russia, in price. Perhaps that is why Zelensky is filmed in the films and the Comedy Club. For the love of patriotism.
Question: to what patriotism?
It is strange for me to look and listen to all these calls for the revival of patriotism and the upbringing of young people by patriots. In whose examples? On the examples of certain persons who allowed Saveliy Libkin to open his "Compote" in the center of Moscow? Or those who film Pashinin and Zelensky in films pay them fees for which they dress and feed the murderers of Donbass children?
Here's how for me, so all these people are the same scum, like Zelensky and Pashinin. But it is obvious that they do not care for all this patriotism three times and nine times.
And it turns out that I am obliged to be a patriot. I have to try to catch up with constantly rising prices, I must understand that there is a crisis in the world and all the rest of it. And why not all of these?
Why frank russophobe, watering my country with mud, removed in Russia? Why, more precisely, it is removed? And they earn him and him money? Nothing personal just business?
Good business. We fill our pockets with a scum who will pay for the cartridges that will fly to those whom we have helped and will help. Great And very patriotic.
So who is he for, patriotism in Russia? For me? Yes, I am a patriot without programs and laws. For those? Yes, they wanted to spit on it. They will continue to fill the pockets of those who openly support the fascist regime in Ukraine. And muddies the country that provides them a comfortable life.
And these figures from the Ministry of Culture, who sign contracts with Zelensky and Pashinin, will teach me how to love the Motherland?
The reaction of the Minister of Culture Vladimir Medinsky:

- The requirements to "ban shows", entry-exit artists, to deprive them of the opportunity to act, speak, speak and breathe are negative, - he said. - It is ridiculous and undignified to be like the Ukrainian Ministry of Culture in its vanities to steer culture, portraying the fateful instance, to us, Russia.


On the question of what he can say to those who urge not to watch a film with Zelensky, Mikhail Galustyan answered:

- Watch the movie in which I play!

- What do you think about what he called his Russian colleagues "zombie" and did not show up for the premiere? - the journalists did not let up.

- Opinion leave with him.

- Did he speak like that during filming?

"The topic is not discussed," Galustyan finished the conversation.


Comrade Mikhail Alexander Revva also politely refused to speak on this topic. And the guest of the premiere Nadezhda Mikhalkova behaved in a similar way:

- You know, I think that it is not our business to discuss his position, - says the actress. - Made such a decision, and made. I cannot be held responsible for what others are saying. I believe that cinema should remain out of politics and out of time.


The only one who expressed his indignation at the position of Zelensky, was Joseph Davidovich Kobzon.

- Chasing him in the neck is necessary! He snapped. - I think he will have no career either in Ukraine or in Russia!


It's not funny anymore!