Press office
Northern
fleet
Russia reports that the state of alert of the Arctic motorized rifle brigade of the Russian Federation Federation has been checked. The team is deployed in the city of Alakurtti, Murmansk region. The personnel of the Arctic brigade today has been raised by alarm. The servicemen were transferred to the landing area of ​​the conditional enemy sabotage group. From a message from a spokeswoman for the Northern Fleet:
The servicemen were alerted and transferred to the designated area to search for and destroy conditional saboteurs planning a series of terrorist acts.
The units were put forward on two-section snow-swamp-going vehicles of cross-country TTM-4902PS-10, which are in service with the arctic brigade. At the command, all-terrain vehicles arrived from the fleet of combat vehicles to the location of the compound. The loading of personnel of anti-terrorist units was carried out with the development of relevant standards. The servicemen were fully equipped with
weapons
, idle ammunition and skis.
During the test, the servicemen completed movement on a snow-covered forest area on skis coupled with such equipment as A-1 snowmobiles. In addition to the unit commander, there was a machine gunner in snowmobiles, covering the 8-10 skiers transition.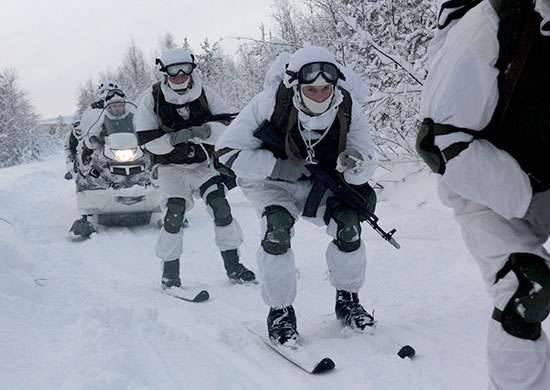 Detection of the conditional group of saboteurs and its liquidation were carried out successfully.